A Montana public preschool pilot program helped get more students ready to begin kindergarten, especially those who often begin school at a disadvantage, according to a new state report.
The STARS program, a two-year, $6 million initiative passed by the legislature in 2017, is Montana's first toe-in-the-water on publicly funded preschool, a major priority for Gov. Steve Bullock.
It funds about 300 preschool seats in 20 different classrooms across the state. Not all of the seats are new, but they now adhere to requirements aimed at ensuring academic, social and emotional growth for students. 
Bullock plans again to ask legislators for funding, and the report is likely to become a major piece of ammunition in his quest to flip Republicans who nixed previous multimillion-dollar requests. 
In several areas, the report notes that small sample sizes and a one-year scope limits conclusions that can be drawn from data, nor does the report use the rigor of an academic study. It was prepared by the Department of Public Health and Human Services, which operates the grant program and is under the administration of Bullock.
But it does advocate for continuing a system similar to the STARS program.
"Overall the findings indicate that the STARS Preschool Pilot and individual participating programs were successful in every sense," it says.
The report doesn't explicitly call for expanded funding, though it indicates that demand for publicly funded preschool far outstrips offerings. A press release from Bullock's office said he would ask the legislature to "again secure funding," but a spokeswoman declined to put a dollar figure on his ask, or say if it would be an expansion from current funding. She said Bullock would likely release his proposed budget in mid-November.
"I encourage every state legislator to visit a STARS preschool classroom and see first-hand the difference it's making for our kiddos, for our communities both urban and rural, and for our economy that's depending on the workforce of tomorrow," Bullock said in the press release.
Achievement gaps
Research highlights preschool as a key intervention in closing achievement gaps. Students often come into kindergarten with different levels of academic, social, emotional and behavioral readiness.
If kids start out behind, they're more likely to remain behind; gaps with peers who come into kindergarten more advanced are hard to close as students progress through grades.
One of the report's more intriguing data points is that "high-needs" students — those from poor families, with special needs, who need mental health support, whose families are homeless, tribal members or those with teen parents — improved their scores on a kindergarten readiness assessment at a steeper rate than the overall student population.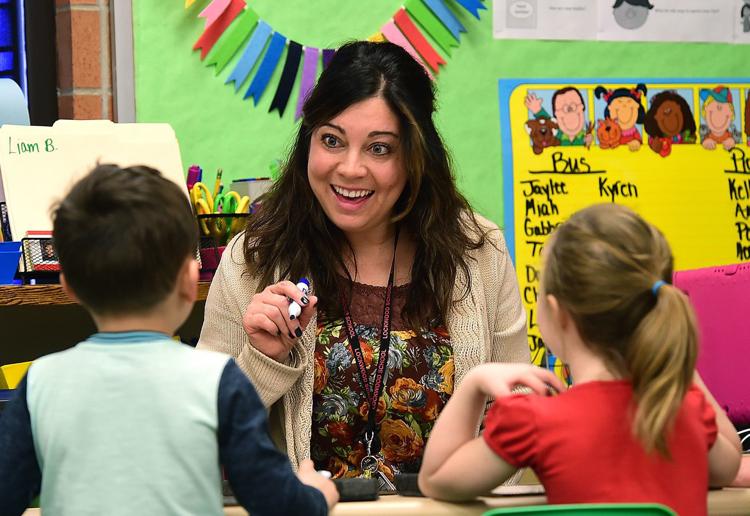 Montana has long-held achievement gaps between Native American and white students and for students from low-income families on measurements like test scores and graduation rates. A new plan to comply with the Every Student Succeeds Act, the federal education law of the land, calls for those students to improve at steeper rates in order to close achievement gaps.
Overall, school readiness increased about 21 percent, to the point that about 93 percent of students in STARS programs were considered ready to start kindergarten.
The data has a large caveat, however. The assessment, the DIAL, was administered by teachers. Other preschool programs use outside assessors to ensure objectivity. The report also notes that preschoolers were screened with an English Language Learner assessment, and DIAL data by race should not be used for "strong conclusions."
Supply and demand
The report often highlights how sparse high-quality child care opportunities are in Montana. The high-quality tag is an important qualifier — it refers to programs that meet requirements for hours of participation, teacher training, curriculum and environmental factors. Most research on the impact of preschool shows that for students to reap benefits that help them in school, programs need to meet high-quality requirements.
The program includes a mix of private providers, public schools and federally funded Head Start programs. Private providers selected already participated in the state's quality rating system for preschools.
STARS programs counted more than 300 kids who were turned away or put on wait lists, an indicator of high demand for publicly funded preschool, the report says. It also cites another report that pegged the wait list for Montana Head Start programs at 685 kids.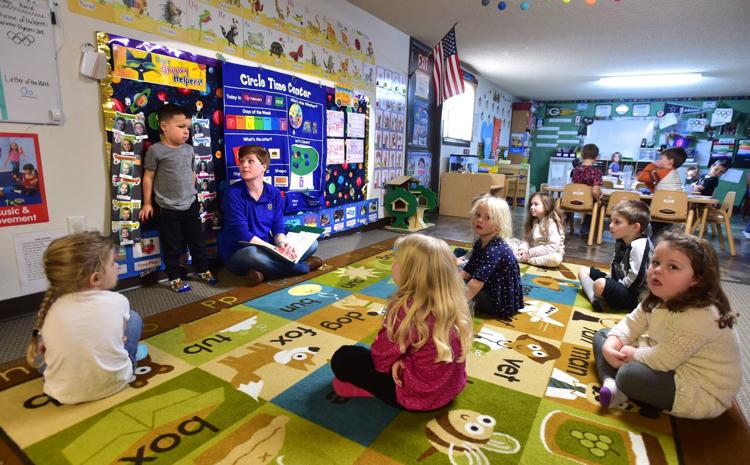 The report includes data from a parent survey that was returned by about 83 percent of parents with kids in a STARS program. It indicates that about one-third of kids wouldn't have been in a high-quality preschool program without STARS, and that about half of parents would have "been stretched to find the resources to pay for child care or preschool experience with their personal family budgets."
Participation
Exactly who benefits from public preschool has been a bone of contention for some legislative Republicans.
The report says that 61 percent of students are in the "high needs" group. Public schools and Head Start programs were more likely to serve a high proportion of high-needs students, at 71 percent, than private providers at 43 percent.
Rep. Don Jones, a Billings Republican, criticized that proportion at a legislative interim committee meeting in March.
"This program to me looks like we're giving some rich people a break, and I don't think that's appropriate," he said.
Research indicates that mixing students from different economic backgrounds can produce education benefits for all groups, but it also shows that preschool support is most important from groups like those defined as "high needs."
The parent survey showed that about 8 percent of parents had a family income of fewer than $10,000; 21 percent were between $11,000 and $30,000; 19 percent were between $31,000 and $50,000; 23 percent were between $51,000 and $70,000; and 28 percent were more than $70,000.
Costs
Per-student costs varied between the type of program. Head Start, which already adhered to many of the high-quality requirements of the STARS program, was the least expensive at just less than $7,000 per student. Private providers spent about $8,200 per student, and public schools spent about $8,700 per student.
A national preschool report from 2017 pegged Montana's Head Start costs at $8,875 per student and public school costs at $11,809 per student, indicating that STARS implementation was cheaper than previous programs and could have benefited from up-front costs already taken on.
A report of spending for preschool slots created through a national grant showed that costs decreased drastically from year one to year two of implementation, largely because of infrastructure needs.
In the STARS program, public school programs tended to spend proportionally more money on educational personnel costs and on outdoor environments; a note in the report says that many public schools struggled to meet requirements like not sharing playgrounds with other age groups, requirements for fencing and playground equipment, and requirements about visibility of supervision of playgrounds.
Private providers tended to spend proportionally more money on professional development of staff. Public schools were more likely to have teachers and staff that met program requirements; private providers had four qualified teachers, and four who were working toward their certification.
The report also shows that STARS classrooms paid better than typical wages for early childhood teachers in Montana. Lead teacher median wage in the state is $13.90, with support staff making a median wage of $9.84. That rose to $21.51 for lead teachers and $11.91 for support staff in STARS classrooms.
"Often in the field of early childhood, pay equity is an issue," the report said. For comparison, the median wage for kindergarten teachers in Montana is $29.64 an hour.
---
Read about STARS programs at Head Start, two private providers, and a K-12 school — and why a federal grant could be the key to keeping existing preschool slots: