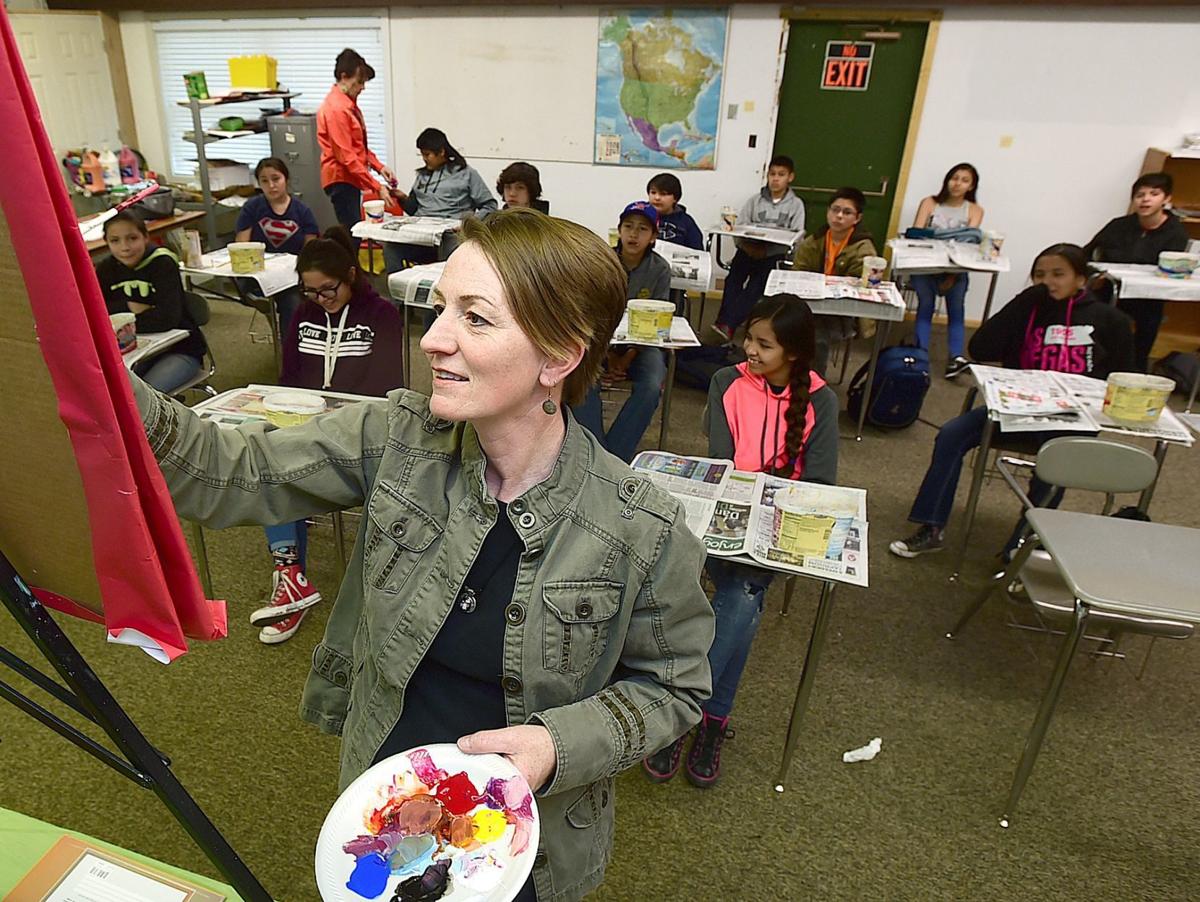 The arts and Crow Studies programs at Wyola Public School just got a boost in the form of a bright blue modular outbuilding.
The new structure, which was funded over the course of a year through private donations, has caused a stir among students and staff at the small preschool through eighth-grade school tucked into the southeast corner of the Crow Reservation. 
"It's gorgeous," said art teacher Maggie Yellowtail, on a recent building tour with her students.
As with many reservation schools, resources in Wyola are limited. Core functions of the school are funded by federal dollars, as required under treaties between the Crow Tribe and the U.S. government. But even with some supplemental funding from the state, school officials say it's a rare day when there's money for major upgrades — especially for the arts.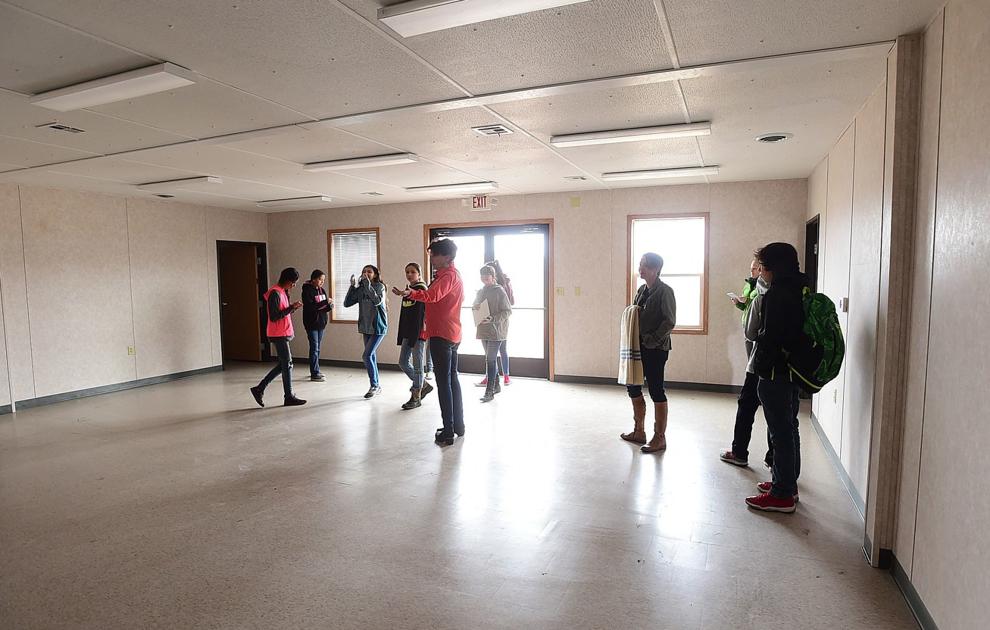 So the new space is a cause for celebration.
It's also a good fit for the students, project organizers say. That's because art comes naturally for many of the kids.
"All of their parents, they bead, paint, draw," Yellowtail said. "So they're very comfortable making things."
The building will provide fresh surroundings and some much-needed elbow room for the class, which until now has been squeezed into whichever regular classroom was available.
Soon the new building will be decked out with a half-tepee staged at the front entrance. Wrapped around the middle of the outside of the building will be a large-scale metal replica of a blanket strip, a decorative piece of beadwork traditionally used to cover seams in buffalo hides.
School officials will consult Crow elders to make sure the tepee is done properly. And they've commissioned a couple of new pieces from local artist Mona Medicine Crow to hang on the walls inside.
"We want to make it a big deal and make it very important," said Superintendent Christie Wright.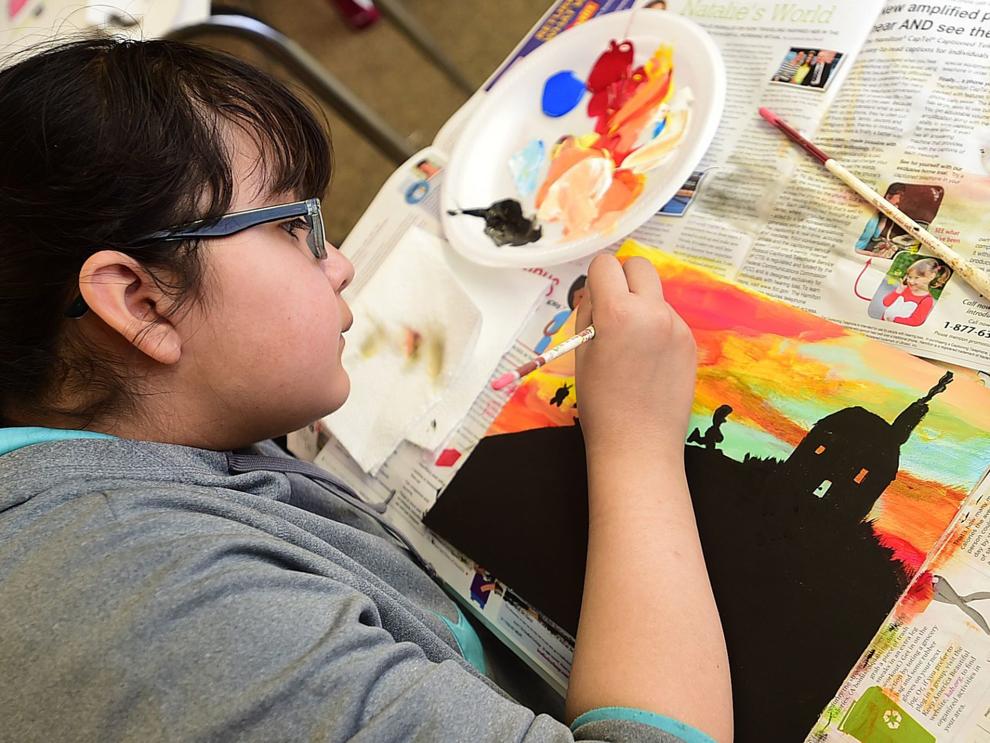 In addition to housing the art classes, the new building will have space for the school's Crow Studies class, where students learn to bead, dance, and speak, read and write in Apsaalooke.
A third room in the building will be used for school board meetings and community gatherings. 
Visit from a hometown favorite
In April, sixth- and seventh-graders at Wyola spent a morning painting under the guidance of local artist Sonja Caywood. Originally planned to coincide with the building unveiling, Caywood's workshop was instead held in a regular classroom due to delays in prepping the building for use.
Caywood, who attended fifth- through seventh-grades at the Wyola school, is a celebrated artist known for her colorful paintings of Western images, like cows and horses. She lives in Dayton, Wyoming.
For the workshop, Caywood painted various animals by request on an easel at the front of class, showing how to use shapes to structure the bodies before adding detail. After the demonstrations, she handed out canvases and paper plates with gobs of acrylic paint, telling the students to have fun and not to be shy.
Chance Pretty On Top wasted no time mixing different shades of brown to paint an elk. Art is fun, he said. And it runs in the family.
"My auntie beads, my mom paints," he said. "My little sister draws and paints."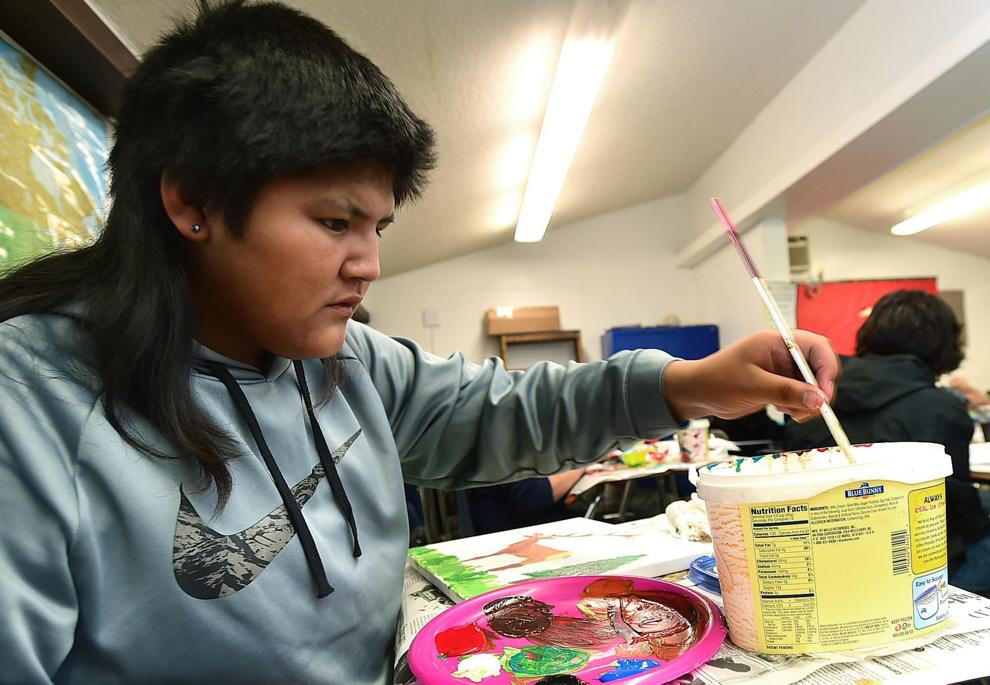 One of his mother's paintings was on display that day at the front of the room.
Materials for the workshop were bought using an art supply award Caywood secured from Jackson, Wyoming, artist Amy Ringholz. Caywood sought the money so she could teach workshops like the one in Wyola.
"I just said I had wanted to share art with more people," Caywood said.
Ongoing fundraising
To pay for the new building, project proponents raised $310,000 from individuals and charitable foundations. The Harry L. Willett Foundation, the Foundation for Community Vitality and roughly 40 other donors pitched in.
But Billings artist Terry Zee Lee, who led fundraising efforts, said the project needs a bit more help. Donors want to set up a $10,000-a-year endowment to cover ongoing maintenance needs and equipment replacement. The Billings Community Foundation will coordinate the endowment.
Lee, a kite artist who has visited the school to teach kite-building workshops, said it was important to consider future costs when making a gift like the modular building.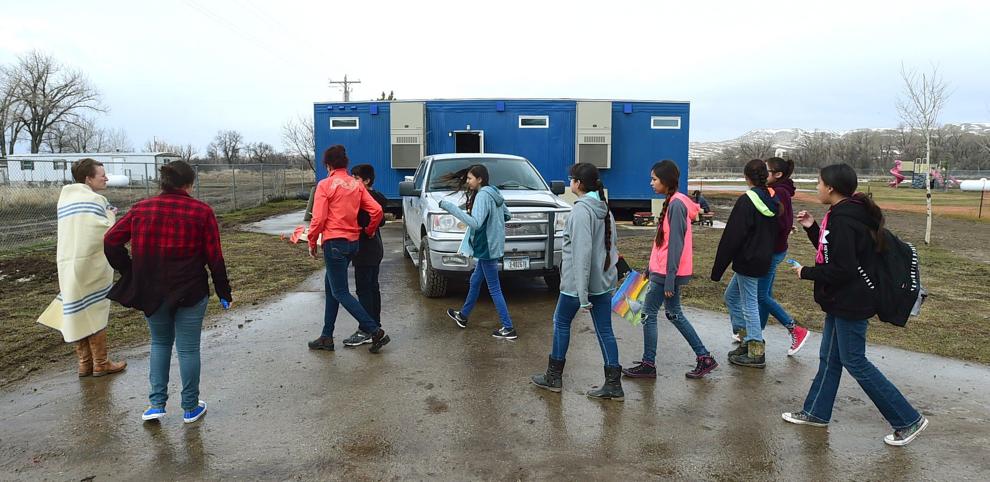 "You really have to pay attention to the long-term impact that you're putting on the school," she said. "Because there isn't a bunch of outside money going into Wyola."
Members of the public interested in contributing should contact the Billings Community Foundation at 406-839-3334.