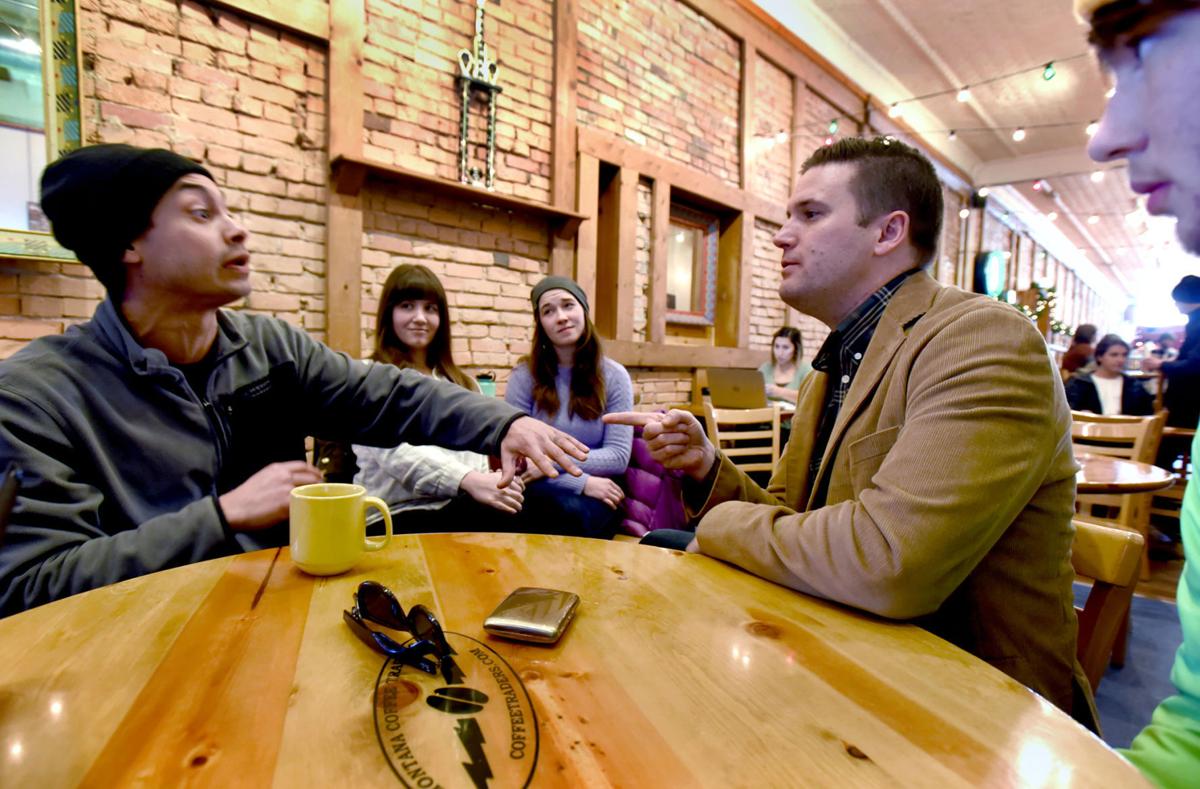 WHITEFISH — Richard Spencer knows one way to measure the prominence of the so-called alt-right: A few weeks ago, "Saturday Night Live" made two references to the movement, a fringe endeavor only a few months earlier.
"The alt-right just isn't going away," said Spencer of the movement mixing white nationalism, racism and populism. "It's here. It's in the culture. They make jokes about us on 'Saturday Night Live.'"
"SNL" is mocking the alt-right, he said, but that's not the point: "They expect the audience to get it."
In August, Hillary Clinton gave a speech in Reno in her bid for president, and the Democrat lasered in on the racial rhetoric in the divisive campaign. Republican Donald Trump had made crude comments about black communities, Mexicans and Muslims.
"Racists now call themselves 'racialists,'" said Clinton according to a transcript on Politico. "White supremacists now call themselves 'white nationalists.' The paranoid fringe now calls itself 'alt-right.' But the hate burns just as bright."
The morning of Election Day, pollsters and analysts had still pegged the Democrat as a sure win. Instead, real estate mogul and reality TV star Trump, once considered a long shot for even securing the nomination, will take the oath of office.
The unconventional politician had tapped into deep discontent among Americans over economic distress, racial insecurity and anti-immigrant fervor. In a typical campaign, the racist remarks would have been missteps; this time, they fueled support.
White supremacists praised Trump's victory. The election and its aftermath — coinciding with the rise of right-wing populism in Europe — propelled Spencer and the movement into the limelight.
Based in Whitefish and Virginia, Spencer is head of the National Policy Institute, a small organization "dedicated to the heritage, identity and future of people of European descent in the United States, and around the world."
The Southern Poverty Law Center has identified the institute as a hate group, and it has marked Spencer as an extremist.
"Richard Spencer is one of the country's most successful young white nationalist leaders — a suit-and-tie version of the white supremacists of old, a kind of professional racist in khakis," the Center writes.
Even in one afternoon with Spencer, it was easy to sense the magnetic field attracting and repelling those around him. At a coffee shop, fans came up to take selfies with him, and detractors wanted to debate him, then tell him off.
"You liked my Tweet," said one man in a ski jacket, pulling up a chair to listen and asking for a picture.
The University of Virginia graduate who catapulted to the spotlight last year does not consider himself a white supremacist, and he views the term as a "scare" phrase.
However, he does believe that race is a fundamental element of human existence, and he advocates for a white nation. Spencer, who has a master's degree in the humanities from the University of Chicago, wants to see net neutral immigration for half a century, and the country's borders closed to all but those of European descent.
The presidential campaign and election pushed Spencer and those of like minds out of the margins, and at least for the time being, he's glowing in the spotlight. Mother Jones published a profile of him in October, and he said other national magazines have pieces in the works.
Trump doesn't get all the credit, but he was a shot in the arm, Spencer said.
"I expected the GOP would have gone with some goofball like Ted Cruz or some really boring and depressing person like Jeb Bush," he said. "That's definitely what I expected. So Donald Trump was like a gift from the gods. He slingshotted us into the mainstream."
Demographic shift
The fringe movement may not have penetrated the mainstream as deeply as Spencer would like to believe — yet. George Hawley, assistant professor from the University of Alabama who is writing a book about it, said the movement largely remains "an anonymous, very loosely organized internet mob."
"It's definitely not going anywhere," Hawley said. "The question is whether it's going to be able to capitalize on its recent attention and get bigger."
The tribe that calls itself the alt-right has been largely made up of millennial men and operated from the sidelines online. The next four years will show whether one charismatic leader can sustain the momentum gathered in recent months, grow a following, and set an agenda that influences the mainstream.
Hawley is skeptical the movement can grow much beyond its current demographic; it doesn't have major donors who would fund the infrastructure to be effective, he said, and it's already dealing with infighting.
"It might devolve into a lot of internal squabbling in the years ahead," he said.
Spencer, though, is optimistic, and he has a sense of urgency about translating "the psychic change" into infrastructure, and soon.
"You can't deny this opportunity and this moment," Spencer said. "It's so palpable. It's amazing."
The movement's trajectory will show the type of country the United States will be. Today, much of the country at least pays lip service to multiculturalism, but a white backlash is evident, and Tobin Shearer, associate professor of history at the University of Montana, said it should surprise no one.
Shearer, also director of African American Studies at UM, said both the Democratic and Republican parties have a history of making choices in favor of white supremacy — "neither one has a spotless record."
"The demographic shift is key at this historical moment," Shearer said. "I think what is happening here is we are seeing, for one of the first times in the history of the United States, the white male majority being threatened demographically. That has not happened before.
"And the question is going to be, what results from that?"
Radical ideas, racial politics
Four years ago, Spencer, the National Policy Institute, and the alt-right — a term Spencer is credited with coining — were largely unknown.
According to the institute's 2012 tax form, posted on Charity Navigator, it pulled in just $125,000 and change that year. By comparison, The Heritage Foundation, a conservative think tank with more than 500,000 members, earned $86 million.
At the time, Spencer wasn't earning a salary at the institute. Currently, he is, he said, but the organization remains small.
"Spencer's organization seems to exist mostly on his computer," said Hawley, of the University of Alabama.
But the presidential race bolstered the cause, which Spencer said is an international one much larger than himself and his institute. He estimates donations to the organization are up by a factor of 10, and his exposure has shot up by a factor of 500.
The Heritage Foundation is drawing far more revenue, but he is bombarded with attention: "It's the power of radical ideas, radical ideas that are timely."
After the election, a video of Spencer at a National Policy Institute conference in Washington, D.C., highlighted the leader. At the lectern, Spencer said "Hail, Trump," raising a glass in a victory toast, and some participants responded with Nazi salutes; Spencer said the audience members were being cheeky.
As he sees it, Trump's populist campaign ultimately became one about race, and the movement he supports is providing a landing place for those with whom the message resonated. Conventional thinking aligns liberals with multiculturalism, but Spencer said that isn't always the case.
He believes people have a natural need to identify with their roots, and a new "European consciousness" is emerging. It's impossible to radically transform a nation demographically and culturally and not expect "a new consciousness to emerge at the other end," he said.
"We're kind of a fulfilled dream — or maybe a fulfilled nightmare," Spencer said.
Trump changed the chess board, and Spencer said the upset challenges the "ossified left-right dialectic" and is opening the door between traditional conservatives and the fringe. Just four years ago, many mainstream conservatives wouldn't have recognized him or the movement.
"(Now), they're 100 percent aware, and they're fearful, but they want to reach out," Spencer said.
Brutal history
Spencer isn't a regular at the busy coffee shop in Whitefish, but some raise their phones in his direction, maybe taking pictures. Others eavesdrop as he lays out his views.
He believes the country has a place for American Indians, but that people of European descent have more of a stake.
"We won. I'm sorry. I don't know of a simpler way of saying it," Spencer said.
"Our bones are in the ground. Ultimately, we do have a claim to it just in the sense of our people dominated this continent. That might seem brutal, but history is sometimes brutal," he said.
Spencer also isn't convinced a black citizen can be truly patriotic.
"Are they, really? If I was African-American, there would always be a little bit of sadness and tragedy to putting my hand to my heart," he said.
In the middle of the interview, a darker-skinned man asked to join the conversation. Spencer requested he wait until after the interview, and then, the man and three other people pulled up chairs.
Eric Kanter, who told Spencer he's a racial mix, seemed flummoxed by the idea he shouldn't feel rooted in the United States, and Spencer tried to explain his rationale.
"You do have ties to this country. (But) identity is different than citizenship," he said.
"Who picks fruit in your white state?" Kanter said.
"White people. Or robots," Spencer said.
Eventually, Kanter outlined the history of hip-hop, a phenomenon that's more than a style of music, he said. It's like a ball of yarn with threads from different ethnic groups, and as Kanter sees it, a rich multicultural experience that wouldn't exist in Spencer's ideal world.
"It's a way of uniting people to live peacefully next to each other," Kanter said.
"Would you really take me seriously if I adopted a hip-hop culture?" Spencer said, crossing his arms in his corduroy jacket and tilting his head. "Yo?"
Said Kanter: "It might open your mind a little."
The debate is lively yet civil, but out of the blue, Kanter jumps out of his chair.
"You can go (expletive) yourself. Because you are a piece of (expletive)."
'I don't back down, ever'
A couple of other people wanted to take selfies with Spencer, and he got their numbers and invited one to coffee. On his way out the door, one woman appeared to give him a lecture, and another told him that if he loved his mother, he would leave Whitefish.
The strategy won't work on him. Spencer's mother landed in a maelstrom over whether her business was being unfairly boycotted in Whitefish because of her son, but he isn't going to leave town at another's behest, especially if he's told.
"I don't back down, ever, and I also am willing to confront them, so I'm always going to win," Spencer said.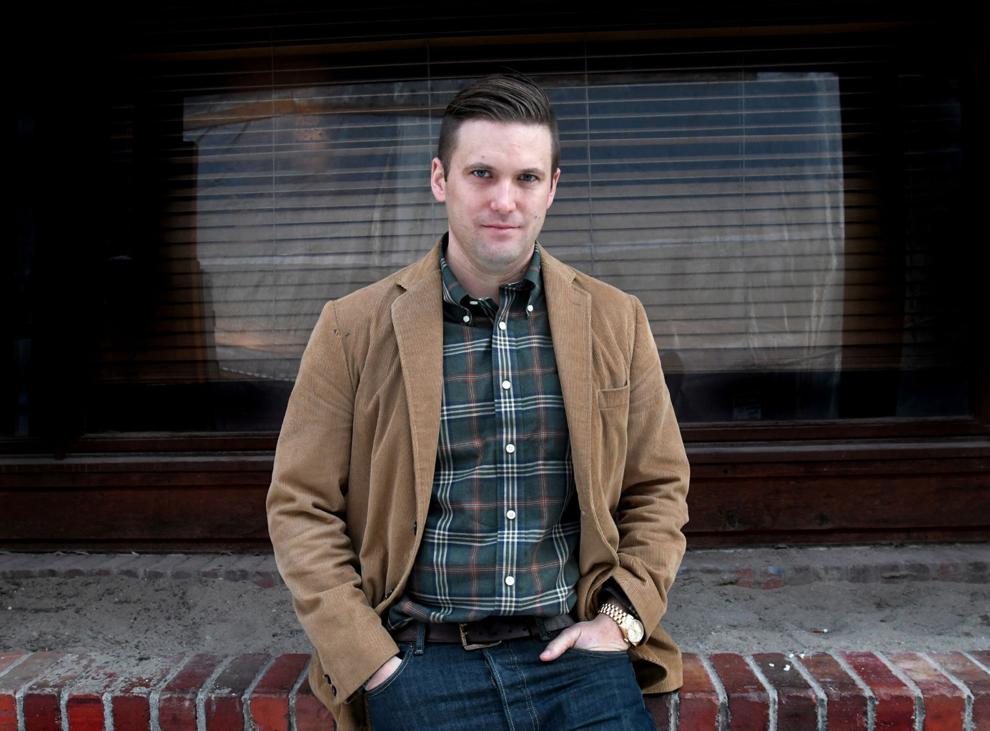 In the political climate, he senses the chance to bring millennials and gen-Xers into the fold, generations that have a different consciousness than baby boomers. Trump's slogan, "Make American Great Again," is about going backwards, Spencer said.
Younger people don't have the same points of reference and may have a different aim: "Let's make ourselves great, maybe for the first time. I think that would be the hat that we would wear."
He derides traditional conservatives obsessed with tax cuts and deregulation, and he espouses some ideas that have a populist bent and others that sound elitist. Spencer toyed with running for U.S. Rep. Ryan Zinke's seat if Montana's lone congressman is confirmed as secretary of the Interior, but he decided against seeking office, at least for the time being.
Still, he has ideas if not a platform.
He supports Medicare for all so people don't go bankrupt from things like car wrecks, but he also backs a health care market overlay; he wonders why the United States doesn't have a first-class public transportation system, such as Japan's.
Like Bernie Sanders, he sees student debt as an atrocity, but his solution is to leave higher education for the "cognitively elite," or some 5 percent of high school graduates. Funding higher ed, he said, is a boon for "leftist professors" and Wall Street.
"Having $100,000 of student loan debt is not a pathway to anything," Spencer said. 
Political borders
He characterizes the current experience at some colleges and universities: "Get drunk. Watch a bunch of criminal thugs play football and go learn post-modern feminism."
On the other hand, he praised Flathead Valley Community College for teaching "real skills" and helping to create professionals such as dental hygienists. 
Automation will put Uber drivers and truck drivers out of jobs, and they can't all get retrained to be programmers, he said. A trucker isn't going to become a graphic designer because "you run into a brick wall of ability and IQ, to be honest."
Spencer knows that his ideas won't fly wholesale, but he said mainstream conservatives can work out the compromises. The left has always had a vanguard, he said, and his goal is to create that political border for the right.
"We want to set a totally new edge," Spencer said.
'Moment of crisis'
America is at a "hinge point" in its history, said Shearer, the UM professor. A new demographic is being attracted to "something different, but that something different has two pretty extreme poles."
On the one hand, there's Spencer and a movement of "virulent, racist" values, he said; on the other, there's an egalitarian stream attracting people who are progressives verging on radical.
"Which one is going to manage to actually gain more political capital at this moment of crisis in history?" Shearer said. "And those moments of crisis in history are always telling to what the values of a society are. That sort of is being exposed here."