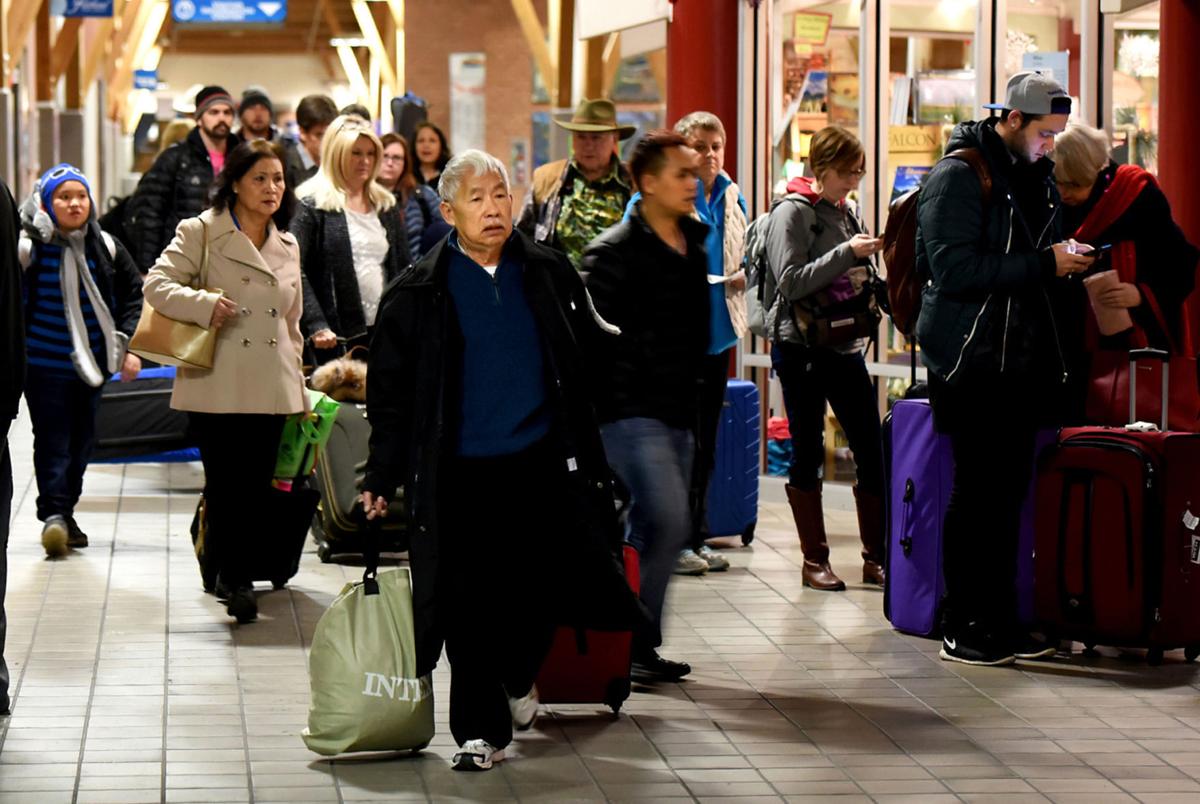 Another glowing airport press release arrived at the newspaper a couple of weeks ago. This one came from Glacier Park International north of Kalispell.
Citing record-breaking passenger counts in 2016, airport director Robert Ratkowski announced United Airlines would be adding daily flights to San Francisco for a couple of months starting in July. United, the Chicago-based giant, is also sending larger airplanes to handle passenger loads on direct summer flights to Chicago and Denver.
It's one verse to a familiar song in the air travel industry.
Across Montana and the nation, airports are hustling to keep up with record traffic flows, and they're spending or planning to spend billions of dollars on upgrades and expansions to do it. Major and medium-size airlines are putting their best wings forward to cultivate the demand, in some cases consolidating to get the biggest bang for their bucks.
"It's a changed game," Kevin Ploehn, director of aviation and transit in Billings said. "Now air service is so important to communities, all communities, the airlines have more options than they know what to do with, than they have planes and pilots to fly."
The sunny outlook clouded over somewhat Thursday when President Donald Trump released his federal budget proposal. It calls for eliminating the Essential Air Service program, which could have a devastating effect on seven rural Montana airports and an impact on Billings, which is the hub for five of them.  
Nearly 3.9 million people stepped on or off commercial airplanes in Montana last year. That was 330,000 more than ever before, according to the Aeronautics Division of the Montana Department of Transportation.
Four of the state's six busiest airports — Bozeman, Missoula, Kalispell and Helena — set passenger records in 2016. Only No. 5 Great Falls International saw a decrease, while Billings Logan International went up slightly.
Bolstered by two key revenue guarantees, not to mention the attractions of Yellowstone National Park and Big Sky Resort, Bozeman Yellowstone International topped the 1.1-million passenger mark in 2016 and has grown by 52 percent since 2010.
Billings lost its decadeslong hold on Montana's top spot to Bozeman in 2013. It remains a strong No. 2 and cultivates consistent annual growth numbers — an average 1 percent to 2 percent going back 20 years, according Ploehn.
Missoula International established record passenger marks in 2014 and 2015, then soared over the 700,000 mark for the first time last year. Its final count of 758,331 was almost twice that of 20 years ago, when 383,000 people flew in and out of what most locals still called Johnson-Bell Field.
Missoula led all Montana airports in 2016 with a 9 percent increase in passengers, even as it homed in on a terminal expansion projected to cost $50 million to $70 million. Construction is targeted for the fall of 2018.
Assistant director Brian Ellestad attributes the Missoula airport's rapid growth to a combination of a rebounded economy and a "very strong inbound market for Montana as a tourism destination."
"Also, the business community has really taken off," Ellestad said.
In Flathead country, passenger counts were at all-time highs for the fifth consecutive year at Glacier Park International.
"We've been discovered," director Rob Ratkowski said. "Obviously the park up here is really driving our numbers. Glacier had a record year again, and we had a record year again. But we're also seeing an increase in our shoulder seasons."
Next year the Kalispell airport will begin a planning process for a new terminal as well. It's too soon to pin down a cost, though Ratkowski said "it's not going be anything as drastic as Missoula does."
To be sure, the spike in air travel isn't confined to Montana. From coast to coast, airports reported all-time high numbers of passengers.
At hub airports out west, Sea-Tac in western Washington set passenger traffic records in each of the past six years. Salt Lake City celebrated a 12-month record of 23 million enplanements in November in the midst of a $2.9 billion reconstruction project to replace terminals and concourses. Denver's record-setting incline reached 58.3 million passengers in 2016. Minneapolis-St. Paul added 20 routes and fell just short of its record 37.6 million set in 2005, just before the economy swooned.
The CEO of Dallas-Fort Worth said last week his airport needs $10 billion, with a 'b,' for upgrades. Los Angeles International broke ground on a $1.6 billion terminal a couple of weeks ago. San Francisco International is on a seven-year streak of passenger load records.
Jonathon Nield has watched the industry balloon in the years since the recession.
"Three big things are happening," said Nield, senior consultant for Ailevon Pacific Aviation Consulting in Seattle. "One is that we have an environment where fuel is very, very cheap for airlines right now. Airlines typically like to grow quickly when fuel is cheap and there's a lower risk in doing so.
"On top of this, we have the good kind of perfect storm. I'm not sure if that's the right phrase for it, but it's a situation where fuel is cheap when the economy is actually very strong and healthy. That doesn't usually happen together, but it is."
The final factor, Nield said, is the impact from a wave of airline consolidation.
Delta and Northwest in 2008, United and Continental in 2010, and American and U.S. Airways in 2014 were major mergers affecting Montana markets, among many others. Most recently, Alaska Air, going head-to-head with Delta on its home turf of Seattle, acquired smaller rival Virgin America of California. Alaska announced last week it would add 13 new markets out of San Francisco, the largest expansion in the airline's history.
"What you're seeing with all this is the airlines starting to execute their plans to become more dominant in the markets they serve," Nield said.
They're finally getting the hang of it, said Ploehn, of Billings.
"The airlines have been deregulated since 1979, but it took them until a few years ago to figure out how to make money on a consistent basis," he noted. "When they can make money as easy as they're making it now, it gives them the wherewithal to potentially make their systems more efficient."
Montana communities have become aggressive in recent years in attracting new routes and airlines.
Coalitions headed by chambers of commerce and the likes of Big Sky Resort in Bozeman, the Missoula Economic Partnership, and Glacier AERO in the Flathead Valley are cobbling together revenue guarantees meant to alleviate the financial risk to airlines.
In 2011 Bozeman solicited United Airlines for direct service to the New York City by promising an incentive package of $1.7 million. A key element to the success of the application was the $725,000 pledged by a public-private partnership of state tourism councils and local resorts. Last year another revenue guarantee package went far in securing for Bozeman the first American Air service to Montana, nonstop seasonal flights to Dallas-Fort Worth.
Those flights were so successful that the guarantee didn't have to be tapped and airport director Brian Sprenger predicts they'll morph into year-round service. American announced recently it'll add flights from Texas to Billings, lured to the Magic City by a revenue guarantee through the Billings Chamber of Commerce and Big Sky Economic Development. That leveraged a $750,000 grant via the U.S. Department of Transportation Small Community Air Service Development Program.
Missoula received $600,000 from the same program, then tried and failed for a second time to attract flights from Texas to this side of the state.
"We still have the $600,000 in our back pocket to use for either Dallas or Houston (flights)," Ellestad said, adding the Missoula Economic Partnership has pledged a guarantee with either American or United for the service.
Frontier Air of Denver will resume flights to and from Missoula on April 28, a couple of weeks earlier than last year. Otherwise, there'll be no more seats available in what officials said will be a flat year.
"That's not unusual," director Cris Jensen said. "We'll see the pendulum swing where we get a big surge in capacity and it takes a year or two to absorb that capacity. We're kind of in that mode now, where the airlines are not throwing a lot of seats our way. But in talking with the airlines we're already hearing that next year could potentially be a big increase."
"I think it's important to understand that we have gained more service to more communities without guarantees than we have with guarantees," said Sprenger. 
The success of Bozeman's United connection to Newark, New Jersey, starting in 2012 led Delta to add its own flights, with no revenue guarantee, from Bozeman to LaGuardia Airport in New York. When United added Bozeman flights to Houston "they announced it without us even talking to them," Sprenger said.
Bozeman's ability to fill flights to Texas was instrumental in the airline's expansion to Billings, Montana's largest city, which sold American on its business travel potential.
"We and Bozeman are completely different animals," Ploehn pointed out. "What we have in Billings is a real solid business market. We don't have the tourists like Bozeman and Missoula have. One of the problems I had when I took over and Bozeman was going gangbusters was convincing people not to compare apples and oranges."
What if the boom goes bust?
As airlines jostle for even better position and airports shell out millions on bigger terminals and more runways, the question must be asked.
"People will always want to travel by air and there's nothing like the face-to-face service (airports) offer," said Ellestad. "Our terminal is out of date, so even if air traffic were to remain stable, just the amount of money we'll save in heating and cooling this place will be worth it."
There's room at the Billings airport for just five planes on the concourse. Expansion plans are in the works, a project that Ploehn said could cost in the $40 million neighborhood. He's convinced the benefits outweigh the risks.
"Fuel prices are the big animal," Ploehn said. "All it takes is somebody starting a war in the Middle East for things to change. But there's plenty of capacity out there, it just all depends on what the market does to it. I don't see anything coming any time soon like we had" when the economy tanked.
"In my opinion and in the opinion of many, there is definitely a need for investment in airport and aviation infrastructure," said Nield, the Seattle consultant. "Sometimes you do see airport investments that are a little bit over the top, but I think as a general rule of thumb they're necessary."
Even if the returns on capital expenditures aren't realized as soon as expected, he concluded, "longer term everyone is confident that aviation and air travel is going to grow even bigger."
Be the first to know
Get local news delivered to your inbox!