After three unsuccessful attempts at selling the small Montana town of Garryowen, landowner Christopher Kortlander is taking an entirely new approach.
Last year, Kortlander sent out mailers seeking donations for the creation of a privately funded $48 million museum and research center dedicated to the history of the Battle of the Little Bighorn and the Indian War era. Architectural renderings of the building are captioned: The Elizabeth Custer Library & Museum of Frontier Women of the West. Elizabeth Custer was the wife of Lt. Col. George Armstrong Custer, who led U.S. Army forces at the Battle of the Little Bighorn in 1876.
"With your help, I now aim to create … a world-class museum and research center to facilitate interpretation of the facts, preserve the history, and respect the memory of all who fought on both sides of this historic battle, while serving as a place of peace and reconciliation," Kortlander wrote in his solicitation. He said he's sent out about 120,000 such letters.
He would have started the fundraising project earlier, Kortlander said in a phone interview, but he was side-tracked by a decades-long battle with the federal government that required his full attention as well as his money to mount a legal defense.
"I'm just getting back to my original mission," he said.

The pitch
Kortlander purchased Garryowen in 1993 after moving to Montana from California, building a 4,000-square-foot home above a gas station and fast food restaurant on the seven acres that is surrounded by the Crow Reservation. The site of the town is close to where the large Indian encampment of Sioux and Cheyenne was located in 1876 when it was attacked by the U.S. Cavalry. The ensuing battle — which remains of continued interest to professional and amateur historians — resulted in the deaths of more than 260 U.S. soldiers while Indian casualties have been estimated at 80.
A collector and dealer of artifacts from that Indian War era of the 1800s through his business Historical Rarities Inc., Kortlander built his nonprofit Custer Battlefield Museum on the site, which he noted is open 365 days a year and accepts no federal funding. The site also includes a tomb to an unknown cavalry soldier whose skull was dug up during road construction in 1926.
"That was the hook for me — the tomb — to buy the place and take care of it," Kortlander said. "The next (buyer) will have to share the interest in history for me to (sell)."
On Jan. 25, the Travel Channel's "Mysteries at the Museum" show will feature the battle and include a visit to Kortlander's museum.
In the letter, Kortlander claims to own an "irreplaceable museum collection" that is valued at $4 million and includes Plains Indian War artifacts, Chief Sitting Bull's death mask, a large collection of Elizabeth and George Custer's correspondence, photographs and "even a lock of Custer's hair." The new 56,000- to 75,000-square-foot museum that Kortlander envisions would house such artifacts to "current curator standards" and ensure they are protected from fire. Investment in a new museum would also allow the facility to attract traveling exhibits from other museums, he said.
"It's kind of a big dream, but everything is in place except the money," Kortlander said.
You have free articles remaining.
Keep reading for FREE!
Enjoy more articles by signing up or logging in. No credit card required.
Government battle
Some of Kortlander's artifacts, including war bonnets and medicine bags, were confiscated in a 2005 raid by federal agents who charged that he had been illegally dealing in fraudulent antiquities and eagle feathers. No charges were ever filed and the case was closed in 2009, but it took years of legal wrangling for Kortlander to obtain the artifacts that had been confiscated, and even then not all of them were returned.
Quoting Greek philosopher Plato and invoking the Constitution, Kortlander has been an outspoken critic about the abuses of federal government since tangling with the Bureau of Land Management over the raid and seized artifacts. So it's no wonder that the forward to his new book due out in April, "Arrow to the Heart," was written by Ammon Bundy, a well-known anti-government activist.
In 2016, Bundy and armed militants occupied the Malheur National Wildlife Refuge. He was acquitted of those federal conspiracy and weapons charges. Bundy was also involved in an armed standoff in Nevada with his father, Cliven Bundy, four years ago. A federal judge dropped charges against the men earlier this month after prosecutors withheld evidence from the Bundys' defense attorneys.
"Arrow to the Heart" accuses the federal government of similar wrongdoings in Kortlander's case. In a description of the book he writes of a "vast federal conspiracy rife with corruption." He said government documents leaked to him connect similar raids, including two in 2011 of Gibson guitar factories in Tennessee for using illegal wood.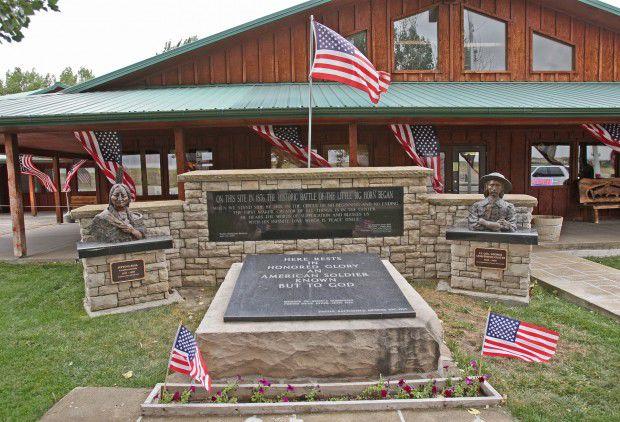 Hard sell
Since 2008 the Park Service has acknowledged the need for a new facility but has never funded construction. The latest plan, the comment period for which expired earlier this month, again takes aim at a new visitor center but continues to acknowledge that none may be built.
Jim Court, who served as the battlefield's superintendent for eight years and is a member of the Custer Battlefield Preservation Committee, said the current plan is essentially the same one his group opposed two years ago.
"To me, to tear down the existing building and build on the same footprint doesn't make any sense," Court said.
The committee has offered the Park Service 3,000 acres that would allow construction away from the battlefield but "so far they haven't deigned to take the land," he said.
Whether constructing a private facility, like Kortlander is proposing in Garryowen, would keep the Park Service from taking any action, Court wouldn't guess. But he did say Kortlander's fundraising goal may be unrealistic, saying financial support for historical projects in Montana is hard to find.
"History is a hard sell in this state, unfortunately," he said.