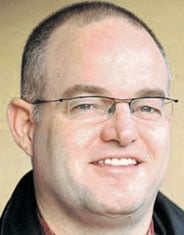 HARDIN - The director of Two Rivers Authority, who was placed on paid leave last month two days after announcing that the agency had signed a contract to fill the empty Hardin jail, formally resigned Monday.
Greg Smith presented a letter of resignation to the TRA Board of Directors in a public meeting, after the board met for nearly an hour in a closed session to discussion Smith's suspension.
Neither the board nor Smith has ever said why Smith was placed on leave, and board President Gary Arneson said Monday that he still couldn't give any details.
Smith was placed on paid administrative leave two days after announcing on Sept. 10 that the TRA, a tax-funded economic development agency, had signed a 10-year contract with American Police Force, also known as American Private Police Force Organization.
The company said it hoped to start filling the jail with prisoners early in 2010 and then invest millions to create a training center for military and law enforcement personnel.
At an earlier meeting of the TRA board, before the closed session, a member of the audience asked if Smith had been suspended because his wife, Hardin mayoral candidate Kerri Smith, used TRA funds to fly with her husband to California to meet with an APF representative in September.
Arneson said that Kerri Smith did join the group of TRA representatives on the trip, but that her ticket was paid for by her husband. He said that had nothing to do with Smith's suspension.