A national economy that's rolling along has made Army Reserve Brig. Gen. Jason Walrath's job harder.
Based at Fort Knox, Kentucky, the 51-year-old West Point graduate is a commercial airline first officer when he's not in Army uniform. As the deputy commanding general for support with the Army Recruiting Command, he's charged with helping the Army and Army Reserve meet annual recruitment goals — during a time of nearly full employment.
In Billings Monday to speak at a conference and meet with the seven recruiters who work at the Army recruiting office at 2545 Central Ave., Walrath said Army recruiters across the nation estimate they make at least initial contact with about 20 million people — ranging from high school and college talks to one-on-one conversations — in order to find the roughly 76,000 people the Army hopes to recruit to active duty during 2018, with another 16,000 or so the goal for the Army Reserve.
The Army expects to fall a few thousand short on both counts, Walrath said.
At 3.7 percent, Montana's unemployment rate is two-tenths of one percent below the national rate. Area energy companies "pay pretty good wages" to young people, Walrath said, but Army expectations for recruit capabilities has not diminished, he said.
"We demand quality people," he said. "Folks think of the Army as an endeavor of last resort, but it's sophisticated."
Only 29 percent of people age 17-24 qualify for enlistment. Disqualification can include the person's cognitive ability, physical fitness and such factors as a criminal record.
Originally an infantry officer, Walrath later learned to fly Army helicopters and fixed-wing aircraft. These days, the Army is short of pilots and people to fill other skilled positions, including intelligence, engineering and almost 150 other career fields.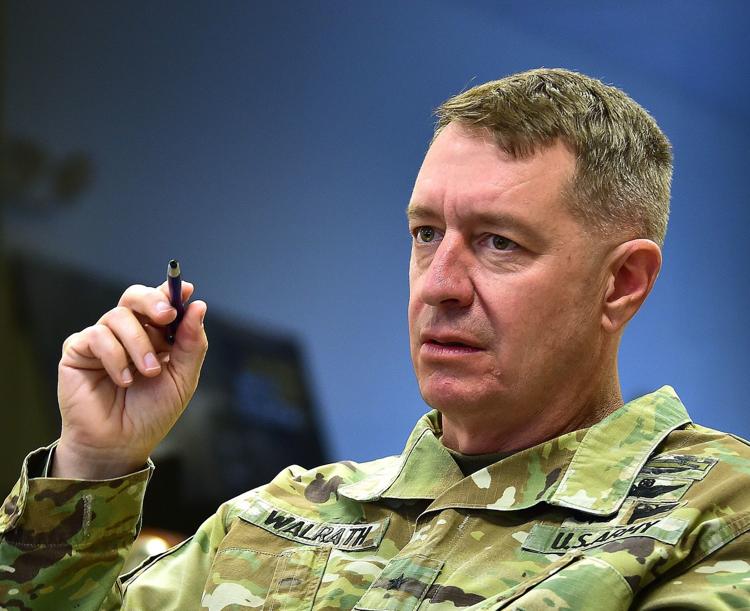 "We compete with academia and industry for the same group of people," Walrath said.
The Army grants more scholarships than any other organization in the nation. Soldiers interested in furthering their education often have 50 or 60 college credit hours by the end of their hitch, Walrath said.
A pilot credentialing program begun at Fort Hood, Texas, is set to spread Army-wide, he said. That program teaches and grants credentials to soldiers who want to work following their military commitment in one of 30 fields, including emergency medical technician and information technology security specialist.
"This is the most capable, most sophisticated Army the nation has ever had," he said, but after about 45 years of an all-voluntary enlistment, it's getting to be more of a "family enterprise," he said. Four in five recruits have a family member who also served in the military.
"I think that hurts society, not to have a larger representation of veterans," Walrath said. "The Army is a multiplicity of opportunities," he said. "If you play heads-up ball and do a good job, they will find you another job to reward you."
The father of a 17-year-old son, Walrath said the young people he knows "are into service big-time. For their college resume, they have to have hundreds of hours of service, and we appeal to that sense of service. We offer them service on a worldwide level."
"If you don't know what you want to do at 17, that's OK," he said. "The Army and Army Reserve may help you find that, and give you the resources to get there."