MINING IN PARADISE VALLEY
Mining the mountains of Paradise
Struggles of the New West coalesce next to Yellowstone
JARDINE — It's an odd twist of fate.
Gold mining founded this town in the 1870s, a mountain community less than three miles from the northern border of Yellowstone National Park and only two miles from the Absaroka-Beartooth Wilderness.
Now a company's proposal to explore an old gold mine near here has residents — some who live on mining claims and are surrounded by the ruins and rubble piles of past extractions — concerned about the future and the environment.
The situation highlights the growing pains of the New West — an old economy of resource extraction versus a cleaner, but often lower-paying, service industry; recreation versus industry; wildlife and the remaining areas of undisturbed habitat versus development.
"Obviously it will hurt my business because people come here for a getaway," said Cheryl Standish, owner of Crevice Mountain Lodge, which borders the proposed mine site.
She's also worried that drilling at the mine could pollute or dry up her well water, as well as create acidic mine runoff into the Yellowstone River that roars past 3,000 feet below the high mountain retreat she's valued for 50 years.
Down the road
Standish's closest neighbor, hunting outfitter Warren Johnson, agrees. For a guy who's spent his lifetime wrestling broncs and the occasional grizzly bear, it's the possibility of mine exploration and the traffic, noise and pollution it might create — along with the effect that might have on his business — that has him worried.
He says trucks hauling mine rock down the road would disrupt the solitude of the business he's built from the ground up — "all by grit" — over the past 34 years with his wife, Susan.
Although Johnson noted the area "has a rich history of mining," he said it also has "a rich history of biodiversity."
His question now is: If the mining proceeds, how might it affect the region's wildlife and scenic values? Are the two even compatible?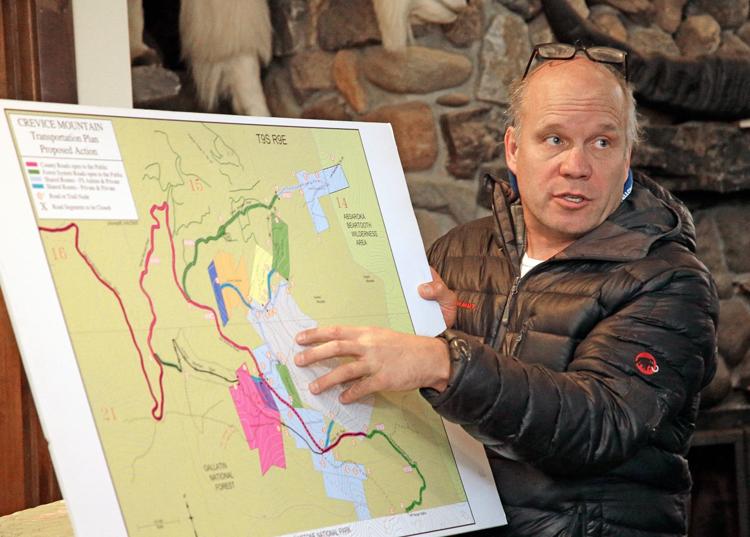 The proposal
Under its plan of operations submitted to the Montana Department of Environmental Quality last October, Crevice Mining Group has proposed "a low-impact program" that would conduct 36,000 feet of continuous exploratory drilling for 18 months.
The work would create 14 acres of new surface disturbance near the old Snowshoe Mine. Nine acres of the site would be set aside for waste rock. "Ditches and runoff control berms upslope from the disturbed area will be constructed to divert surface runoff, and downslope ditches will collect any runoff water from the disturbed area and route it to a sediment collection pond," the application stated.
"This exploration program is intended to determine the continuity of potential ore bodies and attempt to delineate economic ore reserves," Crevice Mining wrote in its application. "If a mineral reserve is identified, and Crevice can justify applying for an operating permit as the project progresses, Crevice may apply for the operating permit."
Under its proposal, Crevice Mining said it would commit $1.1 million to the exploratory drilling. An email sent to Michael Werner, managing partner of Crevice Mining Group LLC, for further comment had not been returned by press time.
Photos: Crevice Mine
Crevice Mine site
Concerned
Marty Malone, who has been a Park County commissioner for eight years, said he hasn't been impressed in his interactions with Werner, which have been all about what the county can do for Crevice Mining.
"It's not the Montana way to go to your neighbor and say we're going to dig a big hole next to you," he said.
Not much is known about the Spokane, Wash., based mining company. The limited liability corporation was formed in January 2015. Werner touts 40 years of international mining experience on the company's website, which lists John Jack Andreazza of Perth, Australia, as the company's other principal.
According to a press release, Bell Copper Corp. hired Andreazza as vice president of metallurgy in 2010. At the time, Werner was listed in the release as CEO and director of Bell Copper.
In a 21-page reply, the DEQ rejected the mining company's original application. Crevice Mining submitted a revised proposal in July. On Sept. 1 the DEQ issued Crevice Mining a "deficiency letter" asking for more information on hydrology and geochemical data.
"They have not responded," according to the agency's Kristi Ponozzo. "There is no statutory time frame for them to get back to DEQ."
Meanwhile, the DEQ is working on the environmental assessment for Lucky Minerals' proposal to drill 46 holes from 23 pads in Emigrant Gulch — another Paradise Valley mining project. Ponozzo said that document could be out for public comment next month.
Critics
The Crevice Mine proposal has drawn criticism from Yellowstone National Park officials, who expressed the park's reservations in a letter during the public comment period.
"We're always concerned about what goes on along our border," said Doug Madsen, of the National Park Service.
At least one mining industry representative, exploration geologist Steve Koehler, has stepped forward, calling Crevice's application to the state lacking in detailed information and said the company's funding is minimal. His wife works for Yellowstone park.
"There's a more stable resource that people from around the planet want to come and see — Yellowstone National Park," Koehler said.
Dave Chambers, a geologist and founder of the Center for Science in Public Participation, also questions the placement of the mine, the amount of gold Werner has said the mine might produce as well as possible problems with groundwater. He noted that previous bankruptcies by other Montana gold mining companies have left the public paying millions of dollars for cleanup costs.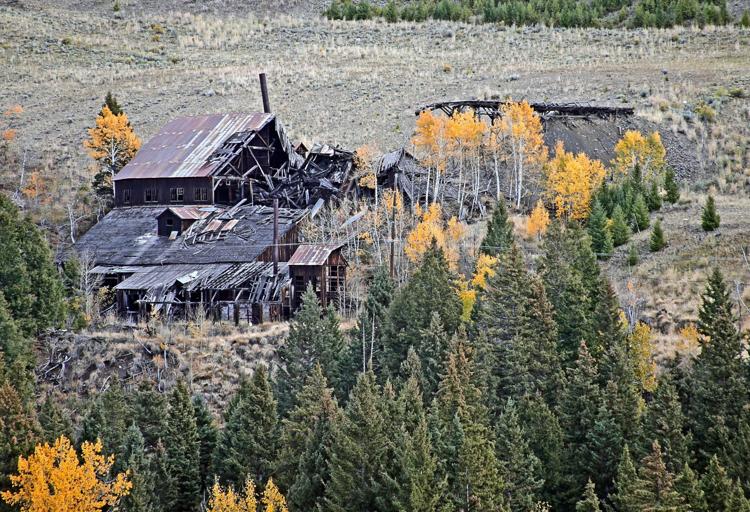 Mining legacy
You don't have to go far from Jardine to see what Chambers is talking about.
Roughly 35 miles east from Crevice Mountain the DEQ has restored an area outside of Cooke City. There, a mine mill site retired in the 1950s left a legacy of heavy metals runoff, polluting Soda Butte Creek, a tributary to the upper Yellowstone River before it flows through Yellowstone Park.
"The mining industry is being held to a higher standard these days, and with good reason," Koehler said. "With Yellowstone an adjacent neighbor, you have to do better."
After spending $22 million to remove 250,000 cubic yards of mining waste rock, and pumping and treating 100 million gallons of tainted water from beneath the site, the DEQ was recently recognized with a national abandoned mine cleanup award.
Soda Butte Creek — once listed as an impaired waterway because of heavy concentrations of copper, lead and iron — is now meeting federal water quality standards.
"I'm very excited about how the water quality looks," said Tom Henderson, from DEQ's Abandoned Mines section.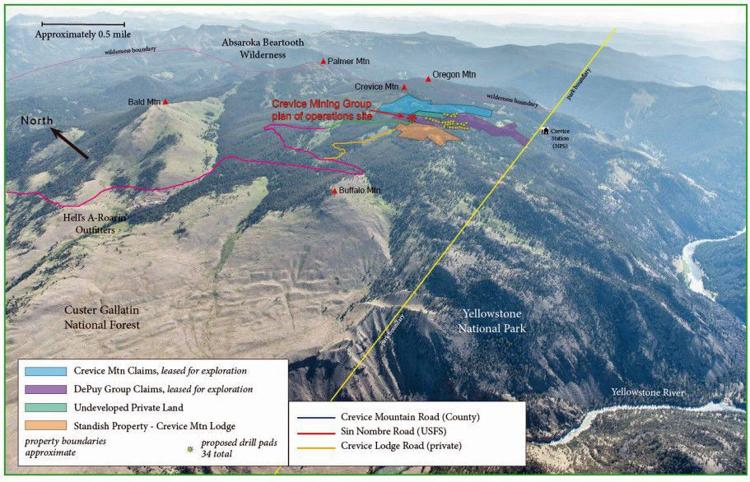 Dodging a bullet
The Cooke City work originated with a unique agreement. In 1996, the Clinton Administration purchased the New World Mining District to avoid mining near Yellowstone National Park.
After the federal government bought the New World Mining District, the Custer Gallatin National Forest spent millions cleaning up the high mountain region at the headwaters of the Stillwater and Clark's Fork of the Yellowstone rivers. Mines in the district had once supplied the McLaren Mill with ore.
Proponents of the restoration work say it helped avoid a disaster like that experienced in Colorado in 2015. That's when an estimated 3 million gallons of toxic mine water escaped from an old adit and tailings pond and polluted the Animas River. The long-term impacts of the spill are still unknown.
The Paradise Valley got a taste of that type of catastrophe this summer when more than 180 miles of the Yellowstone River were closed after a large mountain whitefish die-off. The fish kill was blamed on a new parasite. To keep the parasite from spreading to other waters the state fish and game agency banned all use of the river for weeks, putting businesses that cater to rafters and anglers on their heels — along with all of the subsidiary businesses that benefit from those visitors. The closure that lasted for six weeks on one section of the river was estimated to have cost Park County $360,000.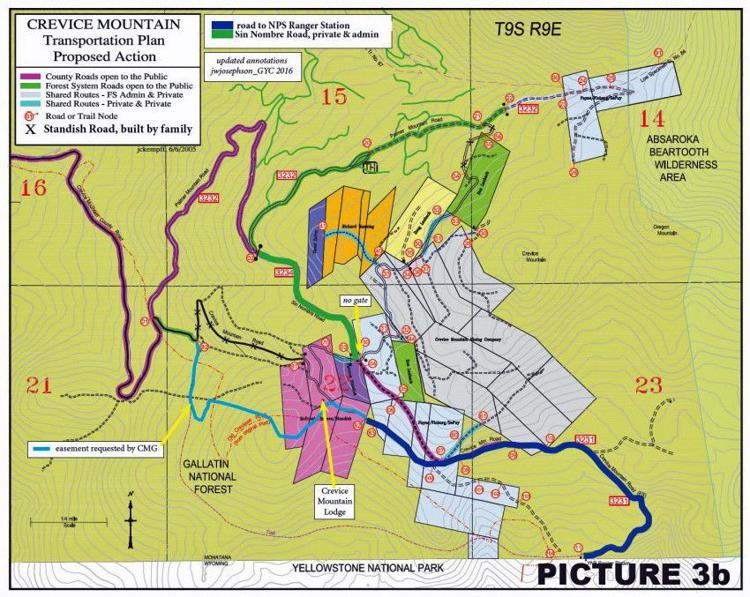 Rocks
The river shutdown drove home the point that the Yellowstone River and its surrounding environs are the carotid artery of the region, pumping lifeblood not just for grizzly bears, wolves and elk, but also for humans. Intertwined with that need for water there has long been a human penchant for the rocks of the region.
Just 20 miles south of Jardine, in what is now Yellowstone National Park, early Americans were picking up obsidian to create tools and weapons at least 11,000 years ago. Those rocks, coveted for their ability to be worked to a keen sharpness, have been found in archaeological sites as far away as the Mississippi Valley.
Just outside what is now the town of Gardiner those same itinerant hunters would stack rocks and branches in the steep cliffs along the Yellowstone River to herd bighorn sheep to kill sites. Those hunters' abilities would eventually earn them the nickname Sheepeaters, a moniker bestowed upon nearby cliffs.
It wasn't until the 1870s, when gold was discovered in the narrow canyon carved by Bear Creek — where Jardine now lies — that the area would see a completely different and long-lasting fascination with the region's rocks. That attraction lingered until TVX Gold Inc. closed its Mineral Hill Mine in 1996. Werner, of Crevice Mining Group, was chief operating officer for TVX from 1993 to 1995.
Based on TVX's exploration, Crevice Mining Group estimates that as much as 1 million ounces of recoverable gold may still be locked in the mountain's rocks.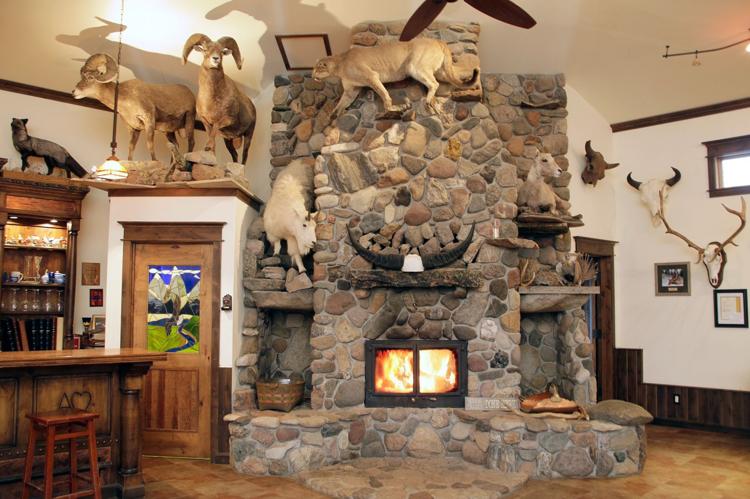 Chimney rocks
Johnson, too, is a bit infatuated with rocks. His outfitting business and home are on a mountainside with vast views across the Gardiner Basin to the snow-blanketed Gallatin Range.
Enter his residence and the first thing to catch a visitor's eye is a large rock hollowed out to create a kitchen sink. Inside a high-ceilinged trophy room is a dominating rock fireplace that commands attention, with a stuffed mountain lion frozen in midstride near its crest and mountain goats posed on each side of the chimney.
"Every stone that's here, every rock on that fireplace means something," Johnson said, turning to point to the structure for emphasis. "That's where I saw a grizzly bear, or I saw two elk fighting. I gathered them up and threw them in a pile because I knew what I was going to build."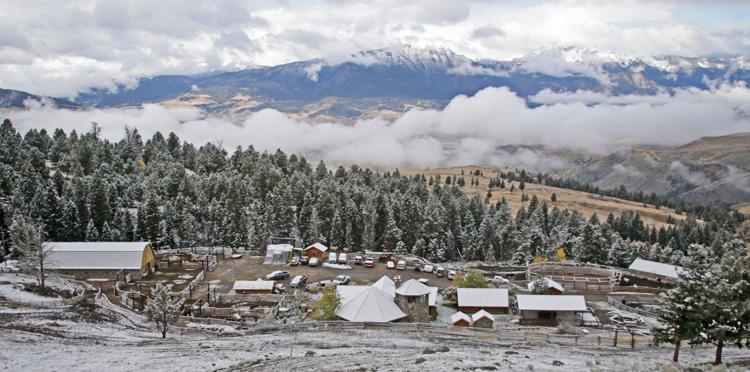 Mining loyalty
Not everyone sees the mine as a bad neighbor. Montana has embraced its mining history. Emblazoned on the state seal are the words "oro y plata," gold and silver, along with a shovel and pick-axe to memorialize the state's history.
Although few gold mines remain operating in the state, platinum/palladium and coal mining are still sources of employment that provide high wages for employees, even though a graph tracing mining employment has as many peaks and valleys as the state's steepest mountain ranges. Mining employment was at almost 10,000 jobs in 2013. Figures for this year put employment closer to 7,000.
"The county does need jobs," said Malone, the Park County commissioner.
And property taxes, since the state has no sales tax, are failing to generate enough income for places like Park County to continue to fund social services like it has in the past, he noted.
"This year it was really tough to balance the budget," he said. "We had to cut social service budgets by half."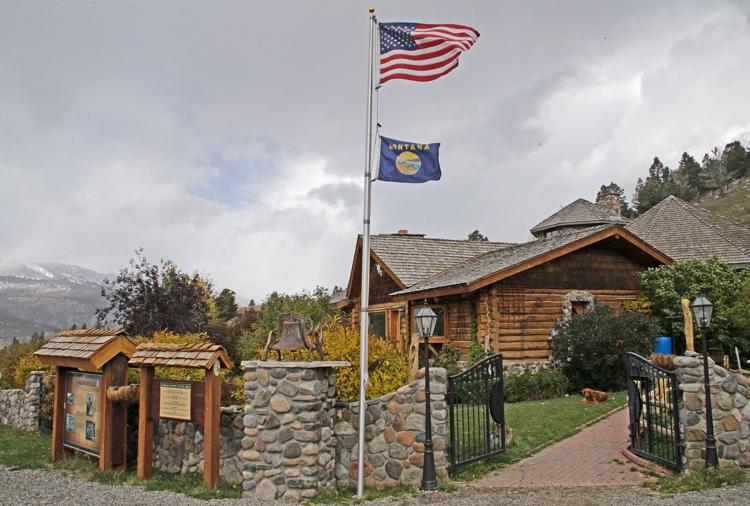 Challenger
Bill Berg, a Gardiner businessman who is challenging Malone for his commission seat, said his community near the Crevice Mine is divided over the issue.
"It's dangerous to try and speak for Gardiner," he said. "But land, water and air is our economic base, so this seems ill advised."
The two mines proposed in the valley at least have prompted people to discuss what they want, even if they don't all agree, Berg added.
"Tourism certainly has its impacts, it's not a free ride," he said.
Almost 1 million people pass through Gardiner each year on their way to Yellowstone, Berg said, where last year 4 million people visited. In 2014 the National Park Service estimated that visitors to Yellowstone contributed more than $543 million to communities around the park and accounted for more than 6,600 jobs.
Finding affordable rooms to rent for people who staff the hotels, stores and restaurants that the tourists use is difficult, though, Berg said. So not all is rosy in the tourism economy. Yet he compares Yellowstone and Glacier national parks to the anchor stores of large shopping malls.
"You don't want to do anything to hurt those."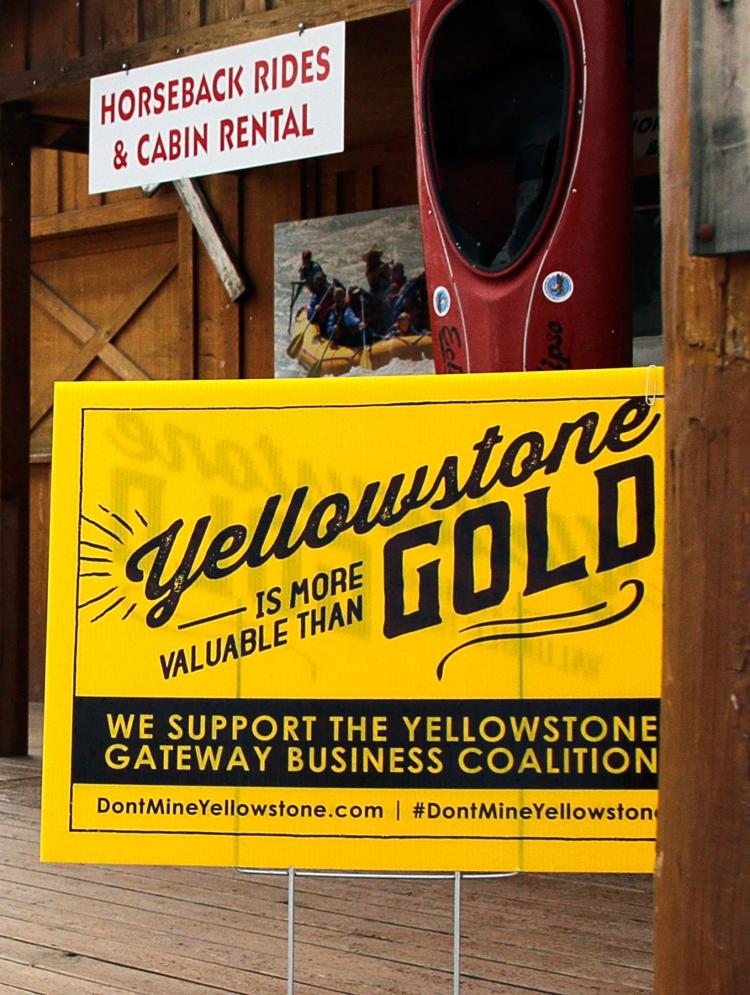 Signs
Bright yellow signs along Gardiner's main thoroughfare read: "Yellowstone is more valuable than gold." More than 100 regional businesses have signed a petition against the Crevice Mine exploration and one proposed in Emigrant Gulch near Chico Hot Springs Resort. To rally support, the Yellowstone Gateway Business Coalition has created a website, dontmineyellowstone.com.
Of the state's three U.S. congressional representatives, Sen. Jon Tester and Rep. Ryan Zinke have taken a stance against the Paradise Valley mines. A spokesperson from Sen. Steve Daines' office said he is still gathering information. Neither gubernatorial candidate has spoken for or against the mines.
Until the next move, residents of the Paradise Valley are in limbo. For some, like Johnson, the unknown is a bit disconcerting.
"I grew up down in Jardine, I was born and raised there, and when I was a little kid I drove above this place and looked down and always wanted to move here," he said. "So I was one of the fortunate people to realize my dream.
"I feel like my greatest accomplishment in life is this place and my kids."