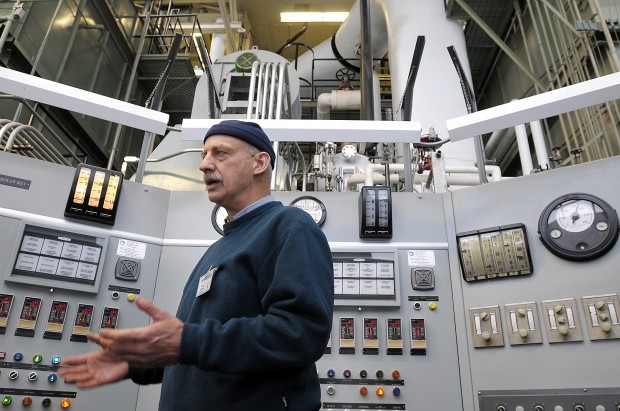 The Montana University System could shave tens of thousands of dollars off its utility costs by making energy upgrades to its buildings and investing the savings back into projects aimed at further efficiency, a recent study suggests.
The state's two flagship universities alone spend more than $12 million a year on utility costs, including millions of dollars for natural gas and electricity. The cost is much higher when the 14 other state colleges and universities are considered.
With an eye on cutting use, student leaders at the University of Montana and Montana State University are urging officials to adopt a statewide system that sets universal high-performance building standards for campus facilities across Montana.
They're also expected to ask the 2013 Legislature to consider reinvesting any energy savings back into projects to achieve additional efficiency.
"If we can control part of those energy costs, we can control one part of the cost of education," said Zach Brown, president of the Associated Students of UM. "It's good for the state and it's good for the students."
Brown and Blake Bjornson, president of the Associated Students of MSU, presented the findings of their Smart Building Initiative last month to the Board of Regents in Missoula.
While researching the SBI, they came across a Montana code passed by the Legislature in 2009. It directs state agencies, including the university system, to adopt high-performance building standards when new state buildings are constructed, or when major renovations take place.
The standards call on agencies to optimize energy performance and enhance indoor environmental quality. They also direct agencies to conserve natural resources and cut energy costs.
But four years after the code was adopted, the state has not agreed upon a universal high-performance building standard. The lack of such guidance — applicable to all state buildings, including those at public universities — has student leaders and other proponents frustrated.
"From our perspective, it's unsatisfactory that four years have gone by and we still haven't created these standards," Brown said. "This is state statute, and the Montana University System can take a lead on pushing these standards forward."
While a universal building standard remains elusive, UM has moved forward in developing its own standards to achieve and measure energy efficiency.
Tom Javins, associate director of engineering and utilities at UM, said the school has chosen to follow Leadership in Energy and Environmental Design (LEED) standards to guide construction of new buildings, or when retrofitting old ones.
"The Legislature passed a statute that says buildings will comply to a high-performance standard, but they didn't define the standard," Javins said. "There's quite a bit of discussion on what standard the state or the universities should adhere to. In Missoula, UM desires to use LEED."
LEED was developed in 1998 by the U.S. Green Building Council. Since its inception, it has emerged as an industry leader in rating buildings on efficiency, from water usage to energy consumption.
But other rating standards may also be considered, including the Green Globes system and a separate standard created by the American Society for Heating, Refrigeration and Air-Conditioning Engineers.
To the layman, the array of standards appear similar in their goal to make efficiency a way of life in taxpayer-funded buildings across Montana. Yet the rating systems differ, however slightly, and state officials haven't agreed on which standard agencies should follow.
"There's a number of high-performance building standards being proposed and used," Javins said. "There's been a series of (state) meetings to develop the administrative rules so they can enact that 2009 legislation."
Several messages left at the Department of Administration in Helena last week were not returned. The agency, according to proponents, is involved in discussions on which standard to use.
Moving ahead on its own, UM's Facilities Services completed 20 conservation projects in 56 campus buildings in 2009 when the state code was passed. While the projects cost more than $5 million to complete, they now save around $360,000 a year, cutting 3,500 megawatt hours of electricity and 14,000 dekatherms of steam heat.
Since 2009, additional upgrades have also been made to campus lighting and ventilation systems. That, Javins said, has increased the savings to nearly $420,000 a year.
"We have a number of electric meters we're in the process of installing," said Javins. "They're web-enabled meters that provide real-time information. We can get 15-minute readings and monitor what's happening in any given building."
During the regents meeting in November, Brown and Bjornson recounted one instance in which the heating system at Washington-Grizzly Stadium was mistakenly left running long after the game had ended.
Because the system wasn't metered, the heat ran for six weeks, costing more than $25,000, according to Brown. The new web-based meters will allow operators to remotely monitor usage in real time while watching for any problems.
MSU Billings is ahead in the effort, and other schools are following suit, keeping an eye out for energy hogs.
"We can determine if the on-off schedules for equipment are being followed or overridden, or if they're using more energy than needed," Javins said. "We've spent a bunch of money on energy conservation measures. This will allow us to see if they do what they're intended to do."
Brown said tackling energy efficiency in state buildings makes sense on several levels.
"There's the environmental component and it's important from a climate change perspective," Brown said. "But there's also a fiscal perspective. If we can reduce waste, we're doing the public a general good."
Be the first to know
Get local news delivered to your inbox!