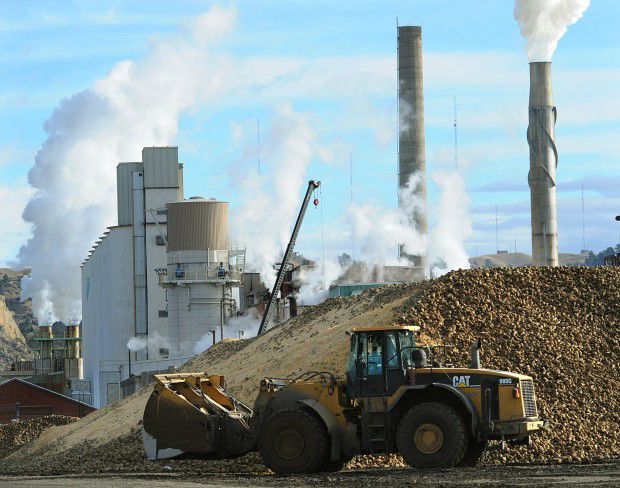 With beets piled high at area sugar dumps, Western Sugar Cooperative expects to refine sugar through the first of February.
Ending the sugar campaign around Feb. 1 would be an early finish, but refineries expecting a large beet crop fired up early last fall. The per-acre tonnage turned out to be average or slightly smaller than expected.
Farmers ended up getting right under 28.8 tons per acre and 17.6 percent sugar in the beets, said Randall Jobman, Western's North Country agricultural manager. "That's average. The tonnage in Billings was off just a little."
The Billings refinery has already processed about 60 percent of the region's beets. Western's refinery in Lovell, Wyo., is cranking out sugar at a similar pace.
The refineries fired up Sept. 4, a very early start compared with previous years, when the cooperative began slicing beets in the middle of September just to prepare the refinery for October, when most farmers begin harvest.
The expected bumper crop of beets didn't materialize, particularly in Wyoming, where farmers anticipated a record average of 30 tons an acre.
However, Montana farmers did harvest more beets than last year because they planted more acres. Montana sugar beet production was expected to be 1.3 million tons, a 16 percent increase from 2011. Farmers harvested 46,000 acres of beets, roughly 3,000 acres than the previous year, according to the National Agricultural Statistics Service of the U.S. Department of Agriculture.
In Sidney, farmers harvested a record 27.8 tons an acre, said Russ Fullmer, of Sidney Sugars. The bumper crop will keep the refinery making sugar until the third week of February.
Statewide, farmers anticipated a large harvest until beet diggers broke ground in October, NASS reported. Estimates then dropped nearly a ton an acre, as farmers realized the final month of crop growth hadn't been ideal.