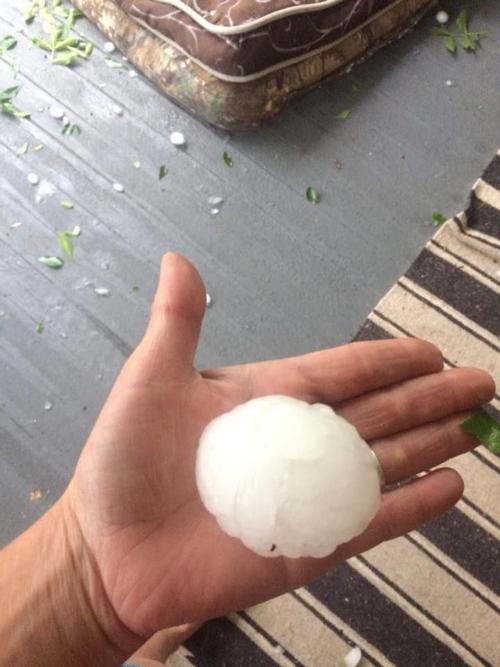 A severe thunderstorm that pummeled Roundup and other parts of Musselshell County Thursday evening brought with it tennis ball-sized hail that shattered windows and damaged property, the National Weather Service in Billings reported.
The storm originated in southeastern Wheatland County and held together as it traveled across Golden Valley County and on to Musselshell County, said  Tom Humphrey, an NWS forecaster.
The storm reached the Roundup area shortly before 6 p.m.
The storm was severe enough to produce what Humphrey called a "rotating wall cloud," which in some cases can be a precursor to a funnel cloud and ultimately a tornado. Rotating wall clouds are often a characteristic of larger supercell storms. 
"People could look up and see the thunderstorm rotating clearly," Humphrey said.
Speaking shortly after 7 p.m., Humphrey said Roundup wasn't in the clear yet. At about 7:30 p.m., a severe thunderstorm warning was issued for Roundup and Klein, this one capable of producing quarter-sized hail and winds up to 60 mph. 
The initial round of thunderstorms that passed through the area early Thursday evening mostly missed Billings.
At about 2 p.m., the weather service issued a severe thunderstorm watch until 10 p.m. extending from west of Butte and continuing east of Miles City, with storms possible just south of Glasgow and all the way to Montana's southern border. 
Rain was heavy enough with the storm that some areas in Musselshell County likely saw it falling at rates of an inch an hour before the storm moved on. 
NorthWestern Energy had received reports of limited outages in and around Roundup as a result of the storm. The storm caused flash flooding, and water was visible across U.S. Highway 12 east of Roundup at mile marker 176, according to Musselshell County Disaster and Emergency Services. 
Jan Lovec thought it might hail as she looked outside on the evening just before a tornado ripped through her neighborhood.