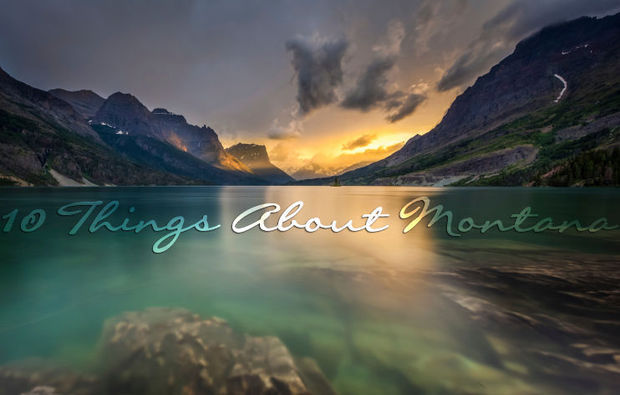 Montana is a great place. The people are a lot warmer than the average temperature. The scenery is amazing. The fishing, boating and skiing are world-class. The history is profound.
I moved here from San Diego at the beginning of January, and when I came, I knew very little of that. All I knew was that Montana was cold, and there was lots of ice and snow around to remind me of it.
Since I arrived, I've acclimated pretty well. But I don't feel 100 percent like a local yet, so I feel uniquely qualified to share the discoveries many of us who have moved into this big, cold, fascinating place experience upon arrival.
Here's a short list of 10 things many out-of-towners learn quickly after moving to Montana.
---
My wallet thanks you, Montana. I moved here from San Diego, where you have to make more than $90,000 per year to afford a modest house.
Everything in California is so much more expensive than it is in Montana. From gasoline prices and grocery store bills to rent and taxes, there's no getting around the "sunshine tax." Unless you happen to be wealthy to begin with, living there will leave your wallet quite gloomy.
Montana has been much friendlier to my bank account. 
---
It's really cold here. The downside of not having a "sunshine tax" is the fact that for four or five months of the year, there's not a lot of warmth in Montana. I knew it was cold before I moved here, but I didn't really know how cold.
Now I do, and let me tell you. I do miss the endless sunshine and warm temperatures, but not so much that I'm willing to pay out the nose to live there.
---
Everyone knows everyone. In big cities and major metropolitan areas, a lot of what you do in the public sphere doesn't matter a whole lot. It's no big deal to go to the store in pajamas (Holla! People of Wal-Mart!) because odds are you're never going to see the weird people giving you the stink eye again. And if you recognize anyone, you probably know them well enough that them seeing you dressed down isn't a big deal.
Not so in Montana. The state may be large, but most of the communities in it are very, very small. Everyone knows everyone in these small towns. You do business with your neighbors. You see people you know in places you'd never expect every single day.
I'll have to remember that next time I need to make a midnight run to Wal-Mart.
---
Important people live here (or have vacation homes here). Let's face it. Montana is known for its national parks, its fishing and its hunting. Other than Lewis and Clark, it's not widely known as a major contributor of human capital to the American Republic.
It surprised me just how many important people came from Montana and how many make Montana their summer home. This gallery in particular was very enlightening. I mean, who outside Montana knew that Dana Carvey was born in Missoula, or that Tom Brokaw owns a ranch near Livingston, or that NBA super coach Phil Jackson was born in Deer Lodge? Not this guy.
---
Montana is huge. This was probably less of a surprise for me than for other people from out-of-state, but I didn't realize how big Montana was until I drove from Helena to Billings in four hours and didn't even make it halfway across the state. In California, you can drive from the coast to the Nevada border in about that time, and in my original home of Utah, you can make it from Salt Lake City to Arizona in four hours.
Hop on the road in Montana with the intent to get from one end of the state to the other, and you'll be driving for a very, very long time. I mean, I knew that, but I didn't realize how long until I actually hit the road. Montana is huge.
---
If you're not into the outdoors, Montana isn't for you. I'm a city boy. I'm not ashamed of that. But if I'm going to enjoy all Montana has to offer, I better get myself a fly pole, some camping gear and some skis in a hurry, or it's not going to be very fun.
Not that Montana, or even the Helena area in particular, suffers from any material deficiency. Helena has movie theaters, many major retail chains and loads of nifty local businesses. There are even some cool sports teams here. (Go Bighorns!) But it's not like the NBA is ever coming here. If I want real entertainment in Montana, I'm going to have to be outdoors.
---
There's American big cities, and then there's Montana big cities. Did I mention that the NBA is never coming here?
The difference between Montana and other areas is remarkable. I lived in a county with more than 3 million people. Suddenly I was in a county of just more than 60,000 people. That's a big change.
Soon after I moved here, I learned that Billings was the biggest city in Montana. When I visited Billings, I didn't see the whole city, but as I pulled inside the city limits, looked around, and saw the raw Montana countryside and farmland, I had to readjust my perception of what qualifies for a Montana big city. It's quite different than other places in America.
---
The summers make up for the winters 10 times over and then some. Of all the criticism that Montana gets for its winters, it doesn't get near enough credit for its summers, or so I'm told.
I should qualify the assertion that Montana summers are amazing because I've never lived through one, though like many tourists, I have camped in Yellowstone during the summer. Experience tells me Montana summers should be awesome. The temperature rarely gets above 95. There's forest and nature everywhere. The days are extra long.
What's not to like? Nothing. I'm excitedly looking forward to this summer.
---
Politics as usual. Just like every other state in the nation, the political arena is dominated by two very old, very monolithic parties that seem to get more enjoyment out of beating each other down than trying to actually serve the American people. The faces change, but the storyline is always the same. One side wants to do something, but the other won't let them. Grandstanding ensues. Eventually one side or the other wins on a technicality.
In some rare cases, people actually participate to such a degree that the people's will cannot be refuted. In these rare occasions, something actually happens, and the only ones upset are those trying to fight against the will of the people. We should do more of this.
On the whole, though, Montana politics are the same as any other political arena. The scenery is different, but the storylines are very much the same -- except for yoga pants. I don't think the whole yoga pants issue would have surfaced in many other places.
---
Montana is absolutely gorgeous. Most of the reaction I got when I told my friends and family that I was going to move here was, "Why go there? There's nothing in Montana."
Well, if gorgeous scenery, majestic landscapes, occasional visits by the Northern Lights, absolutely stunning starry night skies, pristine rivers and lakes, good skiing and Jim Dolan's Bleu Horses are any indication, my family and friends were wrong.
Montana is one of the most beautiful places I've ever lived.
For these 10 reasons, excepting the politics, I'm happy to live here.