HAZEN, N.D. — Krista Slaubaugh doesn't remember what happened while her car was airborne before it nose-dived into a ditch in Hazen.
"I pretty much just shut my eyes while I was in the air," Slaubaugh said, adding all she could do during the December crash was hold on to anything she could grab.
Moments before, the 18-year-old had tried to avoid a pickup that had pulled out in front of her, but the icy highway forced her car to roll onto its roof into the ditch.
The only thing holding her in place as she hung upside down was her seat belt.
Slaubaugh, who with her older sister, Kendra, form the popular North Dakota music duo Tigirlily, walked away from the rollover with no serious injuries, but the potentially fatal crash could have had a different ending.
"The police said I would have been ejected from the vehicle and possibly rolled over if I wasn't wearing my seat belt," Slaubaugh said, adding "my life could have ended on the road."
She could have kept the incident private, but she decided her survival could help save lives. The North Dakota Department of Transportation asked Slaubaugh and her family if it could use her story in its Code for the Road Initiative, which is aimed at educating drivers.
As part of Click It or Ticket, a national campaign meant to encourage travelers to buckle up, NDDOT will air Slaubaugh's story in TV and radio ads Monday through June 5.
"That two seconds of buckling up really saved my family a lot of heartache and also allowed me the opportunity to keep pursuing my dreams," she said in one Code for the Road video.
'Until it happens to you'
Slaubaugh said Dec. 11 was like any other day. She had just finished basketball practice and was getting ready to drive home from school. She climbed into her car and fastened her seat belt, something she said she always does before hitting the road.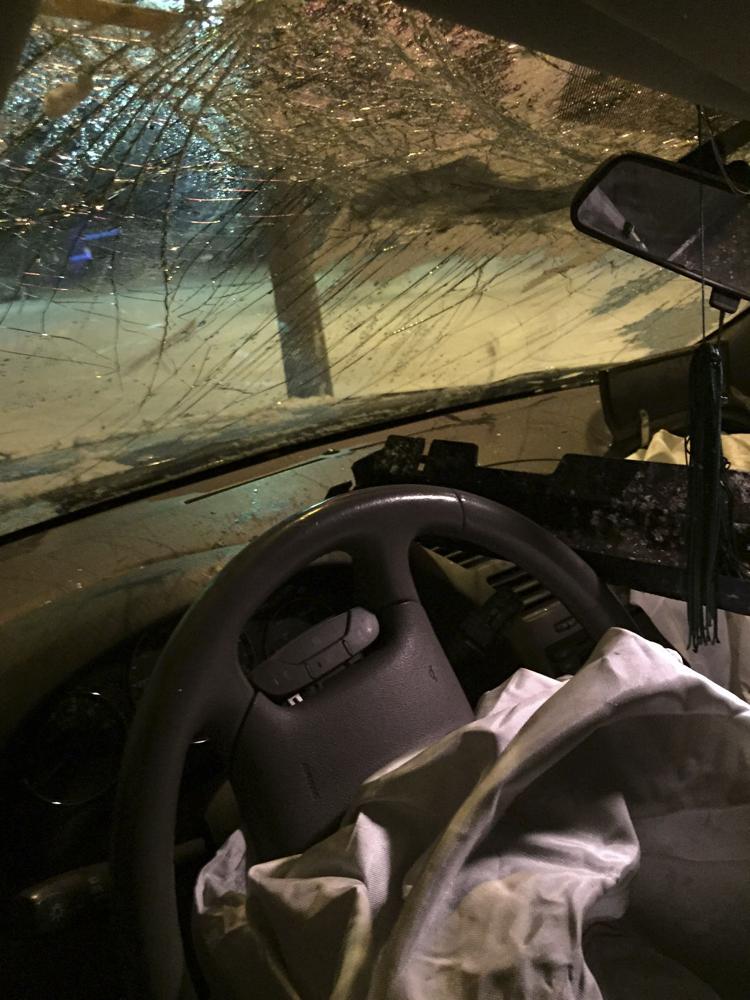 "My parents always instilled the habit of buckling up at a young age," Slaubaugh said.
The roads were icy and it had just snowed, she said, but those driving conditions are typical for North Dakota, and Krista's home is only a mile from Hazen High School, where she was a senior at the time. The route she took, along North Dakota Highway 200, was one she drove frequently.
As Slaubaugh drove, a black pickup pulled out in front of her from Eighth Avenue Northeast. With icy roads and little time to act, her options were limited.
"It was either hit the pickup or slow down," she said, adding she instinctively hit the brakes.
Slaubaugh tried to correct her vehicle, but the car slid at an angle and hit a stop sign, causing the vehicle to flip and go airborne for about 8 feet.
When the car came to rest, Slaubaugh opened her eyes. The car now was on its roof. The airbags had gone off, and she was hanging upside down.
She said she felt her body to check if she was injured or in pain.
"I felt around to make sure everything was OK," Slaubaugh said, adding she realized her seat belt was the only thing holding her in place.
With the help of a classmate and a stranger who had spotted the crash, she was able to climb out before emergency responders arrived at the scene.
She called her father, Kendall Slaubaugh, to let him know she had been in a car crash and that she was not seriously injured. Because she was 17 years old at the time of the crash, she was taken by ambulance to Sakakawea Medical Center in Hazen, where she later was reunited with her parents.
"Until then, I didn't really think about how bad it could have been, but when I saw my parents' faces it kind of sunk in, you know, kind of got emotional," she said.
When Kendra Slaubaugh heard from her mother, Brenda, that Krista was alive after the crash, she was grateful, sending up a prayer to God saying "thank you."
"You don't really realize how important it is until it maybe happens to you or someone really close to you," Kendra said.
The car, which belonged to Kendra, was completely totaled. Photos of the car show a spiderwebbed windshield. The front bumper is all but torn off, barely hanging in front of a bent radiator.
"I remember going down and looking at the car. ... I even remember seeing all of my old CDs in my car just scattered around everywhere. It was just a complete wreck," Kendra Slaubaugh said. "After seeing the car and talking to a few people, it was pretty clear that if Krista had not been wearing her seat belt, there probably would have been a different end to the story that night."
But Krista said she was not injured, save an airbag burn to her arm.
"I'm just very, very thankful I was wearing my seat belt," she said. "Car accidents like that are very scary, and I just couldn't imagine my life ending at such a young age."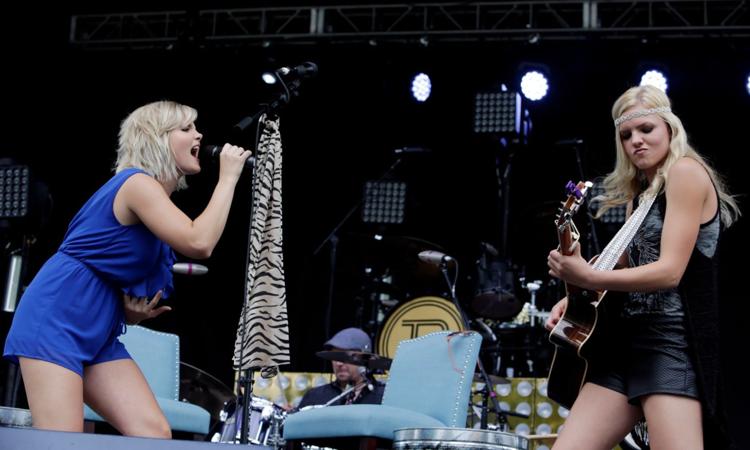 Reaching half a million people
In North Dakota, Krista and Kendra Slaubaugh are celebrities.
The sisters, who named themselves Tigirlily, have been posting videos of themselves singing on YouTube for five years. The went from doing "kitchen covers" -- they mostly performed popular songs in front of a camera in their kitchen at home -- to recording records and videos with professional producers, as well performing in concerts across the state.
Tigirlily has posted dozens of videos, with some being viewed tens of thousands of times. The sisters' version of "Amazing Grace," has been viewed 1.1 million times. "North Dakota," an original song praising their home state, has been seen around the world and has almost 386,000 views.
The Tigirliy Twitter and Facebook pages each have more than 55,000 followers. So it was no surprise that a Facebook post about Krista's crash gained traction.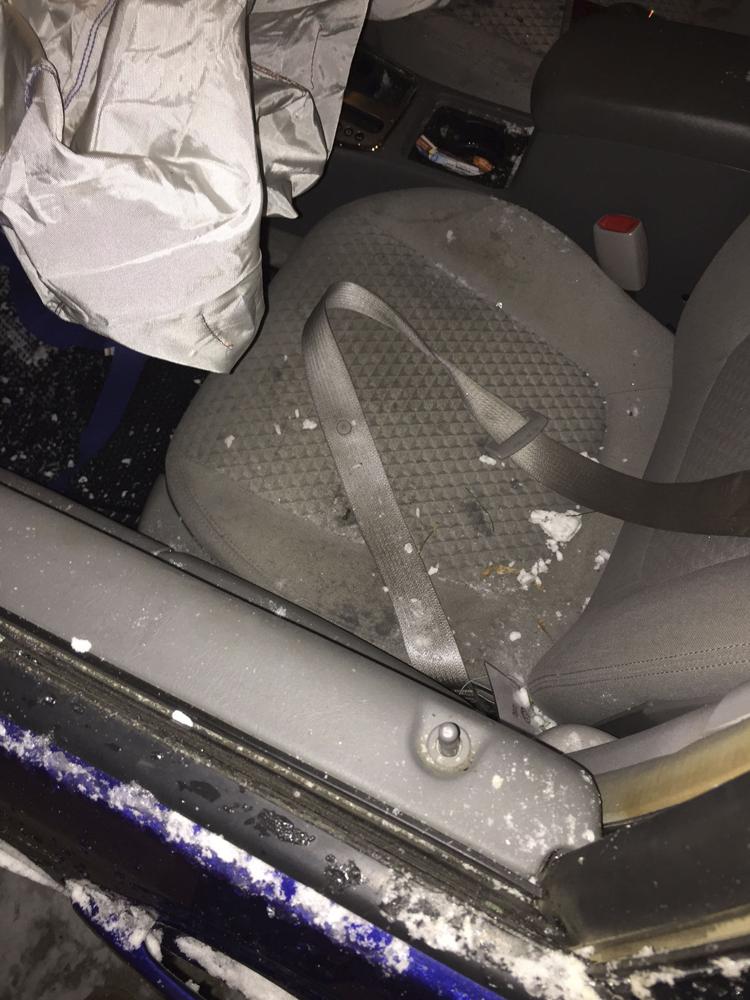 "The most vivid thought I can remember about the accident was opening my eyes, feeling my seat belt holding me in, and saying to myself 'I'm alive,'" she wrote in the post.
That post reached more than half a million people, Kendra Slaubaugh said, and it's how NDDOT first learned of the crash. A spokesperson contacted the family shortly after the accident and asked Krista to share her story about the crash.
"I was very willing to do that because I just wanted to get the word out as much as possible that people really need to buckle up no matter where you are," Slaubaugh said. "I think, especially since I'm a high-schooler, I can relate to a lot of high-schoolers who may think these accidents aren't going to happen to them, and I think it makes them realize it really can happen to anyone."
'A couple of seconds'
Code for the Road, which was initiated in 2013 by the DOT, features multiple testimonies of people regarding seat belts, but this is the first time the campaign has tapped a popular music band like Tigirlily said Ashlee Doan, an NDDOT spokeswoman.
Last year, 61 percent of vehicle fatalities in North Dakota happened when travelers were not buckled in, Doan said. Almost 91 percent of travelers who received no injuries were wearing seat belts.
"That just proves that wearing your seat belt does indeed reduce the risk of serious injury or fatality if you are involved in a motor vehicle crash," she said.
The sisters said they wanted to use the story to educate drivers and help others. It's a way for Tigirlily to use their popularity to save lives, Kendra said.
"To turn something ... that could have been extremely scary and heartbreaking into something good and to save someone's life is worth it in the end," Kendra said. "Everything happens for a reason, and maybe this was supposed to happen this way so we could save someone's life and save a family heartache."
As partners with NDDOT, the Slaubaughs said they hope the story helps others realize no one is invincible, and no matter how old a person is, everyone should buckle up.
"A couple of the seconds (it takes to buckle up) could really save your life, so don't ever hesitate to buckle up," Krista said.