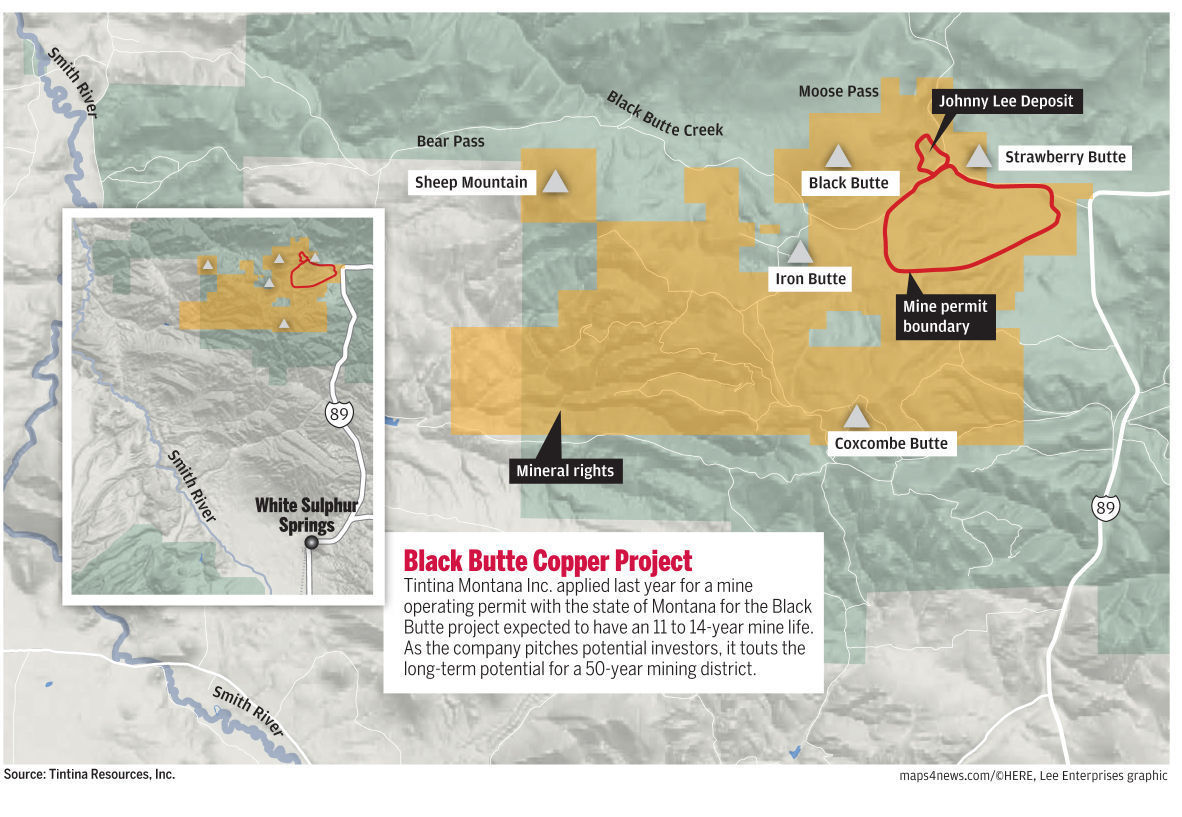 HELENA —The Montana Department of Environmental Quality is in the midst of analyzing a mine operating permit submitted by Tintina Montana Inc. And as the company looks to get the project underway, it is already touting the mining potential near White Sulphur Springs that could last for decades.
The Black Butte Copper Project is a small mine proposal by most estimations, targeting high-grade ore underground. The project has stirred emotions for years between supporters who look forward to an economic boon for Meagher County and opponents who point to mining's poor environmental record in Montana and argue the mine's proximity to a tributary of the Smith River jeopardizes the iconic waterway.
As Black Butte works its way through permitting, a process estimated to last two years, Tintina's President and CEO Bruce Hooper has pitched interested investors in part on long-term exploration and mining potential for the area. Materials for prospective investors echo the possibilities, mentioning "numerous untested extensions along strike over 20km" and "district-wide potential to extend mine life and establish a 50-year district."
"In many ways we'd love to get out and do some more exploration … but it's not part of our short- and medium-term plans," Hooper said in an interview. "Permitting is really our focus right now."
If permitted, Tintina will mine copper deposits called the Johnny Lee located about 15 miles north of White Sulphur Springs. Another deposit, called the Lowry, was discovered a short distance away but is not part of the current mine proposal.
In 2014, Tintina purchased 40 federal mining claims adjacent to Black Butte. At the time Vice President of Exploration Jerry Zieg said the purchase guarded against competition. He also mentioned potential exploration but noted the company had no immediate plans.
Tintina still sees the claims in a similar way, Hooper said, adding that the purchases are "probably it for the time being."
Black Butte's small size using modern mining techniques has been a staple of Tintina's public message as it seeks a permit. But with an estimated mine life of between 11 and 14 years, long-term potential is something important to investors and employees, Hooper said.
"For the investment community, spending a lot more money if you don't know it can be permitted does not make sense," he said. "Once it's in operation, then we'll certainly look to extend the mine life. That's a positive for the community we've invested in as well that it's not just a short-term operation and they'll benefit from any new discovery."
Many White Sulphur Springs residents have thrown their support behind the mine, with Meagher County commissioners among the staunchest advocates.
In an interview with commissioners last year, Chairman Herb Townsend said he was convinced Tintina was taking extra steps to ensure responsible mining and questioned the messaging of outside groups opposed to the mine as relying on scare tactics.
Hooper emphasized that any new mining would be the subject of the same permitting process and scrutiny as Black Butte. Mine expansion is also a common practice in the industry as mines often explore and grow over time, he added.
Because of legal agreements with area landowners, future mining would be underground, he said.
"You just can't have an open pit mine in this area," Hooper said.
Opponents of the mine questioned whether Black Butte is simply a foot in the door for a larger vision of a half-century of expansive mining encompassing multiple tributaries.
"Our primary concern here is what they're selling Montanans is a small footprint, underground mine with a relatively minor impact, when in reality what they're telling investors is this is a much larger project that will create an industrialized zone," said Derf Johnson, Clean Water Program director and staff attorney for Montana Environmental Information Center.
While mines initially seeking permitting go through a gamut of analysis, amending existing operating permits is a common practice with a lower environmental review, he said. As an example, Johnson pointed to multiple amendments to the operating permit for Golden Sunlight Mine near Whitehall.
"I think they've been selling us something they're not entirely interested in and they haven't been telling the full truth," he said. "I think they really want to turn this into a big money-maker."
As it considers permitting, DEQ should consider the talk of potential expansion as a potential impact, Johnson said.
But DEQ has nothing to suggest Tintina is planning beyond its permit application, nor could it consider potential expansion unless it was concurrently considering another project, DEQ Public Policy Director Kristi Ponozzo said. DEQ is limited by the Montana Environmental Policy Act to concurrent considerations, she said, with separate analysis for future proposed projects.
As Tintina submitted its operating permit for DEQ's initial review in December, Trout Unlimited convened a technical review team to scrutinize the application. On Wednesday, the team released its findings, which highlight several concerns including what it calls incomplete and insufficient data for fisheries and hydrology.
"Because the Smith is one of Montana's most beloved rivers, the Black Butte mine proposal requires world-class scientific scrutiny," Bruce Farling, executive director of Montana Trout Unlimited said in a statement. "We're confident thousands of Montanans agree with our view that the state of Montana should not permit this mine unless it has been demonstrated with near 100-percent scientific certainty that it poses no risk to water or fish. It's clear to us the information Tintina has provided to the state falls far short of this threshold."
DEQ must make a determination within 90 days of receiving the application, at which time it notes any deficiencies and Tintina will have an opportunity to remedy them. If the permit application is accepted, Tintina must then pay for an environmental impact statement which will include chances for the public to comment.
Dave Chambers, president of the nonprofit Center for Science in Public Participation, coordinated with Trout Unlimited's review team and says he believes Black Butte is ripe for expansion. While he says he would not consider himself independent, he does believe his analysis is objective.
"It's pretty obvious there's more potential for expansion, and our primary concern is how much and what kind of mining," Chambers said.
Tintina says it will not use open-pit mining due to agreements with landowners, but "it doesn't offer a guarantee, it's just a statement," Chambers said, adding that several surface mineralized zones lend themselves to open-pit mining.
An additional concern is the proximity of some of the claims to tributaries and the main stem of the Smith River, he said. The Black Butte site is 19 miles from the river, but Tintina's claims extend much closer.
DEQ's response to Tintina's mine operating permit is due out in March.