GARDINER — When Stan Grier looks out over the grassy valleys and snow-dusted hilltops unrolling southward from Roosevelt Arch, his view of the landscape differs from that of most of the millions of visitors who stream into present-day Yellowstone National Park each year.
Chief of the Piikani Nation of Alberta, Canada, Grier drove to the park's North Entrance to gather Saturday with about 15 chiefs, chairmen, council members and other dignitaries from more than a half-dozen Indian tribes urging the U.S. government to change the names of two features in Yellowstone bearing the names of historical figures with ties to genocide and white supremacy.
"So well did we know this area, that some of the names our people use for features of this land are still used today, like the Beartooth Mountains, the Heart Mountain near Cody, and today we are here because of very different names," Grier told about 50 people gathered in the Gardiner Community Center on Saturday afternoon.
After a ceremony that included speeches by Grier and others, representatives from the Blackfoot Confederacy and the Sioux Nation signed and delivered a petition to Yellowstone Park officials that formally requested the name change.
Tribal leaders view the government's use of names referring to Gustavus Cheyney Doane — whose story includes the massacre of an estimated 174 Native Americans in 1870 — and Ferdinand Hayden — a geologist who explored Yellowstone who also held racist views that endorsed genocide — as a desecration of lands the tribes long have considered holy.
Brandon Sazue, Chairman of the Crow Creek Sioux Tribe of South Dakota, urged park officials, three of whom attended the ceremony, to work with local tribes to help educate visitors on the sometimes violent history of present-day Yellowstone.
"Can you imagine the killings of 174 Piikani people — an army," Sazue said. "These are soldiers killing 174 people — 15 of them probably were of fighting age — children in their mothers' arms. Would we do that today? We've been through so much already, but in order to stand on the same side as equals, we have to start somewhere."
Many tribal nations in the Western U.S. historically used the lands within Yellowstone both for survival and spirituality. The ancestors of present-day Blackfeet would pick herbs, gather materials for paints and hunt bison in the park, Grier noted, while also using the land as a site for celebrating the earth and embarking on vision quests.
And still today in Yellowstone and its surrounding areas there remain pictographs and other archaeological evidence of the tribes' presence over thousands of years, noted Louise Dixie, the cultural resources director of the Shoshone-Bannock Tribes of Idaho.
"Our history is here, and it will continue to be here," Dixie said.
Grier also responded to a local historian quoted in Friday's Billings Gazette, who noted that while Doane had unquestionably committed and later expressed pride in the slaughter of scores of Native Americans, Hayden had only written favorably on those types of policies without committing his words to actions.
"Words are what incite genocide; even recent history tells us that," Grier said, pointing to United Nations declarations against those found to have helped incite the Rwandan genocide campaign in the 1990s.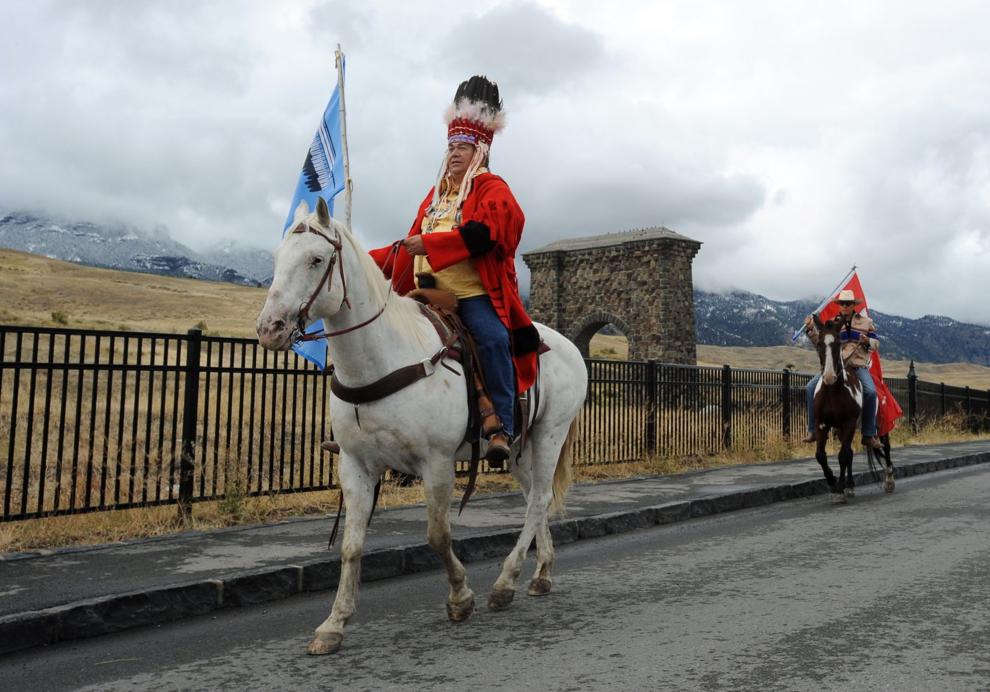 After the petition-signing ceremony, a procession of tribal members on horseback and on foot marched to the sounds of drumming and singing through the historic Roosevelt Arch and to the park's North Entrance to deliver the document to Deputy Superintendent Pat Kenney.
While several tribal officials noted their opposition to the names of Hayden Valley and Doane Peak was made public years ago, a final determination on the proposal is unlikely until next year.
Changing a name
Even when the proposal goes through, changing the names of Mount Doane and Hayden Valley will not happen overnight.
The ultimate authority rests with the U.S. Board of Geographic Names, a federal body composed of 22 representatives from more than a dozen governmental agencies.
According to Jennifer Runyon, the board's senior researcher, the process goes like this: The board receives an official application for a name change, including a summary of the reasoning behind the request. Board staff then solicit input from county, state and, in this case, Park Service officials and prepare a case brief based on the information they've gathered.
Once everyone has weighed in and the materials are prepared, the item is added to the agenda for the board, which meets once every three months, to discuss the pros and cons.
"Even if we got a proposal today, we're talking six to eight months," Runyon told the Gazette.
The federal board has been aware of the tribes' condemnation of the two geographic labels for a couple years, she said, but the process can't begin until a proposal is formally submitted.
"That never happened, so there's essentially the perception out there that the board hasn't been doing anything, and we can't until they propose it," she said Thursday.
Once the ball gets rolling, however, changing a geographic feature's name can often run up against local opposition, as has been the case in similar instances around the country.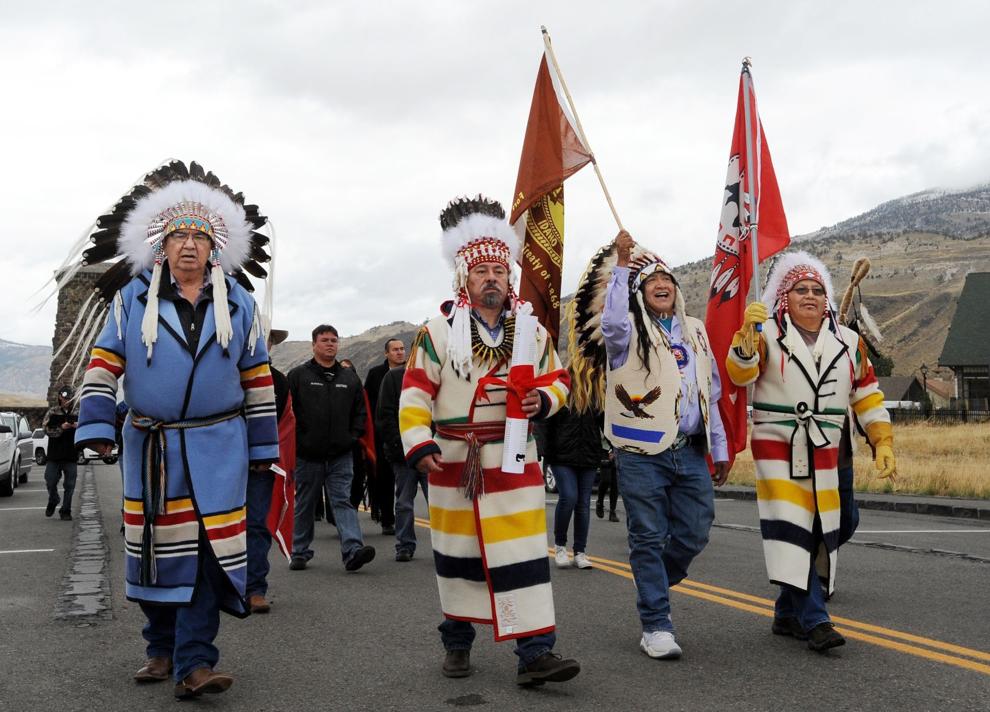 Precedent
In Arizona, local Indian tribes began petitioning state and federal leaders to rename a prominent peak near Phoenix that bore a derogatory name for Native American women, "Squaw Peak," in 1992. In 2003, the mountain was renamed Piestawa Peak.
Name changes within Yellowstone aren't without precedent, noted the park's branch chief of cultural resources, Tobin Ropp, on Saturday. But aside from the switch from "Squaw Lake" to "Indian Pond" back in the 1980s, he said he wasn't aware of any other changes that stemmed from cultural sensitivities within the park's boundaries.
Officials with Yellowstone National Park have yet to indicate whether the park will support the name change. Along with Park County, Wyoming, the state's board of geographic names and tribes with historical ties to the area in question, Yellowstone Superintendent Dan Wenk will also be asked to submit a recommendation.
Kenney, the park's deputy superintendent, didn't offer an indication either way Saturday and echoed previous park statements in his remarks to the Piikani leader's delivery of the petition.
"We came today to listen, learn and hear your perspective," Kenney told Grier, adding that he looked forward to continuing a dialogue with the tribal leaders.
In his speech prior to the ceremony, however, Grier made clear his perspective on present-day Yellowstone is rooted in a painful past.
"This is the world's first national park, not a city park. It's not a statue," he said. "This was our land. This was our traditional people's lands."