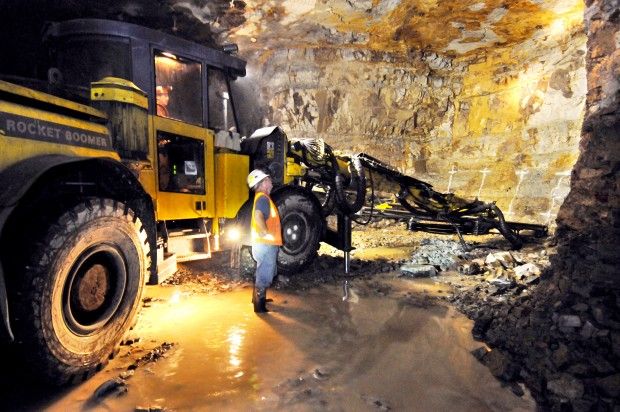 TROY – Mining operations are back underway at the Troy Mine for the first time since a series of underground rockslides forced it to close in 2012.
Revett Mining Co. announced this week the mine had recommenced underground crusher operations and milling operations will restart soon. According to company president and CEO John Shanahan, the mine currently employs 65 people and that number will ramp up to 95 by the end of the year.
"We hope to return to full levels of 175 employees as we return to full production in mid-2015," he said.
The underground mine, located just west of Bull Lake along Montana Highway 56 in Lincoln County, contains a sulfite-based ore that produces copper and silver. Shanahan said the company produces a high-grade silver and copper concentrate that it ships off domestically and overseas for smelting.
"It's an extremely clean concentrate," he said. "It's one of the highest grades of copper and silver concentrate on the market."
The mine has another 12 years of life at least, Shanahan said.
"We always hope with continued exploration we will have successes, but of course no one knows until we've actually completed that," he said.
From 2004 until 2012, the mine employed about 180 people, many from the surrounding area.
Shanahan said he expects to get near that level of employment by the middle of next year, and he hopes to hire back as many of the previous employees as possible.
"Our skilled employees are miners, mechanics and millworkers," he explained. "Obviously, our priority is those that have previously worked there. Many still live there and are waiting. Many of our employees were hired locally and trained, and if we have to do that again we'll do that."
Shanahan said that the Troy Mine is by far the largest employer in the area.
"Unfortunately, some people have had to go long distances to find work," he said. "But our people have done a great job of staying in contact. For the most part, people are really looking forward to being back. It's been a tough one. Really, we were the engine there for the economy. People are looking forward to getting back in the swing again. We've found a new life. We won't get everyone back, but we hope to get the vast majority."
On Sept. 24, Revett celebrated two years without a reportable injury or an accident that caused an employee to miss time. The Troy Mine was recognized with the National Mining Association's 2013 Sentinels of Safety Award in the Large Underground Metal Mine Group.
It's a great turnaround for a company that was facing harsh criticism after a 2007 cave-in claimed the life of a 55-year-old mechanic. Federal investigators concluded that the mine management was negligent regarding worker safety, a claim that was disputed by the company.
The Troy Mine's surface facilities, including tailings and offices, take up only about 400 acres, Shanahan estimated. However, there are approximately 90 miles of underground caverns and roads. At full capacity, 4,000 tons of rock are hauled out of the caverns per day.
About 30 miles away, the company is in the development stage of the Rock Creek Mine, which would be a much larger deposit of the same copper and silver ore.
The company expects a supplemental environmental impact statement on that operation early next year, which would be open for public comment.
"We are not going to see production capabilities on Rock Creek until 2021 and 2026, but once up and running, that mine will employ around 300 employees," Shanahan explained.