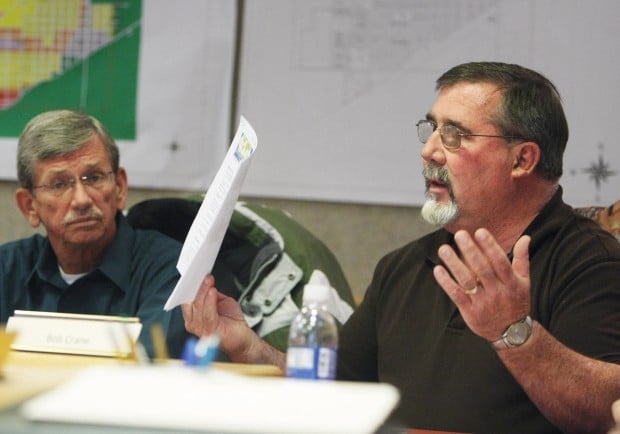 HARDIN - The president of the Two Rivers Authority board said today that he has too many questions to even think of signing a contract with American Police Force to take over Hardin's empty jail.
Gary Arneson, board president and manager of the Hardin Generating Station, made his remarks this afternoon during a meeting of the TRA, Hardin's tax-funded economic development agency.
The board was talking about the need to hire an attorney to review its proposed contract with American Police Force when board member Bob Crane said he had discovered that he and the board were being lied to repeatedly by Michael Hilton, who has been the public face of APF.
"It just seems like it's one thing after another, and there's too many red flags coming up," Crane said.
Specifically, Crane said the man Hilton identified as the person he hired to run the jail, Mike Cohen of Dublin, Ohio, said he had no association with Hilton.
Reached later today, Cohen said he applied for a job with APF early in September but had too many suspicions about the company to pursue the matter. Nevertheless, he said, Hilton apparently brandished the resume he'd sent in - showing Cohen's extensive experience in military training - and touted Cohen as his new director.
The first Cohen heard of all this was when Crane called him Friday, Cohen said.
"I told him flat out I have no idea who this joker is," Cohen said.
"I feel sorry for everyone up there in Montana," he added. "He's (Hilton) scamming everyone up there."
Meanwhile, a California judge has ordered Hilton - a felon with a history of fraud - to appear in court on Oct. 27 over an outstanding judgment in a fraud lawsuit.
The judgment in the case is among several against Hilton totaling more than $1.1 million. In that case, Hilton lured investors to sink money into an assisted living complex in Southern California that was never built.
Hilton also spent several years in state prison in California in the 1990s.
Hardin built its jail in 2007 as an economic development project, but has been unable to fill it.
Associated Press writer Matthew Brown contributed to this report.