Westmoreland Coal Co., the Colorado-based owner of three coal mines in Montana, filed for bankruptcy protection in federal court Tuesday.
Westmoreland owns the massive Rosebud Mine, which supplies coal to Colstrip's power plant, as well as the Absaloka Mine, a major source of revenue and well-paying jobs for the Crow Tribe. It owns a third, smaller mine in Savage, near the North Dakota border.
The company announced Tuesday in a press release that it has reached a restructuring support agreement with a majority of its lenders. An affiliated partnership, Westmoreland Resource Partners, also filed for Chapter 11 bankruptcy on Tuesday.
The company's bankruptcy filing claims more than $1.4 billion in debt and total assets of $770 million, as of Aug. 31. Among the top creditors listed in the filing is the Bureau of Indian Affairs, which is owed $1.8 million, and former Westmoreland CEO Kevin Paprzycki, who stepped down in late 2017 and is owed more than $1.1 million.
"After months of thoughtful and productive conversations with our creditors, we have developed a plan that allows Westmoreland to operate as usual while positioning Westmoreland for long-term success," Westmoreland's interim CEO, Michael Hutchinson, stated in a press release.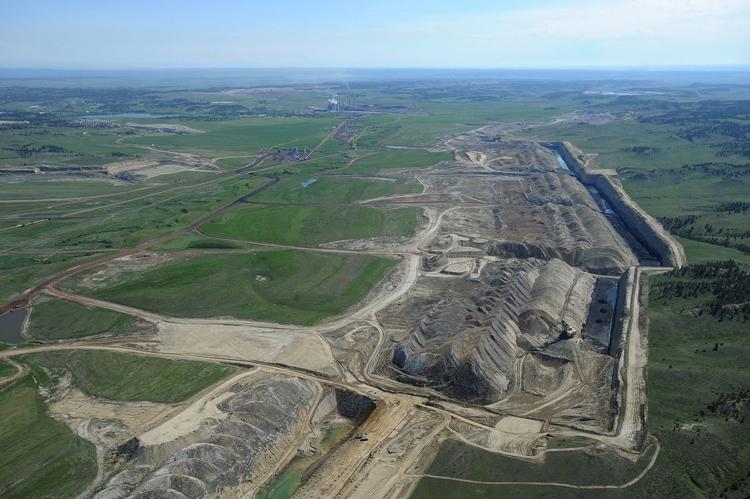 "We may seek protection from our creditors under Chapter 11 of the United States Bankruptcy Code, or an involuntary petition for bankruptcy may be filed against us," Westmoreland stated in its annual report, which was filed late in April. "Either of which could have a material adverse impact on our business, financial condition, results of operations and cash flows and could place our shareholders at significant risk of losing all of their investment in our shares."
It's unclear what, if any, impact the bankruptcy will have on the sprawling Rosebud Mine outside the town of Colstrip. Westmoreland's press release stated that its "financing is sufficient to continue operating its mines in the normal course of business" and that it "anticipates no staff reductions" as a result of the filing.
The company is pursuing federal and state permits to expand the life of the mine. The state permit application is asking for a 15,000-acre expansion that would allow the company to extract an additional 104 million tons of coal through 2047.
The company's most recent annual report also noted that the company did not have coal sale contracts beyond 2019 at the time. Westmoreland officials have, however, indicated they've been working to renegotiate contracts with the Colstrip power plant.
A spokeswoman for Westmoreland declined to comment specifically on the company's Montana operations, but said the bankruptcy would have no immediate effect on the company's mining plans.
"We're continuing with our stated plans from before, and we have the capital secured," Kristin Cole said Tuesday afternoon.
DEQ spokeswoman Kristy Ponozzo did not return phone messages Tuesday.
Environmental groups were quick to seize on the news, warning that a bankruptcy could leave the state on the hook for cleanup costs at the mines. New mines in Montana are required to post bonds covering the estimated cleanup costs prior to operating, but Montana Environmental Information Center Deputy Director Anne Hedges accused the DEQ of historically underestimating those costs.
You have free articles remaining.
"We hope that the state holds sufficient funds for each of Westmoreland's three Montana mines that declared bankruptcy today," Hedges said in an email Tuesday.
Crow Chairman Alvin "A.J" Not Afraid said last week the tribe had reached a five-year deal to continue the company's mining operations on the reservation.
"Today we met with the mining company, Westmoreland," Not Afraid said in a video address released by his office Oct. 5. "We also found out that the mine is secured for another five years."
He said that would ensure the viability of tribal programs including per-capita royalties disbursed to tribal members and monthly elder assistance payments. His address did not include any details of the new five-year contract.
The Absaloka Mine, a more than 10,000-acre subsurface mine near Hardin, has leased reserves from the Crow Tribe since 1974, according to the company's website. The mine's production capacity is 7.5 million tons of coal per year, the website states.
Westmoreland threatened to shutter the tribe's mine in 2016, when it asked Crow leaders to agree to cut its share of coal proceeds at the mine. The tribe agreed to cut its tribal severance tax by 85 cents a ton through the end of 2016 and then by $1.10 a ton from January 2017 to December 2018.
A 40-cent-per-ton cut to tribal gross proceeds was also granted to keep the mine afloat.
Coal production has been declining nationwide in recent years, as utilities have moved to cheaper natural gas and respond to customer demands for cleaner renewable energy. Montana's share of coal production reached its lowest point in a decade in 2016, but has since increased moderately.
The bankruptcy announcement is far from a death knell for Westmoreland's mines in Montana, particularly because it isn't clear where the company's largest liabilities stem from, said Patrick Barkey, an economist and the director of the University of Montana's Bureau of Business and Economic Research.
The Rosebud Mine's combination of high-quality coal and more mechanized production than other mines could help keep it competitive despite the question marks surrounding the neighboring Colstrip plant's lifespan. Its owners have stated they plan to close two of the four units at the plant by 2022, and the remaining two could shut down as early as 2027.
"There's different paths (in bankruptcy) ranging from reorganization to liquidation," Barkey said. "As it stands, the Rosebud Mine, that's an asset that you would think would be preserved in any case."
But the economic impacts of closing the mine could be devastating for the community and the state, he said.
"If it can no longer operate, that's a mammoth event," Barkey said. "It has so many consequences downstream. But I think that's really jumping off the ledge a little prematurely."
Westmoreland also owns mines in five U.S. states and in Canada. The company's press release Tuesday stated that its Canadian operations will be excluded from the bankruptcy proceedings.
The news had sliced the company's share price in half within an hour of markets opening Thursday, with shares closing at 7 cents, down by 42 percent, at the end of trading Tuesday. As recently as February, Westmoreland's stock had been selling for 55 cents a share.