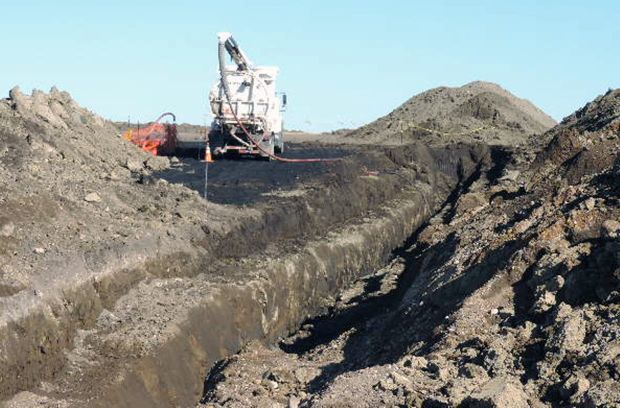 BISMARCK, N.D. — A North Dakota farmer who discovered an oil spill the size of seven football fields while out harvesting wheat said that when he found it, crude was bubbling up out of the ground.
Farmer Steve Jensen said he smelled the crude for days before the tires on his combines were coated in it. At the apparent break in Tesoro Corp.'s underground pipeline, the oil was "spewing and bubbling 6 inches high," he said in a telephone interview Thursday.
What Jensen had found on Sept. 29 turned out to be one of the largest spills recorded in the state. At 20,600 barrels it was four times the size of a pipeline rupture in late March that forced the evacuation of more than 20 homes in Arkansas.
But it was 12 days after Jensen reported the spill before state officials told the public what had happened, raising questions about how North Dakota reports such incidents.
The break was in a remote area, and officials said no water was contaminated or wildlife hurt. But environmentalists are skeptical and said it's an example of a boom industry operating too cozily with state regulators.
"It shows an attitude of our current state government and what they think of the public," said Don Morrison, executive director of the Dakota Resource Council, an environmental-minded landowner group with more than 700 members in North Dakota. "It's definitely worrisome. There is a pattern in current state government to not involve the public."
The North Dakota Health Department was told about the spill on Sept. 29.
The state initially thought just 750 barrels of oil was involved, and the fact that the spill was believed to be small was one reason the agency didn't make a public announcement for 11 days — and only after The Associated Press asked about it.
Kris Roberts, an environmental geologist with the North Dakota Health Department, said that while companies must notify the state of any spills, the state doesn't have to release that information to the public. 
But the public is often told about spills, particularly if oil gets into a waterway or otherwise threatens the environment.
Roberts said his agency reacted appropriately. He said Tesoro reported the spill to state regulators within one day after Jensen found it. A state regulator was on site within hours, Roberts said.
"We deal with a spill and make sure it's cleaned up," Roberts said. "We don't issue press releases."
However, Roberts did work with Tesoro in crafting a company news release on Wednesday.
The company issued the media statement on Thursday, after questions from the AP. In the news release, Roberts said Tesoro "has been aggressive in containing the crude oil" and he was "very pleased with the company's proactive response efforts."
Even some other state officials said they were concerned about how they found out about it.
Gov. Jack Dalrymple said he wasn't told about what happened until Wednesday night, said the state is now investigating its procedures for reporting spills.
"There are many questions to be answered on how it occurred and how it was detected and if there was anything that could have been done that could have made a difference," Dalrymple said.
Brian Kalk, chairman of the North Dakota Public Service Commission, said the three-member commission routinely gets updates on even small spills, but he wasn't notified of the Tioga spill until Thursday. One of the commission's jobs is to regulate where pipelines are placed.
"There is almost a million gallons of product on the ground and we need to find out what happened," Kalk said. "I'm upset that we didn't find out until yesterday."
Jacob Wiedmer, who was helping Jensen harvest his wheat crop, likened the discovery to the theme song from "The Beverly Hillbillies" television show.
"It was just like Jed Clampett shooting at some food ..." he said of the oil coming from the ground. "Except we weren't hunting, we were harvesting."
Jensen said he had harvested most of his wheat before the spill, but the land is no longer usable for planting.
"We expect not to be able to farm that ground for several years," he said.
The source of the spill was a hole in a 20-year-old pipeline that was a quarter-inch in diameter. Tesoro officials were investigating what caused the hole in the 6-inch-diameter steel pipeline that runs underground about 35 miles from Tioga to a rail facility outside of Columbus, near the Canadian border. Roberts said it may have been caused by corrosion.
As far as federal involvement, the Environmental Protection Agency was notified of the spill but has no jurisdiction because water sources weren't affected, Roberts said. Officials from the federal Pipeline and Hazardous Materials Safety Administration were on site last week, he said.
Tesoro Logistics, a subsidiary of the San Antonio, Texas-based company that owns and operates parts of Tesoro's oil infrastructure, said in a statement that the affected portion of the pipeline has been shut down.
"Protection and care of the environment are fundamental to our core values, and we deeply regret any impact to the landowner," Tesoro CEO Greg Goff said in a statement. "We will continue to work tirelessly to fully remediate the release area."