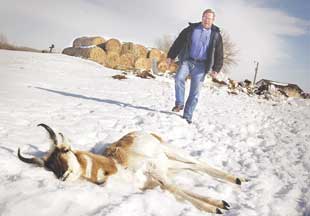 GLASGOW - Every night, 100 mule deer, hundreds of whitetail deer and about 1,000 mallard ducks help themselves to dinner at the Langen Feedlot at Glasgow.
"If it wasn't for this place, they'd all be dead," said Valley County Sheriff Glen Meier. "The poor things are just suffering beyond compare."
The sheriff, who lives near Fort Peck, said he hasn't seen anything living north of the feedlot except rabbits and pheasants this cold, harsh winter.
Cody Cornwell, who operates the feedlot on the banks of the Milk River, doesn't try to keep the starving animals from the feed, even though he estimates he loses two tons each night. Whitetails will probably eat 2 to 3 pounds of corn a night, and the mule deer, 10 pounds of alfalfa. Hungry ducks will go right into the pens to pick corn scattered by the cattle, Cornwell said.
Snow is so deep and its crust is so hard that the animals can't get to their natural food supplies. And the storms came so early animals that normally would have moved to more hospitable winter range, were stuck where they were for the duration.
So deer spend their days camped out near haystacks plowed out by ranchers. Desperate antelope gather in the clearings by the haystacks and starve to death. Hay doesn't have the nutrients they need to survive.
Around a stack near Sandy and Bob Dungan's place outside of Glasgow between the Milk River and Brazil Creek, 27 frozen antelope litter the ground. Two more are too weak to run when a human approaches.
"The snow drove them into an area where there is no food they can tolerate," Sandy Dungan said.
When the wind blows a hilltop free of snow, the antelope eat right down into the dirt to survive, Cornwell said.
Grouse, pheasants and deer wander into town in search of a meal, and often find it when residents can't bear to watch the suffering.
"The ducks are just becoming emaciated," Meier said. "One fell out of the air in my backyard, and its chest was just emaciated."
When winter set in last October, about 30 pheasants hung around his house. About 10 are left.
The death toll won't be known until spring when snow 3 and 4 feet deep on the prairie disappears. Rick Seiler, Valley County Disaster and Emergency Services coordinator, said hundreds of carcasses are buried under the snow.
How bad was it? Here's a look at weather along the Hi-Line during this rough winter, according to the National Weather Service in Glasgow.
How low did it go? Here's a sampling of windchill temperatures from Jan. 4-5:
Daniels County: minus 47.
Garfield County: minus 52.
Petroleum County: minus 45.
Phillips County: minus 50.
Prairie County: minus 44.
Richland County: minus 48.
Roosevelt County: minus 57.
Sheridan County: minus 47.
Coldest day: Feb. 15, 1936. Minus 59.
Coldest day of winter 2003-2004: Minus 32 degrees on Jan. 5.
Earliest measurable snow: Sept. 13, 1970.
Earliest measurable snow of winter 2003-2004: Oct. 29.
Coldest month average: Minus 15.8 degrees in February of 1936.
Coldest month of winter 2003-2004: January with average of 6.3 degrees.
Snowiest season: Winter 2003-2004 at 64.7 inches on March 1.
Greatest snow depth: Winter 2003-2004 with a peak of 29 inches.
Longest continuous snowcover: November 1978 to April 1979.
Be the first to know
Get local news delivered to your inbox!