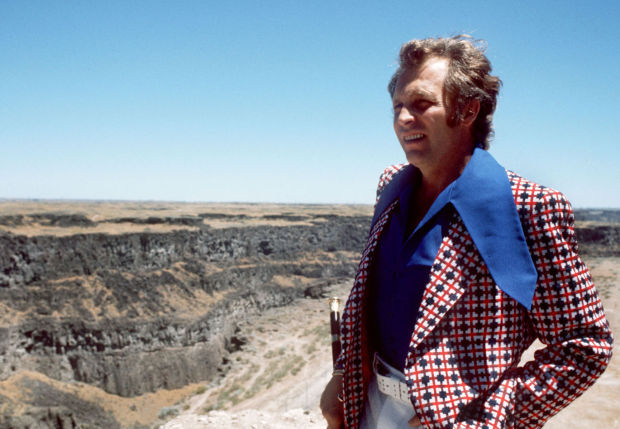 TWIN FALLS, Idaho — Forty years ago, Evel Knievel placed his bruised body in a steam-powered rocket, pushed the button and ascended over the Snake River Canyon.
The stunt, ruined by an early parachute deployment, nearly killed the daredevil.
Francis Egbert was on the north rim, watching through binoculars.
Had Knievel made it, all would have been forgiven and forgotten, Egbert said.
"He would have been a hero forever, and people would have been happy to have seen it," he said.
His vapor trail, however, left a perpetual question mark lingering over the basalt crevice.
Many stunts Knievel pioneered during the 1970s have been repeated and bested by other daredevils. But the Snake River Canyon looms unconquered and will, perhaps, forever attract dreamers and schemers to the dirt mound that remains.
In that way, Knievel, his legacy and his fans are forever linked with the Magic Valley city perched on the canyon's rim.
But after all these years, "Knievel" remains a dirty word among some Twin Falls residents.
Many don't understand why some want to recreate an event that brought a wave of mayhem to town, leaving a black eye and a stack of unpaid bills.
"People were saying back in the day that this put Twin Falls on the map," said farmer Doug Fisher. "Yeah, the map of gullibility."
Seven daredevils lined up hoping to jump the canyon for the stunt's 40th anniversary on Monday. Only one team still appears viable. While they have not scheduled a launch, they have rockets and a ramp at the ready and say it is only a matter of time.
On that team is Scott Truax, son of the engineer who built Knievel's X-2 Skycycle. Truax and would-be jumper and Hollywood stuntman Eddie Braun call their project a tribute to Knievel.
Their aim? To "cure history." Whether that can be achieved or is just a marketing line depends on whom you ask.
"A successful, well-organized jump would go a long way in curing some of those wounds," said Mayor Don Hall, who watched the jump on television from Utah as a teen.
Chris Talkington, then news director of KMVT, said a successful jump won't heal anything.
"I don't care, frankly, if one or 20 people jump or rocket or parachute or glide or vaporize themselves from one side to another," said Talkington, now a city councilman. "The old Snake River Canyon has taken many lives from carelessness and foolishness. It is always ready to take more.
"There is that spirit of voyeurism that people are hoping, just hoping, something might go wrong so they can say, 'Oh, how terrible it was.'"
This time around, though, the community is much more prepared, he said.
We've "been there, done that, got burned and that's it." Don't expect a warm welcome, he said.
But fellow Councilman Shawn Barigar disagreed. The executive director of the Twin Falls Chamber of Commerce, Barigar said the business community would welcome a safe, well-organized jump with open arms, as it stands to make an immediate tidy sum.
That's not to mention the long-term economic benefits from being on national television and pictured in newspapers from coast to coast, he said.
"It can have value if it's done right, but it certainly has the risk of going completely south," he said.
Barigar said he's skeptical about the national black eye Knievel supposedly gave the city.
"I hear it from people who were here at the time who didn't like the way it went off, but nobody rolls into the visitor center and says, 'Where did Evel Knievel ruin your community? I want to look at the jump.'"
Miles Daisher, a Twin Falls BASE jumper, said the event would hold only as much meaning as is good for the city through land improvements or charitable donations.
Curing history may mean more for the project than the community, however. Truax is "into proving that his dad was the man by putting the whole project together," Daisher said.
Even after a successful jump, Daisher said, he would still be interested in jumping on his own terms.
"If someone makes it over the canyon, power to 'em," he said. "I don't know if it is going to be a tribute to Evel or a tribute to the next guy. If I did it, I'd talk about Knievel, but I'm trying to do my own thing here in the Miles Daisher way."
Few could best the man who dreamed up the jump though, said Bill Rundle, a Butte man who was one of Evel's mechanics and watched the jump when he was 16. All jumps are tributes, he said.
"There's been comments that anyone could do it," he said. "Really? Would you want to strap yourself in there and find out if anyone could do it? You've got to have a lot of guts to get in that rocket. … Like Evel said, that canyon hasn't moved one inch, but I don't see a long line of daredevils waiting to jump it."
Rundle said the jump would be a "great thing" for Twin Falls, that Braun and Truax have good intentions and are best prepared to send a rocket across.
"I do believe in my heart that we are going to see that rocket get over and land on the other side," he said.
"To do it technically would be something of an engineering feat to not get someone killed," he said. "But I've thought for years that the best thing they could have done was to bulldoze that pile of dirt down and forget about it.
"It holds no significance. A lot of people lost a lot of money on that deal here. I never thought it was a crowning moment in Twin Falls history."