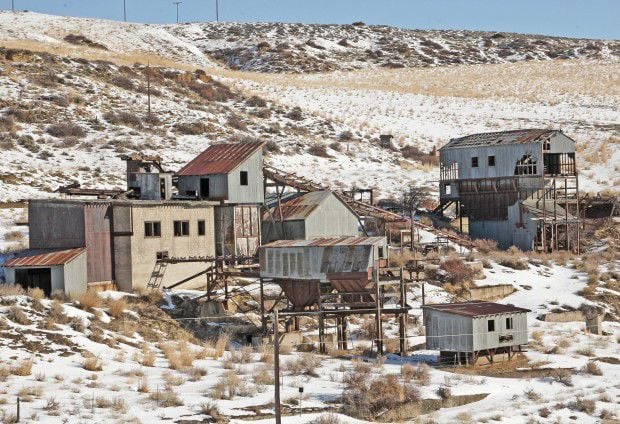 In 1943, the work whistles were always blowing southeast of Red Lodge in the mining town of Bearcreek. World War II had given new life to the declining coal community.
American manufacturers had become increasingly desperate for coal to fire factories straining to produce guns, tanks, ammunition and other equipment for the Allied forces.
"All the time it was 'get the coal out,'" Agnes Waisanen, a miner's wife, told the Carbon County News in 1988. "I don't really blame anyone for it, but it was always 'Get the coal out.' Everyone wanted coal, all over the country."
To the roughly 400 residents of Bearcreek, mostly first- and second-generation European immigrants, the mine's whistles played the tune of daily life in the hills and coulees.
Day or night, a whistle blast from the mine signaled the start of each work shift. A more frantic whistle, sometimes accompanied by the ringing of a fire bell, told of an accident, of which there were many. Difficult working conditions, falling rock and unwieldy heavy equipment maimed and killed miners with regularity.
"Generally, it was just a steady whistle. It just kept blowing," recalled Vera Marinchek Naglich of the sounds of her hometown in a 1991 interview. "When it was time to go to work, it was just a blast. But if there were an accident it was something more serious. It meant that the men were supposed to stop working and go see what was wrong to help with whatever was wrong. Of course, the women worried, 'Who is it this time? Is it my husband?' They generally brought the person out and everybody generally went home then. No more work that day."
Shortly before 10 a.m. on Feb. 27, 1943, the whistle blew, and smoke began billowing from the Smith Mine.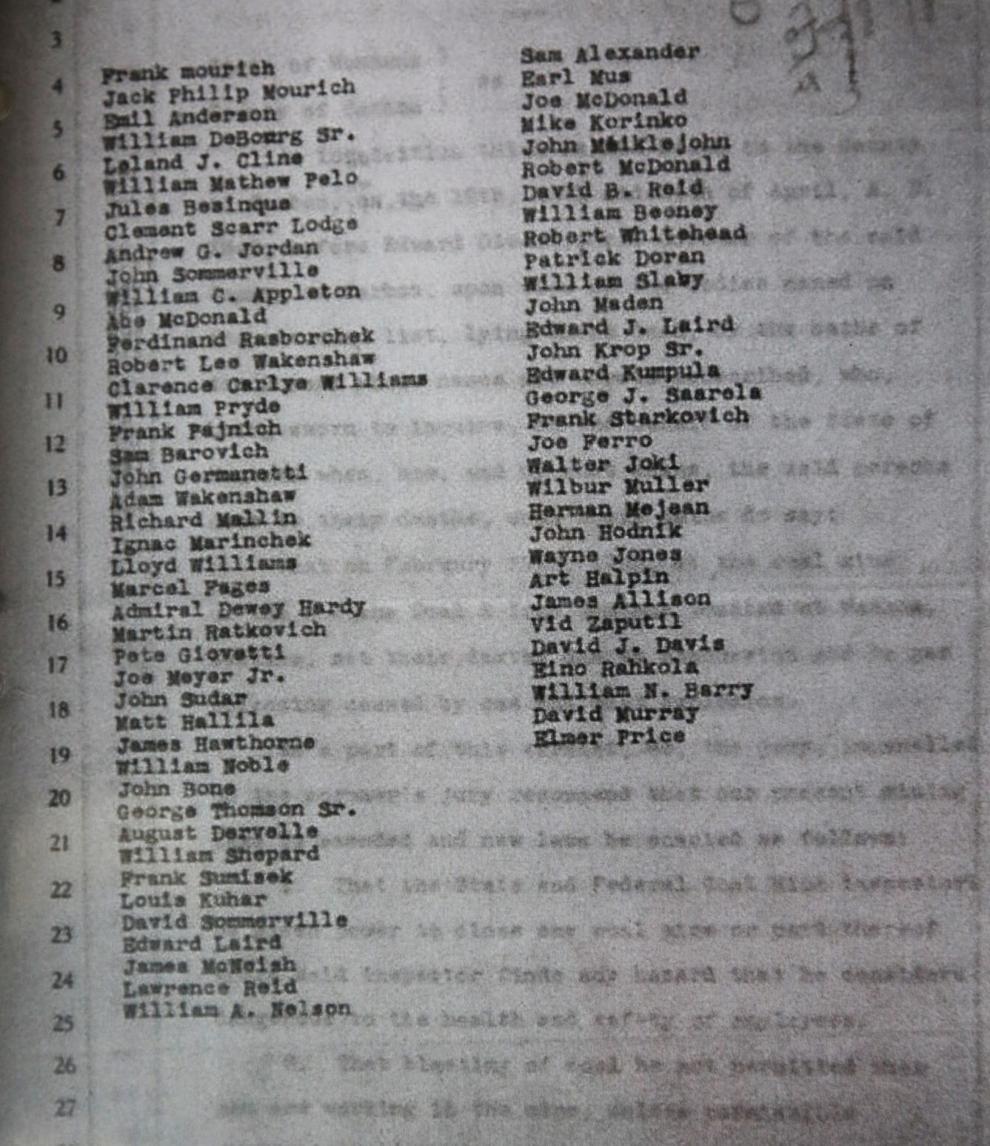 Poisonous, flammable gas had ignited in the mine, creating a series of powerful explosions. It would be four days before the first bodies were recovered — nine days total before all 74 bodies been recovered. Only three survived.
"Finally, after a week on a cold winter morning at 2 a.m., every conceivable vehicle that could be obtained was used to carry the bodies," said Marvin Pelo, who was 22 at the time and lost his father in the incident. "There were hearses, ambulances, paddy wagons, pickups and trucks, and they hauled the bodies from Bearcreek over to Red Lodge to the temporary morgue."
Coffins had to be brought in from all over the West. For a time, the whistles were quiet.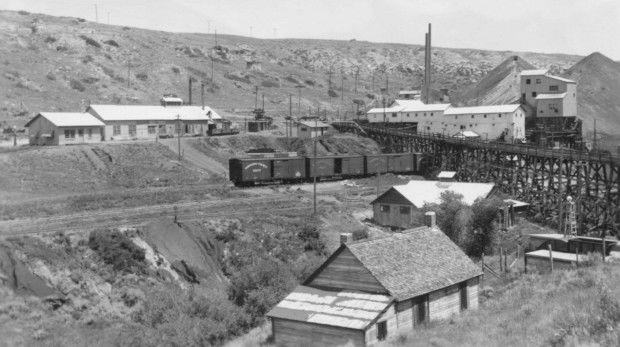 In the mine
That incident — now known as the Smith Mine Disaster — killed off nearly 20 percent of Bearcreek's residents.
Of the men killed, 92 percent were immigrants or the sons of immigrants, primarily of Scottish, Slavic, Finnish and English heritage. 
Prevailing theories of what happened contend that an explosion of methane gas triggered the explosion of coal dust. What ignited the gas is still unknown.
Enough force was generated that nearly every single mechanism for bringing fresh air into the mine, including an industrial fan, was destroyed, along with other portions of the tunnels.
Those not killed by the explosion were trapped. Most of those men died — some in a matter of seconds while others lived for a few hours — as carbon monoxide produced by the methane stripped oxygen from their red blood cells, leaving them increasingly weary before their eyes slipped shut a final time.
One of the three men who survived the explosion, Willard Reid, was so severely poisoned that he would lose nearly 50 pounds in the ensuing three months after the explosion, he told the Carbon County News in 1988. As he recovered, Reid wanted to start mining coal again, but his family forbade him.
Coal dust explosions can create air speeds of 200 mph. Reid's jacket, according to rescuers, looked "like someone had slit it repeatedly with knives" due to wind-driven debris striking him. 
One group of men tried to wall themselves off from the gas they knew to be spreading through the mine, and some even tried to write farewell messages to loved ones.
With chalk on a powder box, miner Emil Anderson, husband of Agnes Waisanen, wrote, "It's 5 min pass 11 o'cock, dear Agnes and children I'm sorry we had to go this God Bless you all. Emil with lots kiss."
Rescuers were called in from around the state, including Butte, Great Falls, Roundup and Washoe. The men inside the mine had been working a Saturday day shift for time-and-a-half pay. Bolstering the rescue effort were just about every man who had clocked out before the others had clocked in.
Among those miners and alongside them were sons, brothers and fathers of the men below.
One of the miners from the previous shift testified at a coroner's inquest that he'd seen coal dust in the mine the night before. In its issue commemorating the 40th anniversary of the disaster, the Carbon County News quoted miner John Kastelitz during the inquest saying that the night before the explosion he'd had to eat his lunch on high ground because of how many mice he saw scurrying around.
"The old-timers always said that when mice are running out of the mine it's a sign of trouble," Kastelitz said.
His words can also be found in a transcript of the three-day coroner's inquest that runs hundreds of pages. 
The pain in the community is difficult to quantify. Kastelitz recalled of the rescuers: "Those people sure spent a lot of nights crying."
The story goes that the owners of a house near the mine offered to put up women and families as long as the rescue efforts continued, so that they could be close by if something new developed. So much water was boiled for coffee and soup that the wallpaper began to peel off in the house, local historian Jeff McNeish said.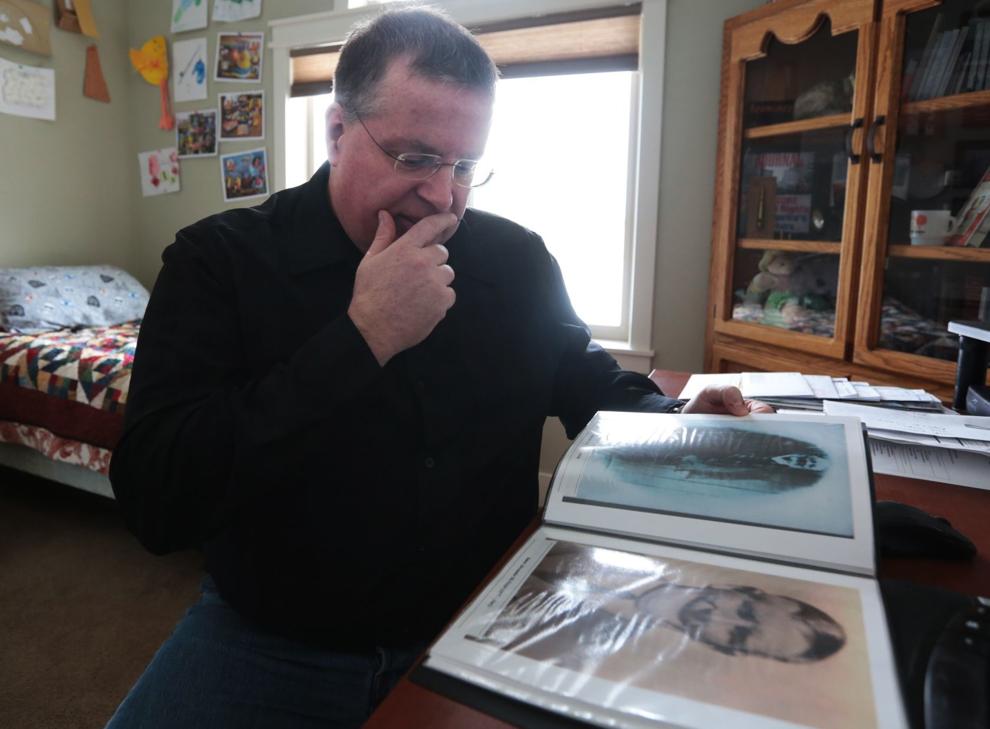 The mine disaster left 176 children fatherless and created more than 100 dependents without a source of income, McNeish said. Widows who had never worked in their lives suddenly had to make a living in a town that would never fully recover.
Retrieving the bodies was a dangerous and horrific task; another man was killed in the effort, putting the total of victims at 75. Rescuers had to work in shifts to limit their inhalation of methane. They had to haul lumber and supplies and rebuild ventilation infrastructure to restore clean air in the mine.
"They didn't have the luxury of putting a whole bunch of lumber into a railroad car and driving it down because they were all electric and the electric had been blown out," McNeish said. "So what the rescuers did is they just started hand-carrying lumber and supplies in as they went and rebuilt that entire system.
"The real backbreaking part is that for every quarter-mile you extend that, your next round-trip on foot's a half-mile longer."
Victims were found as far as 2 miles from the mine's entrance.
In an offshoot tunnel, several bodies found showed no signs of injury from the explosion. They were all seated; a son's body was found with his head resting in his father's lap. 
"I think they knew it was coming and just kind of sat down and waited," McNeish said. "And I don't think it was long."
Mining cars helped haul the bodies. The first group of bodies was recovered the Thursday after the explosion. The next day, 32 bodies were brought up, and the effort continued for several more days.
The ground was so frozen by winter storms that men struggled to dig graves in the icy ground, recalled Pelo, the 22-year-old who lost his father in the disaster.
The mine, which had unified the community, would reopen in June, but Bearcreek was never the same. In 1953, the Montana Iron and Coal Co. shut the mine down for good. 
The high school later shut down, and the dance halls and movie theater are no more.
Bearcreek now has a population of less than 100 people and few buildings aside from homes. In the summertime, locals and tourists drive down to see the Bearcreek Saloon's famous pig races.
In the hills a short distance away stand the remains of the Smith Mine.
Remembering history
McNeish has spent hours and hours of the past 11 years trying to understand what the tragedy meant to those who saw it firsthand.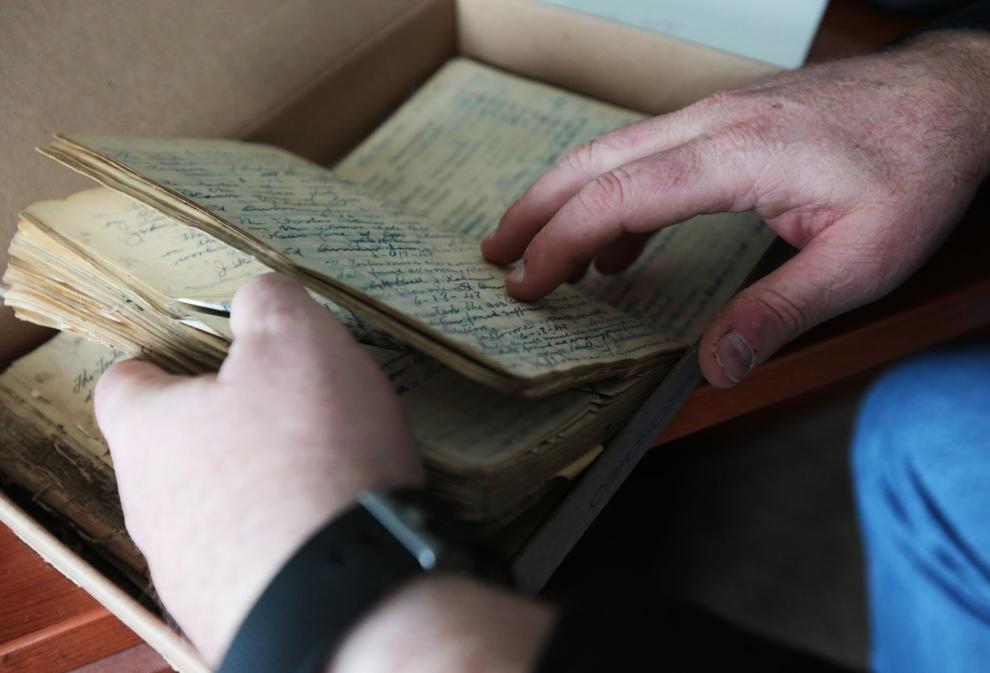 McNeish, a computer expert with a programming background, has calculated that he is related to 11 victims of the disaster, including his great-grandfather. His grandfather, Jake McNeish, and his great uncle, a Red Lodge fire chief, were among the rescuers. Among the bodies found was Jake McNeish's father, Jimmy McNeish. 
"Everybody knew everybody," McNeish said. "It was brutal."
In a small office in his Laurel home, McNeish has tried to tally the damage done. Thick binders full of hundreds of pages of transcripts and documentation are stacked along a bookcase, which sits across from a work desk and laptop.
Pinned to the wall in front of the desk are bits of signage and certification from the Montana Iron and Coal Co., mixed in with pictures of his 5-year-old son Jake.
The Smith Mine also killed two of McNeish's relatives in the 1930s. By the time of the Smith Mine Disaster, it had a reputation as a "gassy" mine, where explosive gases were known to be present.
With that reputation, the fall before the disaster the Smith Mine was the first in Montana to undergo a federal inspection, McNeish said.
McNeish said that the disaster occurred during what he described as a "transitional" period during which mine safety was only beginning to be taken more seriously.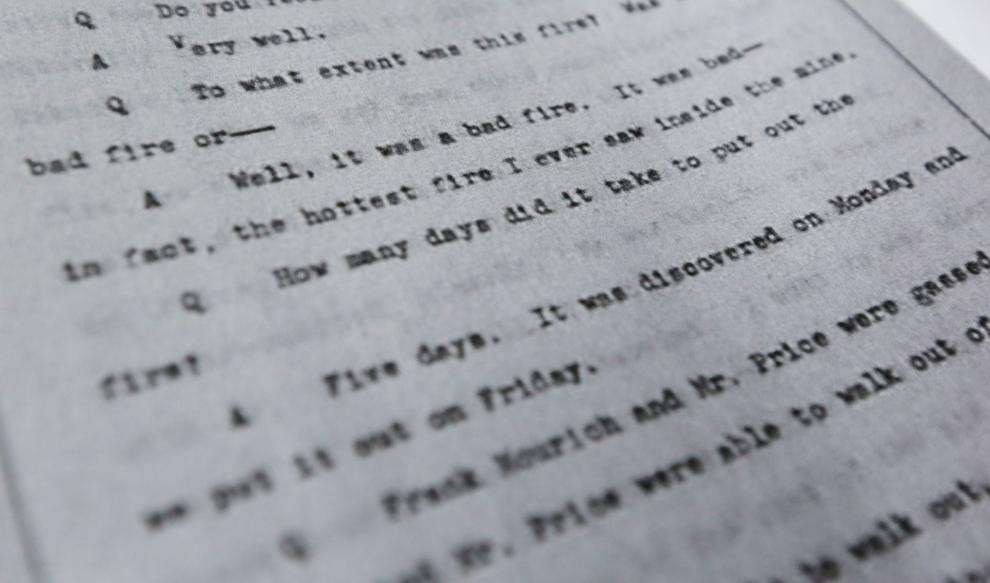 The coroner's inquest after the disaster is a significant resource, but finding witnesses to the tragedy and its aftermath has become increasingly difficult. When McNeish started his research about a decade ago, he knew of about 10 people who could recall life in the town before and after the disaster. Of the people McNeish interviewed, only three of them remain alive.
McNeish said he tried to conduct his interviews with "kid gloves on," and be sensitive to the enormous pain their stories might bring up. Decades after the disaster some of his interviewees grew teary-eyed or tight-lipped when talking about what happened, McNeish said. Still, they told their stories.
"The desire of the people I did talk to, to not let the history die, it ran very strong," he said.
For his own part, McNeish said his grandfather was always reluctant to speak about the disaster.
"I think that generation was pretty stoic, you know, they just didn't talk about things that bothered them, by nature," McNeish said. "I also think that there was quite a bit of contention of course about what caused the disaster and who ultimately was to blame."
Between the miners and their families, the mining union, the mine managers, the mine owners, the state of Montana and the federal government, fingers pointed in every direction, McNeish said.
"I don't know if not talking about it to a certain degree was just a matter of keeping peace in the community."
The coroner's inquest never concluded who was to blame for the disaster.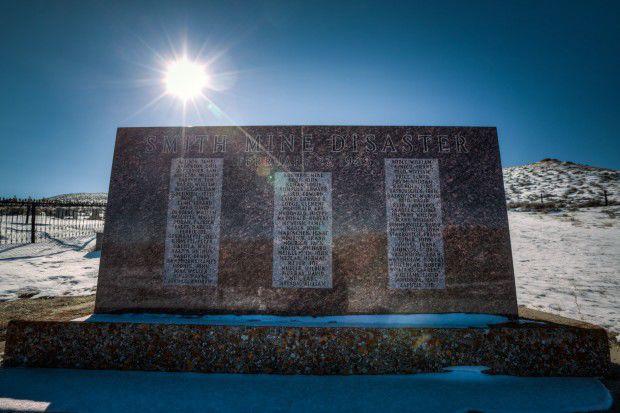 Now, 75 years after the disaster, subsequent generations continue to try and understand the tragedy.
Lindsey Hafer, 27, said that she first found out about the disaster sometime in high school. Her grandfather James McLuskie lost his father in the disaster. 
"It took him a long time to start telling us these kinds of stories," Hafer said, adding that her grandfather is still reluctant to speak about the disaster. "All my grandparents are in their 90s, and they don't tell me many stories, but I'm trying to figure out their histories now that I'm older and I'm here."
McLuskie still has fond memories of Bearcreek and has described to his granddaughter how much the mine meant to the community, she said. 
"All the men worked at the mine and they all knew each other very closely because all their days off and vacations were oriented around the mine," Hafer said.
The mine threw holiday parties and hosted picnics for the town, her grandfather has said.
With only McLuskie's mother left to take care of multiple siblings, the family split up in search of jobs, and her grandfather moved to Billings, Hafer said. An old photo in the Bearcreek Saloon shows McLuskie and his Bearcreek basketball teammates. After her grandfather moved to Billings, Hafer said the money wasn't really there for him to play sports or go to dances.
In the past four years, Hafer guessed she's driven down to the mine and Bearcreek several times, sometimes taking pictures to send back to her grandfather.
"It kind of brings it back for him too. He really misses living there. He really misses that part of his life," she said. There's just a lot of Montana that started from something, like a mine, and then got really popular and just slowly died away." 
Through the efforts of the Carbon County Historical Society and Museum, historians like McNeish, former residents, and others, the story of the Smith Mine Disaster remains alive as a testimony to the people who lived through it, and as a memorial for those who were lost to it. 
"This accident happened in the first years of the Second World War," Pelo said decades ago during an interview for a Carbon County oral history project. "Each of these men was doing what they thought they could for their country, and each gave their lives, although not on the battlefield but in a dark hole from which they were stripping coal. Each man has left a living memory for those who were destined to go on."