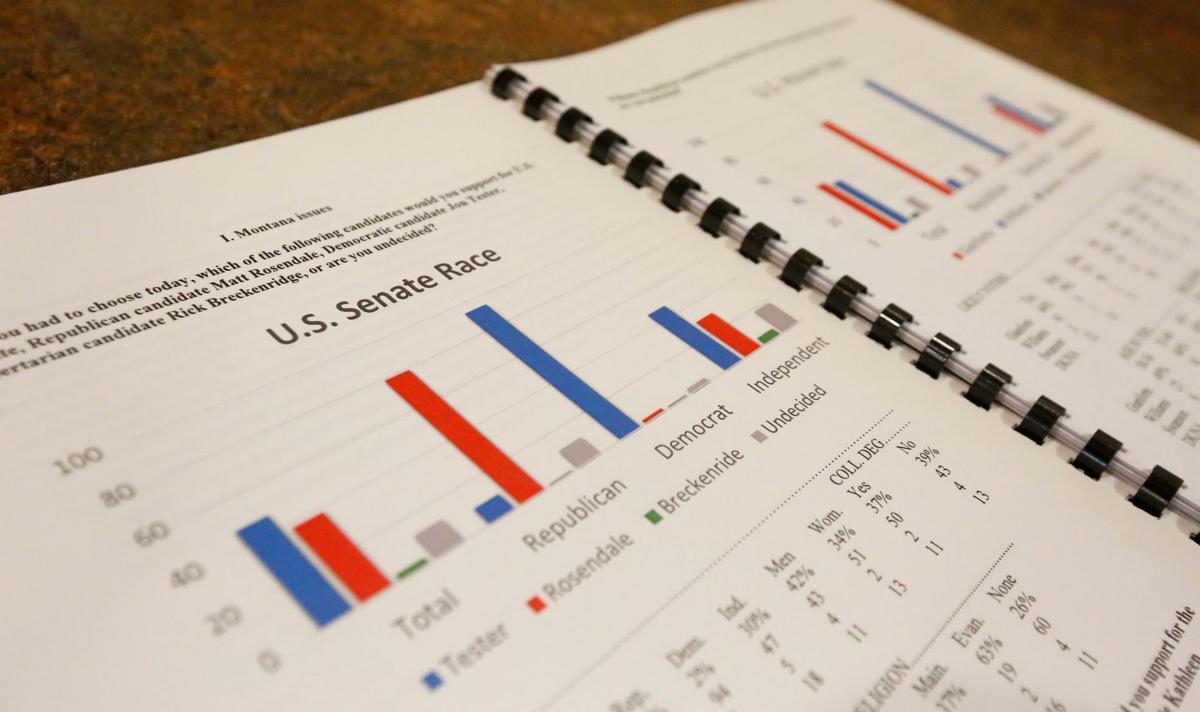 Montana voters favor President Donald Trump this election, while the state's gubernatorial, Senate and House races remain tight, according to a poll released by Montana State University Billings Wednesday.
According to MSUB's Mountain States Poll, Trump polled at 52%, while Democratic challenger Joe Biden had 45%. Libertarian candidate Joe Jorgensen had 1%. Of those asked who they would vote for, or who they had already voted for, 2% said they were undecided.
The race for governor was even, with both U.S. Rep. Greg Gianforte and Lt. Gov. Mike Cooney at 45% each. In the only state race with a third party candidate, the poll showed that Libertarian Lyman Bishop had 2%. The race for governor had the largest percentage of undecided respondents with 9%.
In the race for the Senate, Gov. Steve Bullock had 48%, while incumbent Republican Sen. Steve Daines had 47%. When asked, 5% of respondents said they were unsure who would get their vote.
The U.S. House race has Republican state auditor Matt Rosendale a point ahead of Democrat Kathleen Williams at 47%, compared to her 46%, with 6% saying they were undecided.
All three top state races fall within the poll's margin of error, which is 4.2%. 
This is the 33rd year that MSUB has conducted a poll. It was conducted over the phone and consisted of a random sample of 546 Montana residents. Political science students at MSUB reached out to residents through landlines and wireless phone numbers. The MSUB Foundation provided funding for the poll.
Students conducted the interview for the poll Oct. 19-24. According to a statement from Jason Adkins, an assistant professor of political science at MSUB and director of the poll, the Mountain States Poll is the only one in the state to his knowledge held completely over the phone.
Data from the poll shows that 56% of Independent voters favor Bullock in the Senate race, compared to Daines' 40%. The Democratic challenger also has an edge over the incumbent Republican among younger voters, with 57% of respondents aged 18-34 saying they would vote for Bullock. Daines, however, drew 52% of those interviewed aged 45-65, compared to Bullock's 43%.
A press release from MSUB stated that Independents and younger voters favoring Bullock is in keeping with all of the top state races featured in the poll. Respondents aged 18-34, and those identified as Independent favored Democratic candidates in the state's Senate, House and governor races.
A pre-election poll released by Montana State University earlier in the month similarly showed tight races for the state's top positions. The Treasure State poll, conducted by mail and with nearly 1,800 responses, had Bullock leading Daines by two points with 49%. The poll was held from Sept. 14 to Oct. 2, and also showed younger respondents favoring the Democratic challenger.
In the race for Montana's lone seat in the U.S. House of Representatives, the MSU poll reported Rosendale leading Williams by two points, with 48%. Data for the governor's race showed Gianforte with more of a lead over Cooney, drawing 47% compared to the Democrat's 42%.
According to the poll released by MSUB, 54% of responded said they would vote "yes" on I-190, an initiative that would legalize the recreational use and sale of marijuana for those over 21. Those opposing made up 38% of respondents and 7% were still undecided.
A majority of respondents said they would oppose an initiative that would remove the authority of city and county governments to regulate firearms, specifically the carrying of concealed permitted weapons. When asked about LR-130, 52% opposed the initiative, and 36% voiced their support. Of those interviewed, 12% said they had not decided yet.
The MSUB poll also included a response to the nomination of Amy Coney Barrett to the United States Supreme Court Justice, sworn in to her role Monday. Support ran along party lines, with 50% of respondents in favor of the nomination, with 30% opposing and 21% undecided. According to polling data, Republicans made up 88% of those voicing their support.
According to the Associated Press, Barrett's confirmation in the Senate was the closest Supreme Court confirmation in history to a presidential election. It also came with no support from Democrats, a minority in the Senate.
Get Government & Politics updates in your inbox!
Stay up-to-date on the latest in local and national government and political topics with our newsletter.