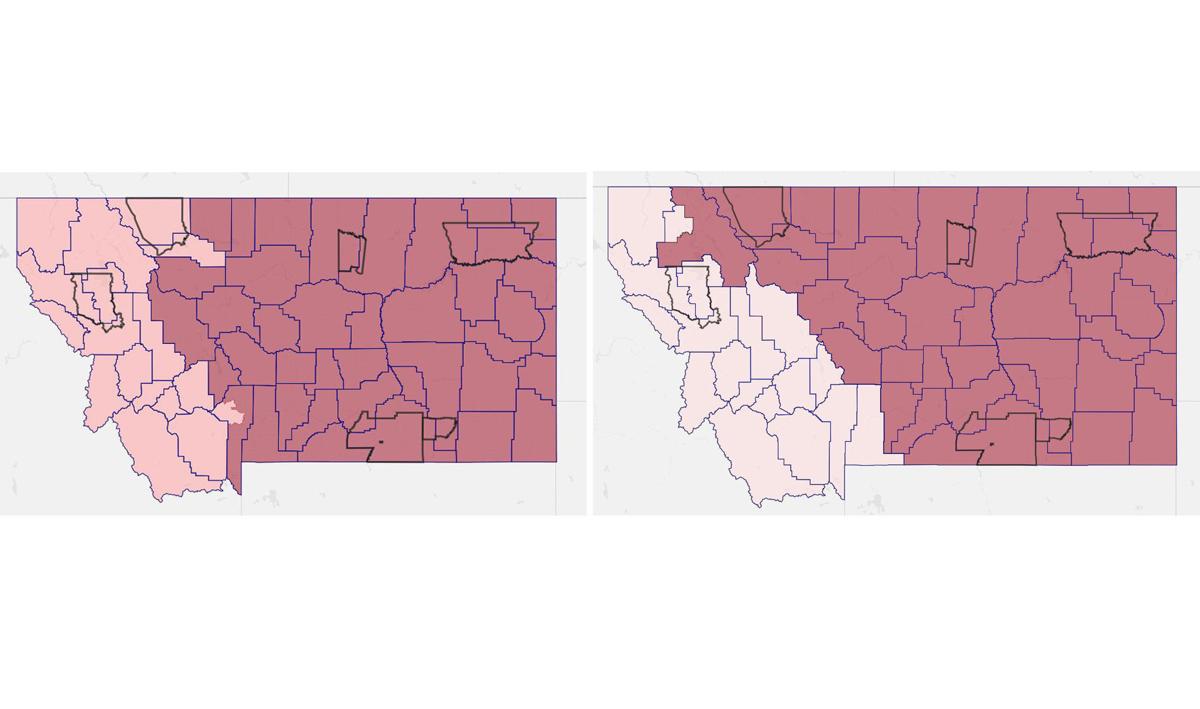 The options for drawing Montana's congressional districts have narrowed to two, with few days allowed for public reaction.
Both maps, one by Democrats, one by Republicans, somewhat resemble Montana's congressional map from 40 years ago when the state last had two congressional districts, though there are still major differences.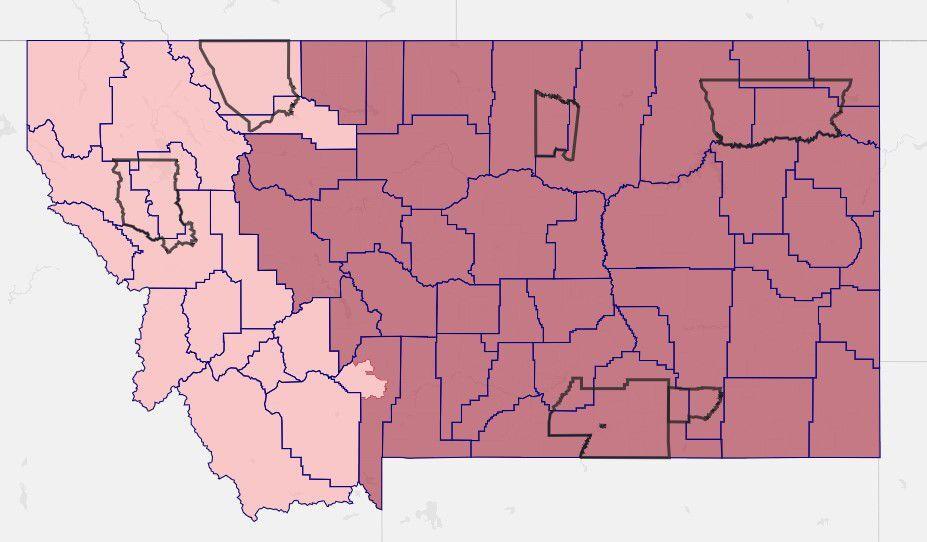 Republican members of the state Districting and Apportionment Commission have settled on a map that puts conservative Flathead County in the West, while allowing the Democratic stronghold of Bozeman to be in the West as well. Previous Republican proposals sent Bozeman to the East. Helena and Great Falls would become part of the Eastern district under the Republican proposal.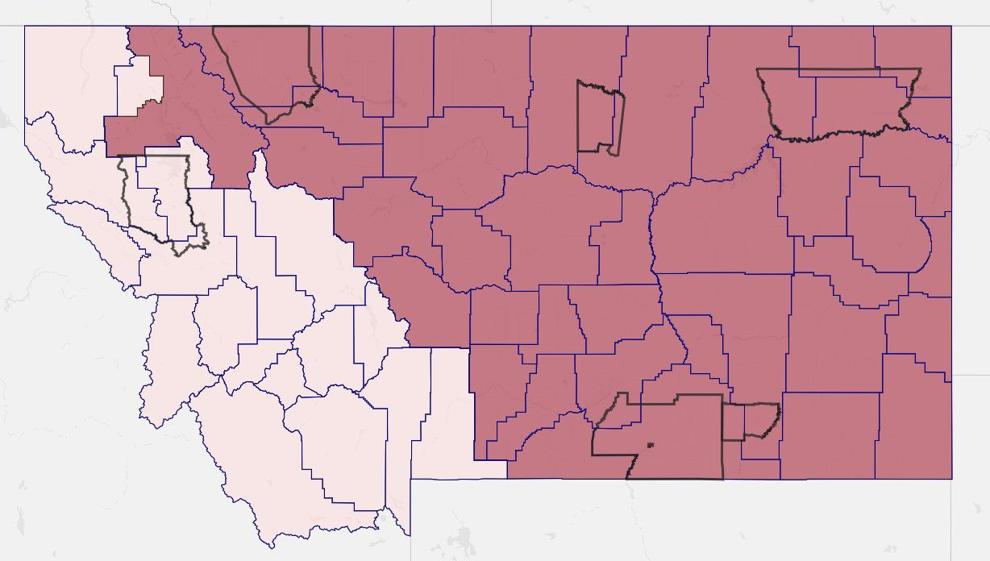 Democrats have drawn Whitefish and northern Flathead County into a Western district that runs down Montana's western border from Lincoln to Park County. The map keeps Helena in the West and puts Kalispell and Great Falls in the Eastern District with Billings.
"We have two maps that I think have moved significantly. And you can raise this as part of public comment, and I would welcome public comment on some of these issues so that we can perhaps reach a consensus still," said Maylinn Smith, commission chairwoman.
Barring bipartisan agreement for the first time on how the state's two U.S. House districts are drawn, the deciding vote will be Smith's. A veteran mediator, Smith was appointed by the Montana Supreme Court to oversee the two Republicans and two Democrats selected by the leadership of the Montana Legislature.
Since August, Smith has kept the commission on task mostly by allowing proposals by both the Republican and Democratic members of the commission to advance. The goal Thursday was to narrow down the congressional district possibilities to one map, then give the public until Oct. 30 to respond, after which the commission would decide.
But Smith told commissioners Thursday that it was best for the state if the final map selected was unanimous, the goal being to end the day with a single map. That didn't happen, but both Republicans and Democrats cobbled together new maps that more closely resembled each other than the nine previous maps presented as possibilities to the public.
The Republican-drawn semi-finalist Congressional Proposal 10 creates a Western district in which Republican presidential candidates did 7.8 percentage points better than they did in the nation as a whole in the past two presidential elections. In the Eastern District, Republican presidential candidates performed 15.7 percentage points better than in the nation as a whole.
The Democratic-drawn maps also produced districts that favored Republicans, but by slimmer margins. The Democratic-drawn semi-finalist Congressional Proposal 11, creates a Western district in which Republican presidential candidates did 4.75 percentage points better than they did in the nation as a whole in the past two presidential elections. The Eastern district gave Republicans an 18.6 percentage point advantage.
Republican commissioners objected to looking at past presidential elections to determine the partisan lean of proposed districts. The method used to measure the political lean is known as the Cook Partisan Voting Index, or PVI, which gauges how much a district leans Democratic or Republican based on how the district voted in the last two presidential elections. National lean of the past two elections is the baseline from which district-level strength is measured.
"Using the PVI ... it uses the President's election numbers which he lost in 2020, former President Trump's numbers, and then uses that to expel on Republican strength so you start at a disadvantage, which would then add percentage points to Republican leans here in Montana so PVI is probably not the best thing to use," said Commissioner Dan Stusek.
"We think that our opponents, or our colleagues, their maps unduly favor the Democratic Party in the West, by having a tortured approach to reach the discretion or criteria of competitiveness," Stusek said. "We think our maps are fair. They think their maps are fair, we think theirs unduly favor their political party they think, certainly ours unduly favored our political party, we're much closer than where we were a couple of weeks ago, and I look forward to where we go from here."
An ongoing debate in the drawing of the congressional districts is whether there's an obligation to make sure the districts are competitive. Republican commissioners and witnesses have insisted as long as the districts are balanced in population, it doesn't matter whether a candidate from either political party stands a chance of prevailing.
Democrats are insistent competitiveness matters. It's been 30 years since Montana had two congressional districts. The state had been demoted to at-large status after a low population count in the 1990s Census. Democrats had a reliable grasp on the West in Montana's old two-district days, while Republicans controlled the East. However, the state's at-large district has been won by Republicans since 1996.
"Commissioner Stusek, can you explain to me how our districts unduly favor the Democratic Party? They're, they're both Republican districts, of course," Commissioner Kendra Miller said.
Smith was having none of it, still determined to have a unanimously approved congressional map, but prepared to cast the deciding vote for one of the finalists, if necessary.
"I don't think we need to get in to that, I think you guys have done an amazing job of coming closer together," Smith said. "And I do have to say, as I was reminded this morning, every line you draw has political implications and to think otherwise it's just been either naive or unrealistic."
The commission will meet again Oct. 30, when it will take public comment in person and by Zoom. The agenda for Oct. 30 isn't available yet. From now to Oct. 30, the public can submit written comments on the map semifinalists. There have been discussions about pushing the final decision to Nov. 4, although there is no agenda available for that date.