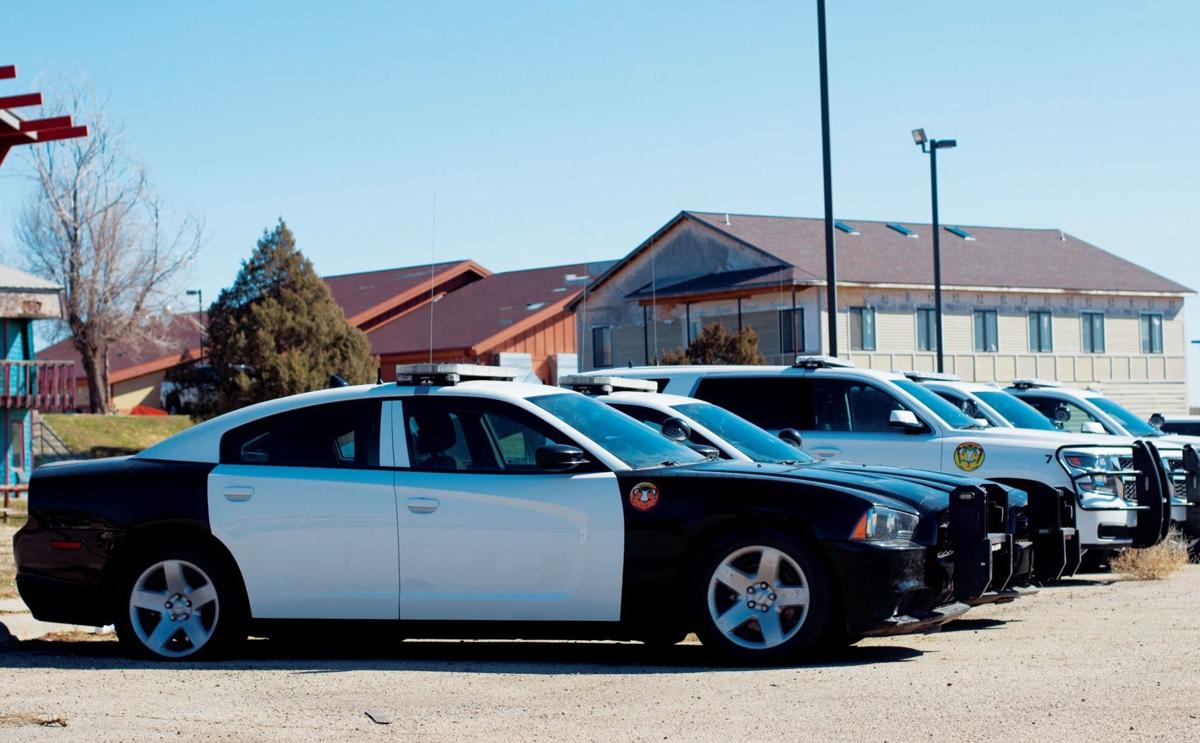 CROW AGENCY — On Nov. 24, 2020, Braven Glenn, a 17-year-old honor student and basketball player, died on Interstate 90 during a high-speed chase with the newly formed Crow Tribal Police. His vehicle reportedly went off the road and collided with an oncoming train.
The Crow Tribal Police Force, created in response to the COVID-19 pandemic, was only five months old when its officers chased down Braven Glenn. It was disbanded shortly after Glenn's death.
Glenn's family tried repeatedly to access his incident and toxicology reports, but did not receive them until four months after his death. The records showed he had died from blunt force trauma. The toxicology report showed there was alcohol and marijuana in his system.
But his family still awaits an official police report of the incident. They say they still have no idea what happened the night Glenn died and who should be held responsible.
"How are people you're supposed to trust to protect you in this community the same as the people that could kill you for speeding?" said Scott Old Bull, Glenn's brother. 
"The tribal police did not help this community," added Glenn's mother, Blossom Old Bull. "It caused more damage than good. We feel like they are hiding something, but we just want justice for our baby boy because his senseless death didn't have to happen."
Last June, the Crow Tribe, which had been angling for years to create its own tribal police force and take over its law enforcement from federal control, used a chunk of its $27 million federal CARES Act assistance to speed up the process.
Then, in late November, the Crow Tribal Police shut down completely, with little notice as to why.  Talk among the community said the department was under multiple investigations. Reservation residents also wonder how much CARES Act money was used to create the police force and whether that was legal.
The Bureau of Indian Affairs, which also has law enforcement responsibility on the Crow Indian Reservation, has refused several times to comment on the subject. 
However, Crow residents are talking, confused and angry that a community resource as integral as the police has been made into a mess.
'We're all related'
The Crow Indian Reservation covers about 2.3 million acres in southeastern Montana, bordered by Wyoming and the Northern Cheyenne reservation. That's approximately 3,600 square miles, making it the largest reservation in Montana and sixth-largest in the country.
Within that expansive landscape reside 7,900 individuals, 5,717 of who are registered tribal members. 
When COVID-19 hit the reservation in April 2020, Alvin "AJ" Not Afraid, the then-tribal chairman, put approximately $4 million in CARES Act funds towards a community project called Incident Command. 
The project, which based its operations in the Apsaalooke Casino at Crow Agency, consisted of tribal members acting as a COVID-19 response team, performing community duties such as delivering food, water and sanitation supplies to isolated residents. It also pulled out vehicles stuck in the reservation's muddy hills.
Across the road, another line of vehicles sat in a parking lot of the boarded-up Little Bighorn Casino, stuck in administrative limbo — three used Dodge Chargers and three brand new, white 2020 Chevy Tahoes. The insides were fully equipped with radios, steel barriers and hard, plastic bucket seats for the arrestees. In the trunks were safety hazard equipment and a lock case containing computer tablets. They were kept under a bright spotlight for months.
The vehicles were purchased by the former administration under Chairman Not Afraid, using CARES Act money to build a police force with a mission to mitigate the negative and possibly violent side effects of the pandemic.
The tribal police department shut down just before Not Afraid was voted out of his chairman post and replaced with Frank White Clay.
Frank White Clay was elected chairman of the Crow Tribe in December 2020, just weeks after the tribal police department was disbanded.
This April, one patrol vehicle had a tumbleweed wedged underneath the front grill. Another had a flat tire. Their "Crow Tribal Police" emblems had been torn off because the new White Clay administration feared people would think the police force was still functional. At least another 20 vehicles had been taken elsewhere, under investigation, according to the new administration.
There is always some level of confusion when a tribe makes a shift in leadership. In this instance, that seemed even more so, according to Jacob Stops, whom White Clay hired as Incident Command information officer and grants coordinator.
Stops had spent much of his time trying to track down where, exactly, the $27 million in CARES Act funds went under the Not Afraid administration. There were few spending records and the former administration hired accountants from off the reservation.
Stops said he hasn't got very far.
"We're all related around here," Stops said. "You have to understand, the walls have eyes and ears."
Reservation the size of Connecticut
Karl Little Owl, who worked as chief operating officer under Not Afraid, was concerned that the reservation would see a spike in crime. 
"Our challenge as a tribe is that there is no public safety anywhere," Little Owl said. "We have missing and murdered people, meth and now a health emergency. During the stay-at-home order, we were seeing more cases of child abuse, domestic abuse and child neglect and thought there was a correlation."
The Bureau of Indian Affairs managed law enforcement on the reservation prior to the formation of the tribal police. The BIA regional office is located in Billings, an hour's drive from Crow Agency. 
On the Crow Reservation itself, only one to four BIA officers operate out of two small mobile trailers. That's four individuals guarding a reservation roughly the size of Connecticut. And for comparison, Connecticut has 6,628 police officers patrolling the state. 
Over the decades, more and more tribes have invoked self-determination to take over programs internally. In Montana, four tribes have taken over law enforcement. Crow hadn't had its own police force in over 30 years.
Former Chairman Not Afraid sought to create and implement a tribal-run law enforcement through a federal contract, an order established under the Indian Self-Determination and Education Assistance Act. A successful transfer of power requires the federal government to supply the tribe with whatever money it would have spent on the federal program, function, service or activity it initially oversaw. 
Not Afraid's administration had submitted at least two contract applications and both had been denied.
Even without the approval of the federal application to take over law enforcement, Not Afraid's administration met with newly hired consultants and "health partners" who told them that addressing public safety should be the number one concern during the COVID-19 pandemic and gave them the green light to use CARES funds to form a tribal police force. 
Along with the vehicles, the administration hired at least 15 officers. They bought a former museum in Garryowen, a town 6 miles south of Crow Agency, and transformed it into the newly appointed tribal police force's headquarters. "Mobile jails" — shipping containers equipped with electrical wiring and small holding cells — were purchased to act as temporary detainment units. They were never used.
Dawn Plenty Hoops, the tribe's new procurement director, said people were upset with the way CARES funds were distributed.
She would have liked to see the money spent on larger stimulus checks — the tribe disbursed a total of $800 to adults only — and Incident Command operations. She wasn't fond of what she and others had begun calling the "COVID cops."
"They were just in the way," Plenty Hoops said. "They didn't know tribal law."
'It was heartbreaking'
Terrill Bracken was an experienced law enforcement officer with 13 years under his belt. He was wary of the tales of corrupt governments and serious violence on the Crow Reservation, he said.
But when he met with Not Afraid in 2018 and discussed their shared policing philosophy and how badly the reservation needed security, Bracken agreed to help.
Terrill Bracken was hired as chief of the Crow Nation Police and was fired in July 2020.
Their idea was to pair trained officers, who were not from the reservation, with tribal members who knew the law, in hopes of building a balanced and unbiased force.
"No one wants to pull over their auntie and give them a ticket," Bracken said. 
He put his job as a mixed martial arts trainer and fight organizer on hold while he worked with Not Afraid's administration. They tried for two and a half years to get a law enforcement department up and running; applying for private and federal funding and submitting the federal applications.
Then COVID-19 hit. And just a month after the federal CARES funds were received in May, the tribal police department was in full swing. Although he was a non-tribal member who lived outside the reservation, Bracken agreed to become chief of the newly created force.
It is unclear, although unlikely, if the BIA had approved of the tribe's law enforcement plan, as required in the self-determination process.
And Bracken was fired a month later. He got the call while grocery shopping with his mother from William Falls Down, a newly appointed acting public safety director, informing him of his termination, he said.
"I put my blood, sweat and tears into getting this thing off the ground," Bracken said. "It was heartbreaking. It affected my family and we went into a financial tailspin."
He suspected the termination had to do with differing views he and Falls Down had on how the police force should function. The police department was boarded up. The shipping containers sat, untouched, with the blue packing tarp waving in the wind.
Simply playing cops?
When Frank White Clay was elected at the beginning of December, the police force had already been disbanded for a few weeks.
White Clay and Not Afraid stood on different political platforms. White Clay backed investing in clean energy. Not Afraid tried to reinvigorate the reservation's coal resources. White Clay was interested in showing his face on the reservation and employing tribal members, while Not Afraid worked from home and hired non-tribal members as his right-hand people. 
Both men agreed on the need for a greater public safety presence. They both felt four BIA officers on the largest reservation in Montana wasn't enough. How to gain that presence was where their viewpoints split.
According to White Clay, using the CARES Act funds to establish a tribal police force did not fall within the CARES Act Department of Treasury's spending guidelines.
White Clay said the CARES funds were supposed to go into a separate account and be properly managed, but as far as he could tell, that never happened. He said the former administration bought items for the new police department — without approval from the tribe's legislature — and were simply playing cops.
"We're still trying to figure out exactly where that money went," White Clay said. 
Tiffany Figuero, an auditor working specifically with CARES Act questions within the Department of Treasury's Office of Inspector General, said the spending guidelines aren't black and white — intentionally so.
"These guidelines are broad because different tribes have different needs," Figuero said. "For example, some tribes need clean, running water, while others need housing for the homeless."
There are only three rules that are hard and fast when it comes to CARES Act spending, she said. The money was to be spent by the end of 2020 — which was later extended to December 2021. Tribes must be upfront and transparent with their purchases. Lastly, the money had to be used in response to, or in mitigation of, the pandemic.
Public safety has been one of the main uses for CARES Act funds, Figuero said. But when it came to erecting an entire police force from scratch with the money, she was unsure.
"If you wanted to buy new things for a long time but didn't have the funds, but now have funds through the CARES Act, you are not eligible to do so unless there is a rational COVID link," she said.   
In White Clay's mind, there were more clear and pressing things the money could have gone to in response to the pandemic.
"There are folks without clean water, heat or electricity and waste management is a huge issue," he said. "It's sad that we're in the middle of America and this is still happening."
Missoulian reporter Rob Chaney contributed to this story.