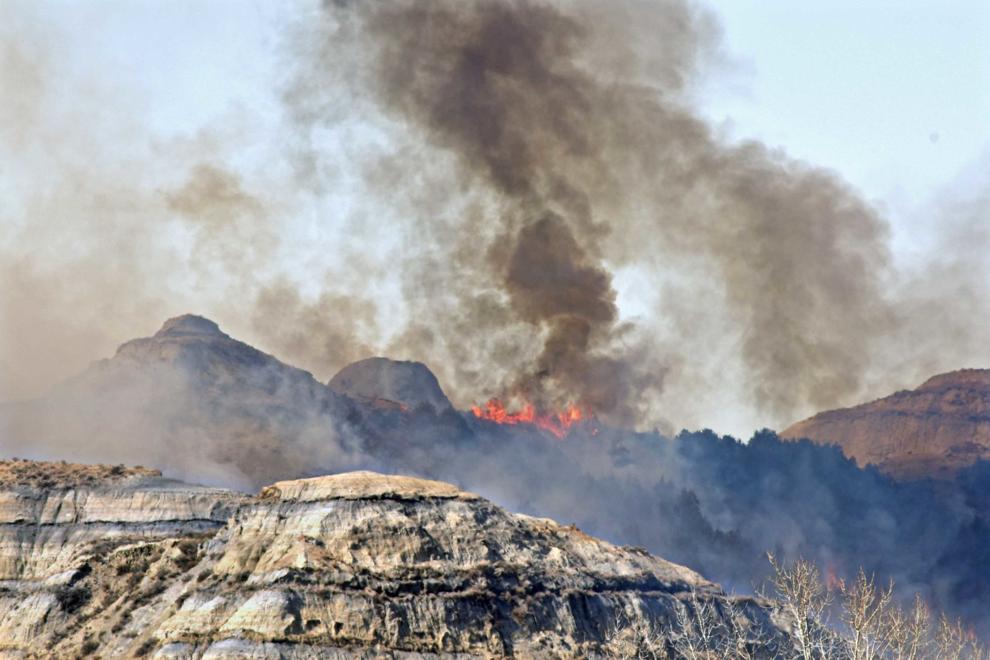 BISMARCK, N.D. — North Dakota Gov. Doug Burgum on Thursday declared a statewide disaster as extreme drought worsens, now encompassing nearly three-fourths of the state, up from about half just a week ago.
Meanwhile, wildfires including two large ones in the western Badlands have scorched nearly 53 square miles of land across the state this spring -- an area roughly equal to the size of Fargo.
"For the second time in five years, North Dakota ranchers are facing widespread, extreme drought conditions that threaten their herds and livelihoods," Burgum said in a statement.
The latest U.S. Drought Monitor map, released Thursday, shows extreme drought in all of the west except for the extreme southwestern corner, along with much of the northeast and a portion of the southeast. Extreme drought is the second-worst of four categories. The southeastern corner of the state is in moderate drought, with remaining areas in severe drought. No areas are yet in exceptional drought, the worst category.
Record-high temperatures, low humidity and gusty winds have exacerbated the drought and increased the wildfire danger, according to National Drought Mitigation Center Climatologist Deborah Bathke and U.S. Department of Agriculture Meteorologist Brad Rippey.
"County Extension agents report that producers are starting to de-stock livestock herds by culling cows, and grain farmers are very concerned about the lack of moisture," the two wrote. "Photos show soil drift due to the dry conditions and high winds."
The U.S. Drought Monitor is a partnership of USDA, the National Drought Mitigation Center at the University of Nebraska-Lincoln, and the National Oceanic and Atmospheric Administration.
The weekly crop report from the National Agricultural Statistics Service rates 92% of topsoil in North Dakota as being short or very short of moisture, and 82% of subsoil as being in those two categories. Ranchers' hay supplies were rated 46% short or very short, and stock water supplies were 71% in those categories.
Still, "We have not seen any dramatic (cattle) liquidation in our state yet," North Dakota Stockmen's Association Executive Vice President Julie Ellingson said.
Burgum and Agriculture Commissioner Doug Goehring announced Thursday that the State Water Commission has reactivated the Drought Disaster Livestock Water Supply Project Assistance Program and dedicated more than half a million dollars to it.
The program provides ranchers with 50% cost-share money up to a cap of $4,500 per water project. Eligible projects range from new water wells to rural water system connections to pipeline extensions. The program was created in 1991 and last activated in 2017. For more information, go to www.swc.nd.gov. 
All but one of North Dakota's 53 counties -- Griggs, in the east central part of the state -- have now implemented some form of outdoors burning restrictions. Much of western North Dakota was in the "very high" fire danger category on Thursday. "Near-critical" fire weather conditions existed across all of the west, according to the National Weather Service.
Documented wildfires in North Dakota increased over the past week from 139 scorching about 26,000 acres to 194 burning nearly 34,000 acres, according to Beth Hill, acting outreach and education manager for the North Dakota Forest Service. The acreage is more than triple what burned in the state all of last year.
The fires include one a week ago that burned 2,276 acres, or about 3 ½ square miles, in the Medora area, prompting a temporary evacuation of the tourist town, and the ongoing 5,000-acre Horse Pasture Fire in the North Unit of Theodore Roosevelt National Park.
Horse Pasture Fire
The North Unit is south of Watford City in McKenzie County. It encompasses a rugged and scenic stretch of the Badlands, and the Horse Pasture Fire is burning in rugged terrain. It was considered 65% contained on Thursday, up from 50% on Wednesday, according to Hill. The fire had not spread outside of the 8-square-mile area in which fire crews have boxed it in.
No injuries to people or animals have been reported, and no buildings have burned, but the CCC Campground just outside the park on its southeastern edge and other park structures could still be at risk, Hill said.
The park remained closed. Numerous other campground, trail and overlook closures remain in effect in the region and in the park's South Unit area. Complete details and a map of the closures can be found on the U.S. Forest Service-Dakota Prairie Grasslands Facebook page, at https://www.facebook.com/DakotaPrairieGrasslands. The Forest Service also has banned shooting, smoking and fires on National Forest System land within many western North Dakota counties. 
Separately, the North Dakota Parks and Recreation Department on Thursday issued a statement urging visitors to state parks and off-highway vehicle areas to be mindful of the high fire danger and county-level burning restrictions. 
A continuation of a phenomenon known as La Nina -- a cooling of the waters in the tropical Pacific Ocean -- is a driving factor behind the dry spring weather this year, according to AccuWeather.
The five-day forecast from the National Weather Service calls for a chance of rain or snow in various parts of the state on Friday, Sunday and Monday. But the agency said "critical" fire weather conditions are possible in western and central North Dakota on Friday, with low humidity and wind gusting to 45 mph.
Drought webinars
North Dakota State University Extension specialists will host a live monthly webinar to help ranchers navigate the drought. The webinars will be the last Thursday of each month at 1 p.m. Central time, starting April 29.
The sessions will include an update on drought conditions, a climate outlook and discussion of management strategies. Participants may ask questions. The goal is to give ranchers an opportunity to discuss drought-related concerns and help them to make timely decisions.
"Having a drought plan in place with well-defined triggers and actions enables ranchers to act proactively and reduce risk on their operation," said Miranda Meehan, Extension livestock environmental stewardship specialist and disaster education coordinator.