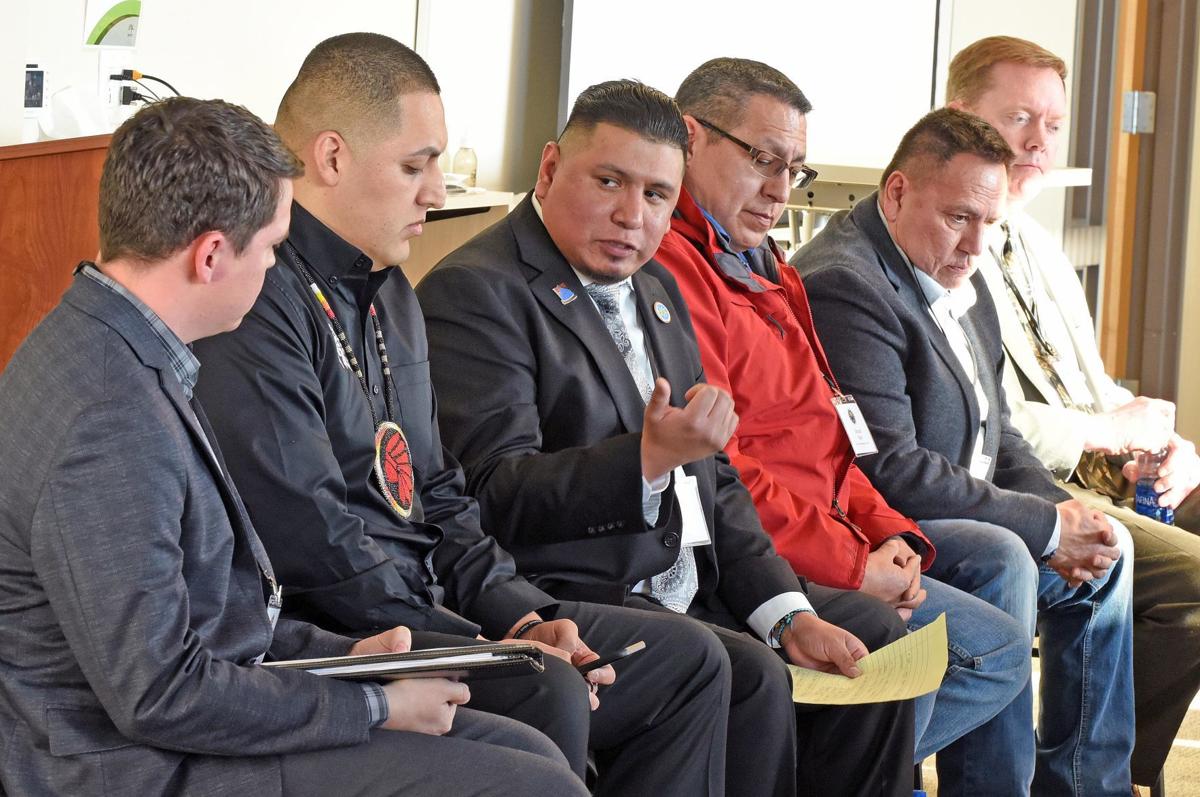 A company on North Dakota's Fort Berthold Indian Reservation has found success cleaning up oil spills using microorganisms, and it's looking to train more tribal members in the technique.
The effort by Chief Oilfield Services is one of several oilfield best practices discussed this week during the Strengthening Government to Government Partnerships & Relationships Conference at Bismarck State College.
The microorganisms are called "archaea," and they are considered "extremophiles," said Tony Damian, a member of the Three Affiliated Tribes and owner of Chief.
"Extremophiles are found in extreme conditions, whether really hot or really cold, where we normally think nothing would be able to survive," he said, speaking on a panel focused on energy issues. "These are the elite microbe."
The organisms can function on land and in the water.
"They'll latch onto the oil and they'll secrete an enzyme that will break the oil down into a fatty acid," Damian said.
In water, the fatty acid becomes food for fish.
Damian said he plans to partner with tribal colleges to establish a bioremediation certificate, then create a maintenance program that will employ tribal members who have received the training.
He said that leak detection technology is important in the oil patch, but "there's just not enough eyes and boots on the ground."
You have free articles remaining.
Using microorganisms is an alternative to traditional spill remediation techniques such as digging out contaminated soil, hauling it away and replacing it with clean material, he said.
Others on the panel from Fort Berthold discussed their experiences trying to ensure responsible oil development.
When it comes to pipelines, it's important to "remove the risk before they're started," said Travis Hallam, director of the Three Affiliated Tribes Pipeline Authority.
He said the tribe has ensured additional safeguards are in place on proposed pipelines slated to cross the reservation by taking a proactive approach in meeting with companies and other regulators.
Even after pipelines goes in, the tribe still partners with regulators to ensure their safe operation. For example, Hallam spoke of an instance when the tribe noticed that the land around a pipeline near a water source had eroded. When a federal regulator wouldn't force the operator to deal with the problem, the tribe approached state environmental officials and the U.S. Army Corps of Engineers, Hallam said. Together, they prompted the company to take action.
"We have to have that honest dialogue," he said.
John Pretty Bear, a member of the Standing Rock Tribal Council from the Cannonball District, spoke about preparing for a potential spill from the Dakota Access Pipeline.
He called on state officials to help the tribe obtain more information about the pipeline, including what spill response equipment could be made available in the case of a spill, as well as a calculation of what's known as a "worst-case discharge," essentially the most serious oil spill that could occur at the pipeline's Missouri River crossing next to the reservation.
"We have never received any of this information. There's a lack of communication," he said. "What Standing Rock wants to know is how is the state going to help us?"
Information about the worst-case discharge is among several items the tribe has requested the North Dakota Public Service Commission require developer Energy Transfer to produce as state regulators weigh whether to grant approvals for the company to expand the pipeline. Energy Transfer wants to build a new pump station in Emmons County as part of an effort to nearly double the amount of oil it pumps through the line.
Be the first to know
Get local news delivered to your inbox!