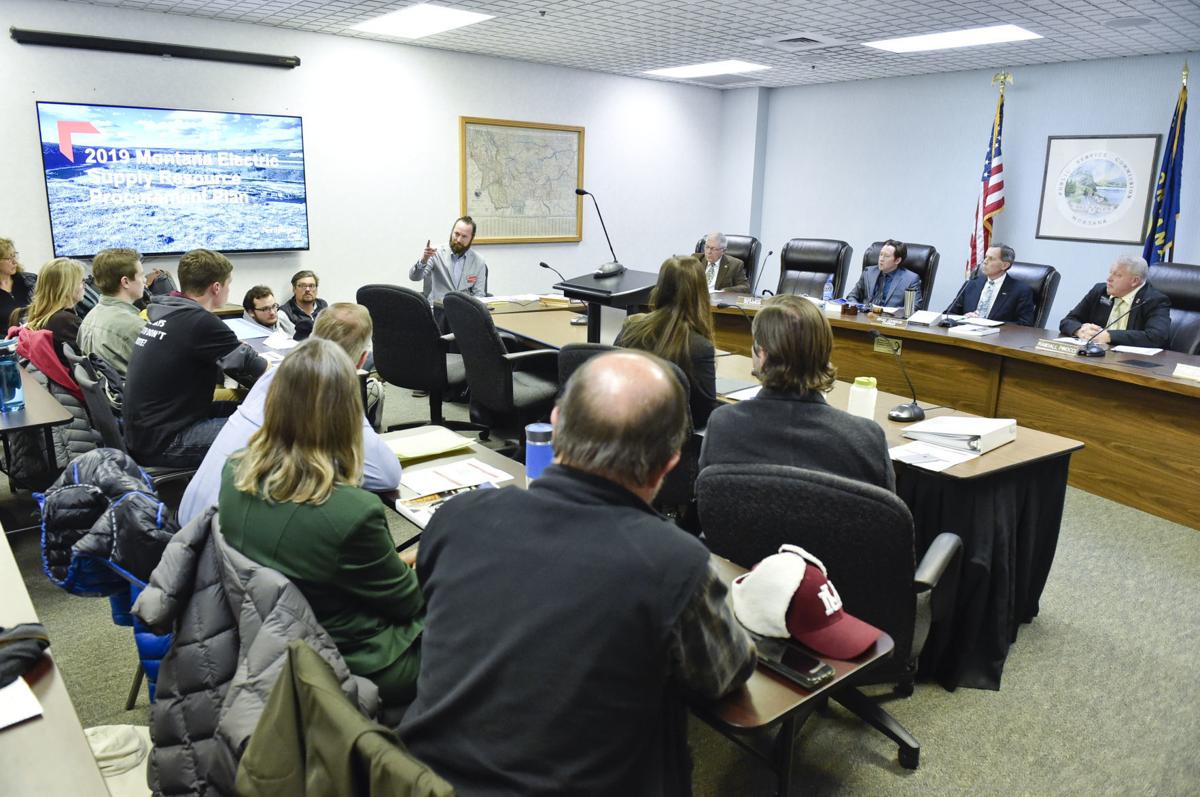 One year after attempting to buy a larger share of Colstrip Power Plant while circumventing Montana Public Service Commission approval, NorthWestern Energy will approach regulators directly in 2020.
The odds the purchase is approved may be better. Tuesday, NorthWestern announced it is once again trying to buy a larger share of Colstrip Unit 4 for $1. This time, the seller is not a mystery, as it was when NorthWestern unsuccessfully made its pitch to the Montana Legislature in early 2019. Washington-based Puget Sound Energy, the oldest and largest owner of the four-unit power plant, wants out. Having announced earlier this year that it would shut down Colstrip Units 1 and 2, Puget has now agreed to sell its 25% share in Unit 4 for a buck.
Even at $1, NorthWestern was the only interested buyer, Puget told Bloomberg News on Tuesday. Just weeks earlier, Puget told Washington regulators the power plant faces increasing costs for coal and repairs, including $20 million to fix the superheated section of the Unit 4 boiler. Owners of the unit already eyeing early exits from Colstrip would have to consider whether it made more sense to spend the $20 million or shut down, Puget said.
Enter Montana's Public Service Commission. NorthWestern's first $1 pitch to buy more of Unit 4 was made to the Montana Legislature last February. Lawmakers were asked to approve the purchase of a share of unknown size, without knowing whether the utility was buying more shares in Unit 4 or some other unit. NorthWestern's customers would then be obligated to cover all of NorthWestern's future costs related to the power plant, meaning Colstrip costs would remain on their bills even after the power plant closed. Roughly half of Montanans get their electricity from NorthWestern.
The proposal sparked concern among a narrow majority of lawmakers who rejected the first version of the proposal and modified versions that followed. It wasn't easy to say no. The bill was cast as a way to save the power plant's namesake community, which faced economic disaster as four of Colstrip Power Plant's six owners planned to exit in six to 15 years.
A major concern of consumer advocates was that the Public Service Commission, which is supposed to balance the interests of NorthWestern with the interests of its customers, had been relegated to spectator status.
The new $1 proposal is not the old $1 proposal, NorthWestern said Tuesday, namely because the PSC will be involved. The company will make its first filings in January or February 2020.
"This transaction is fundamentally different than what we proposed during the legislative process, as I've already talked about," said John Hines, NorthWestern vice president of government affairs in a Tuesday press call. "First and foremost, the PSC has oversight. We'll make that preapproval filing that will allow the PSC to review and hopefully approve the transaction."
Commissioners might be more favorable than the bipartisan majority of legislators who rejected the purchase. During the legislative session, the state's legal advocate for utility customers, the Montana Consumer Counsel, and PSC analysts argued against approving the deal. The majority of the commission, Chairman Brad Johnson, of Helena; Bob Lake, of Hamilton; and Randy Pinocci, of Great Falls, endorsed the bill approving the sale without regulatory scrutiny.
Two commissioners objected to being cut out of the approval process: Roger Koopman, of Bozeman; and Tony O'Donnell, of Billings. On a day when Johnson and Lake weren't around to vote, Koopman and O'Donnell staged a coup, of sorts. They voted to reverse the commission's official support for the bill, with Pinocci, the only other commissioner present, voting no.
Koopman rushed to the Legislature to announce the PSC's fragile reversal on NorthWestern's Colstrip legislation, which at that point in the process was in Senate Bill 331.
"If you believe that corporate welfare, consumer subsidies or monopolies — if those things are the way to encourage and promote free enterprise and to help the people of Colstrip, then this is obviously a bill you would like," Koopman told legislators in April. "But if you believe that sound public policy is based on sound economics, and sound economics is based on freedom and free markets, not on government schemes that enrich a specific company at the expense of everyone else, then this bill, frankly, is a disaster."
NorthWestern lobbyist David Hoffman was calling commissioners early Tuesday morning as news of dollar deal 2.0 broke. Koopman's phone was ringing shortly after 8 a.m.
"One of the things he said was that their whole approach to the deal was to address the concerns that some of the commissioners had with Senate Bill 331," Koopman said Wednesday, "which is good. They were listening to Tony and me."
You have free articles remaining.
The details offered by Hoffman were more than what NorthWestern offered the Legislature. Puget, identified as the seller, would retain a 25% obligation to fund environmental costs associated with its share of Unit 4 through the end of its ownership. The Washington utility based in Bellevue would also buy coal power from NorthWestern until Washington climate change law prevented Puget from doing so in 2025. That money would be used to cover possibly half of the operating and maintenance costs associated with the purchase share of Unit 4.
NorthWestern estimated Puget's share of operating costs associated with the unit to be $15 million, though Puget's regulatory filings suggest the costs are higher. With an increased share of the plant would come increased obligation of maintenance and operations costs, which customers would eventually shoulder fully.
The 185 megawatts of generation from Puget's share would help NorthWestern with its plans to add 700 megawatts of generation, Koopman said. The commissioner, whose district stretches from Butte to Park City, saw merit in what Hoffman was saying, but Koopman said the real details mattered and wouldn't be known until NorthWestern submitted the purchase for PSC approval. Puget needs the approval from Washington regulators, as well. The process will take several months.
"Will this be a Christmas present for NorthWestern customers, or just more coal in their stocking?" Koopman said. "I'm happy they're making this effort, but then again, we also have to moderate our excitement and recognize there's a lot we have to look at very closely."
O'Donnell said he liked that NorthWestern would own more than half of Unit 4 if it bought out Puget. The increased share might help NorthWestern keep the unit running as other Colstrip owners exit the power plant.
"Being a bigger part of Colstrip, if that gives more control to NorthWestern, to the advantage of ratepayers, then I'm for it," said O'Donnell who has Colstrip in his district and is up for re-election in 2020.
There was skepticism about the PSC's ability to regulate the NorthWestern purchase fairly after the majority of commissioners made objection to being sidelined during the Legislative deal. Ed Gulick, of the Northern Plains Resource Council, was still skeptical of the PSC's ability Wednesday.
"I don't have a great deal of confidence, but I think they're feeling the heat a bit more," Gulick said of the commission.
The night before NorthWestern's announcement, there were dozens of protesters outside the PSC objecting to NorthWestern's 20-year energy supply plan as being too dependent on coal and natural gas — that was before anyone knew of the new $1 Colstrip purchase. Inside, the commissioners were holding back-to-back public hearings on the plan, which drew no public comments in support during the first four hours. O'Donnell was called out for not being there, which one woman said was inexcusable, given his $107,000 a year salary.
O'Donnell said Wednesday that he was recovering from knee surgery and couldn't drive to Helena for the hearing.
But O'Donnell also took the commission lead on rejecting NorthWestern's request to sharply increase rates on new rooftop solar customers who net meter. Actions like those, indicated to Gulick that there was some separation between the PSC and the state's largest monopoly utility.
"Some of them are waking up and smelling the coffee," Gulick said. "There is a lot of public pressure now. At least some of them are feeling it."
NorthWestern's behavior, on the other hand, was outrageous, Gulick said. The company was given more than 20 minutes of the beginning of the Monday hearings on its energy plan to explain its need for power and how it would meet the demand affordably while also reducing carbon pollution. Generators fired with natural gas were presented as the utility's most affordable way forward.
Renewable energy advocates panned the 20-year plan proposal, but there was no mention of buying more of Colstrip, which Gulick said was deceptive. NorthWestern still plans to put out a request for more power generation. The next morning, NorthWestern combined its plan to buy more coal power with a promise to cut carbon emissions 90% by 2045.
"They really have abused the public's trust, and I don't buy anything they're saying," Gulick said. "In terms of the 90%, they can't tell us that. They've got to show us that."