BOZEMAN — A dispatcher could be heard inside Journey Church. He called Jake Allmendinger's badge number — 677— four times.
Doors opened at the side of the church, revealing three men with rifles. They performed a three-shot salute as the dispatcher asked for a status update from Allmendinger.
When there was no reply, the dispatcher said, "Copy 677. You are now off shift."
"Enroute to that place your heavenly father has prepared for you," the dispatcher said. "May God's benediction go with you to be with those who mourn your passing. We will cherish your memory and your years of service to the Gallatin County Sheriff's Office."
The moment of radio silence came near the end of Allmendinger's funeral, where law enforcement from around the region gathered to honor him. 
Allmendinger, 31, was killed in an icy road accident on Oct. 19, while responding to a report of a stranded car on Fairy Lake Road, about 22 miles out of Bozeman off Bridger Canyon Road, with deputy Ryan Jern. When his car started sliding back, Allmendinger left the car and it went on top of him.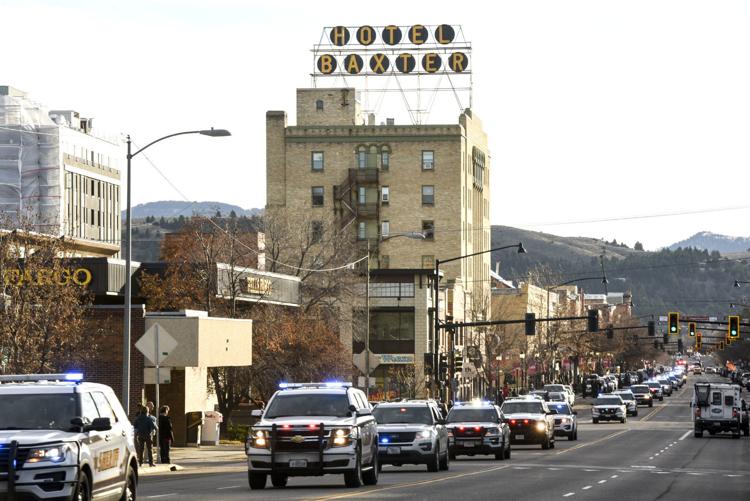 The day began with a procession. Law enforcement from Montana and several other states followed Allmendinger's family down Main Street to the church west of town. People lined the street to pay their respects. 
At the church's entrance, Bozeman and Belgrade fire trucks hoisted a massive American flag that waved in the wind, welcoming the long line of cars there.
You have free articles remaining.
Keep reading for FREE!
Enjoy more articles by signing up or logging in. No credit card required.
Allmendinger was a county dispatcher for seven years before becoming a deputy in September 2017. Friends, family and co-workers remember Allmendinger as competitive, loving and hard-working. They said he loved basketball and that a team was more likely to win if Allmendinger was on it.
At the funeral, Sheriff Brian Gootkin said dying in the line of duty was the ultimate sacrifice. He said that when Allmendinger asked deputy Jern to hop in his vehicle and go up a mountain to retrieve a stranded person, Allmendinger was doing what he loved.
Gootkin said Allmendinger's wife, Monica, said Jake told her that if he was ever killed in the line of duty, "they will be there."
Jake's mother, Michelle, read a poem she wrote for Jake's high school graduation. The poem was about him growing up, liking basketball above other sports, his competitiveness and how he always stood for what was right.
She said she was honored and proud to call Jake her son.
"It's been a pleasure to watch you grow into the man you've become. I love you," Michelle said.
During a closing prayer, Jake's father, Ron, thanked all first responders for supporting his family through the rough time and for their willingness to risk their lives. He also prayed for Deputy Jern, who was in the car with Jake during the incident.
"Lord, bless Ryan Jern for his courageous efforts in trying to help Jake and for doing everything that he possibly could to save him. Bless his family and protect him always," Ron said.