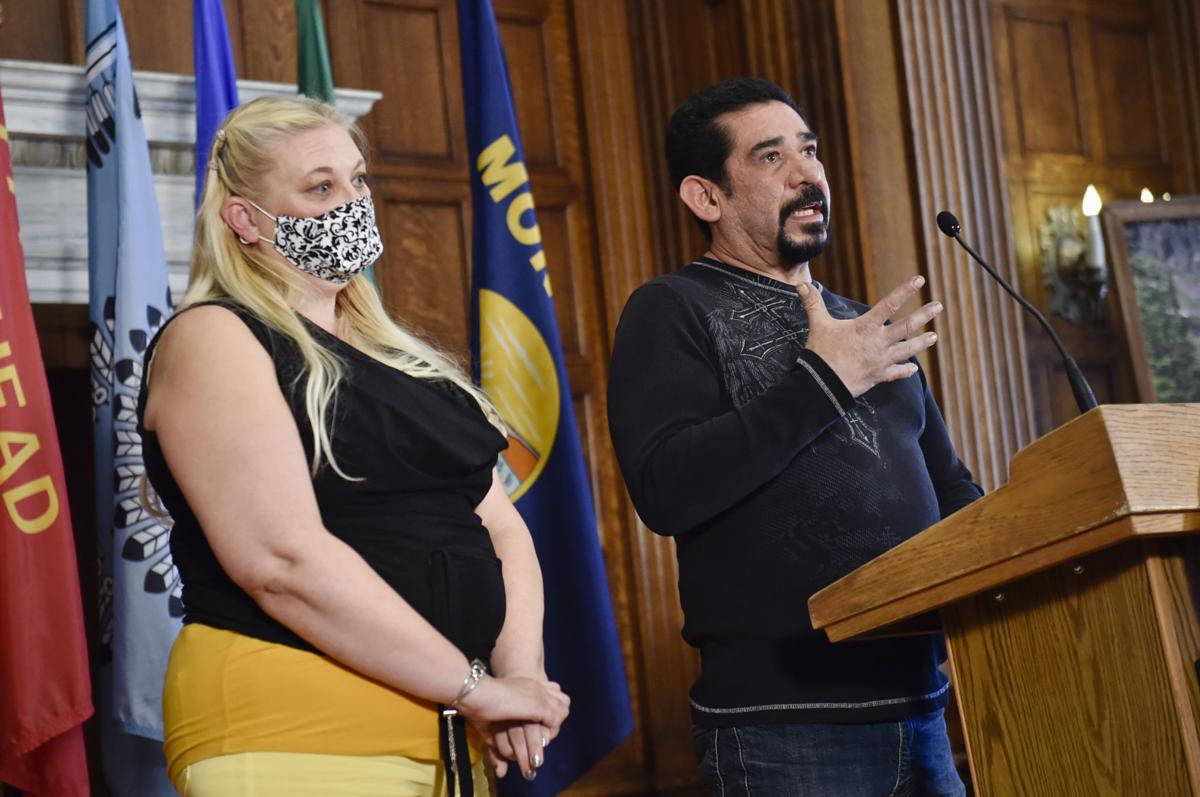 Since March, Gilbert Herrera believed the COVID-19 pandemic would end after the Nov. 3 election.
"I wanted to call it a 'shamdemic,' " he said.
Then in September Herrera, his wife, Gina Sandon, and his daughter all contracted COVID-19.
Now he says he's a "firm believer" the pandemic is no hoax and finds himself getting upset seeing people unmasked or shirking social distancing guidelines.
"I've already gotten into arguments over it," he said.
Herrera, 51, and Sandon, 44, shared their experiences recovering from COVID-19 during a Thursday press call with Gov. Steve Bullock.
Herrera and Sandon are two of more than 30,000 Montanans who have been sickened by COVID-19 since March. To date, the virus has claimed the lives of 337 people in Montana and nearly 230,000 people nationwide.
The Butte couple isn't sure where the contagion originated in the family. Both Sandon and Herrera began to feel symptoms in mid-September and then both tested positive.
While both paid a visit to the hospital, the virus hit Sandon harder. She said she's taken the virus seriously since March and even sews masks in her spare time.
After feeling flu-like symptoms, she was diagnosed with pneumonia and awaited her positive COVID-19 results. In mid-September she went to the emergency room after feeling "dizzy and delirious."
While in the emergency room, she learned she was positive for COVID-19, and had to wait while the hospital quickly created a makeshift room for her.
"I had to wait in the emergency room for four hours," Sandon said.
Sandon was put on oxygen immediately and began getting Remdesivir, an anti-viral drug frequently used to treat hospitalized COVID-19 patients. The drug earned an emergency use authorization from the U.S. Food and Drug Administration as a treatment for COVID-19 cases in August.
After an allergic reaction to the drug, Sandon said her doctors began giving her Benadryl first and administering the drug at a slower pace.
Five days later Sandon learned she had sepsis, a potentially life-threatening complication of a viral infection. She isn't sure what caused the sepsis.
In total she spent 11 days in the hospital and 45 days in isolation.
Sandon was already in the hospital when Herrera felt like he couldn't breathe anymore.
"My chest was constricted and my breaths were shallow and things were starting to get black," he described.
He was admitted to the hospital and began taking Remdesivir treatments and reacted well. He stayed about three days in the hospital and spent the remainder of his recovery at home, he said.
"I recovered fairly well, my problems now are fluid in my lungs," Herrera said. "The doctors are scared they are blood clots. Now I'm on blood thinners."
Even after meeting the Centers for Disease Control and Prevention's guidelines for being recovered from COVID-19, Sandon said she's still recovering from the sepsis and pneumonia.
"After 45 days of being ill, I feel like I'm foggy in the brain. I can't quite think the way I used to," she said. "Hopefully that will go away and that's not permanent."
Personnel shortages
During Thursday's press call, Bullock announced that five teams of nurses from the U.S. Department of Health and Human Services will arrive in Montana to help ease staffing shortages for critical access hospitals.
The five teams will have five nurses each and stay for 30 days per team. Three of the teams, or 15 nurses, will arrive next week, Bullock said. The other two are scheduled to come after assisting in areas affected by Hurricane Zeta.
Bullock did not name specific hospitals, but said the nurses would be stationed along the Hi-Line and across Eastern Montana.
Eastern Montana has recently seen surges in COVID-19 cases and deaths, but because they have fewer resources, critical access hospitals are often limited to transferring COVID-19 patients to larger hospitals.
Bullock said Thursday the nurses will "fill in the gaps of healthcare worker shortages" allowing rural hospitals to remain open in the event of staff members needing to quarantine and to keep patients from being transferred to larger hospitals.
Roosevelt County Public Health Officer Patty Presser told The Billings Gazette on Thursday that a shortage of nurses was hitting the area hardest.
"The hospitals out here are too small to have respiratory therapists. For example, when someone requires a vent in larger hospitals they have a crew that's trained and ready to go for that specific system. In smaller hospitals the nurses are asked to step up and manage those vents until the flight crew comes to get that patient," Presser said, adding that nurses in smaller hospitals are increasingly being asked to "wear many hats."
Counties across the Hi-Line have begun to see surges in cases, with some counties experiencing case counts in the hundreds. Presser said she didn't anticipate case rates to trend down anytime soon with the culmination of cold and flu season.
In Glasgow, recent hospitalizations and staffing shortages have led one hospital to halt elective surgeries until mid-November.
"We have been affected like every other place in the community, where we've had our own people test positive or sent home for being a close contact." Randy Holom, the chief executive officer for the Frances Mahon Deaconess Hospital, said during a Valley County Health Board Meeting on Oct. 21.
Holom said COVID-19 patients typically stay longer than non-COVID-19 patients and tend to need a higher level of care. 
"If this pattern continues we are going to exhaust our capabilities in caring for the community and divert patients to other communities. And there are no beds in other communities."
Cases in the governor's office
Bullock said that another staff member has tested positive for COVID-19 in his office and a total of six staffers are now quarantining. 
The news of a positive case in the governor's office came Wednesday after a press event set for Wednesday was canceled. 
Two total staff members have now tested positive and four are quarantined but have tested negative, Bullock said.
Bullock was not considered to be a close contact to either staff member and has tested negative twice. Lt. Gov. Mike Cooney also tested negative for the virus twice, he said.