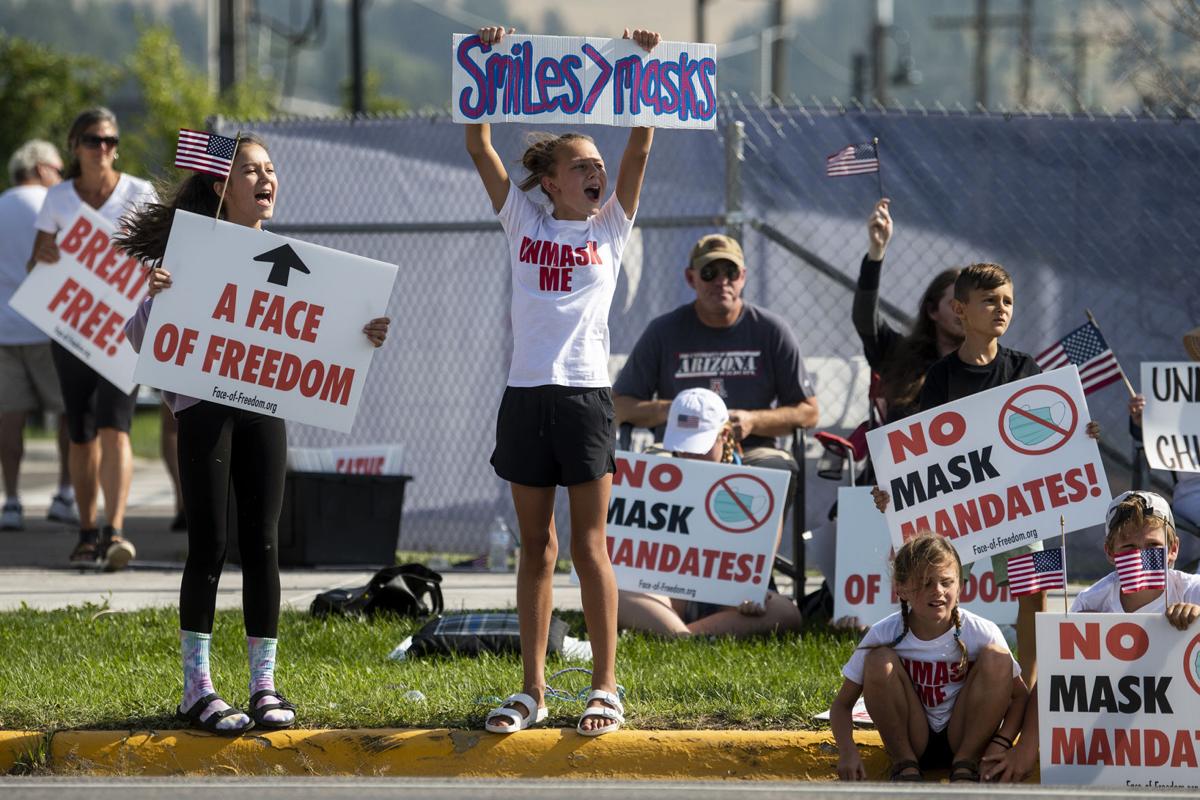 Local parents are suing Missoula County Public Schools, Target Range and Hellgate Elementary over masking requirements to prevent the spread of COVID-19.
The 11 parents are also suing on "behalf of their minor children," most of whom are enrolled at the three districts. One family involved in the suit claims to have unenrolled their children at Target Range School District due to the district's mask mandate.
Those involved with the suit claim that the required use of masks at the three districts is against the law, and infringe on a person's "right to privacy, dignity, and free expression without the necessary showing of a compelling government interest in doing so."
The general allegations against the school district call into question scientific evidence by the U.S. Centers for Disease Control and Prevention and the World Health Organization regarding the effectiveness of masks.
The suit also alleges that the mask mandates at the three districts do not accommodate the needs of children with autism or asthma.
"Wearing a mask constitutes to many an outward sign of trust in, loyalty to, or submission to the honesty, wisdom, and power of the government," the plaintiffs claim in the suit.
The plaintiffs are represented by local lawyer Quentin Rhoades of Rhoades Siefert & Erickson.
The parents in the suit are joined by Stand Up Montana, a nonprofit organization based in Gallatin County. The group seeks to provide support for legal action against school districts across the state that are "illegally masking our children," according to its website.
Court documents filed with the suit claim there are "many" Missoula County residents enrolled as members with Stand Up Montana, which says it now has over 2,500 members from around the state.
Stand Up Montana says it's preparing to file a similar lawsuit in Gallatin County against Bozeman Public Schools after its board voted in favor of universal masking.
A GoFundMe drive to support the lawsuit against the three districts has raised just over $10,000 and has a goal of $30,000. The page was organized by Joseph Suchanic, and it says funds raised in excess of legal fees will be donated to Stand Up Montana.
Suchanic is listed as a counselor with Guided Healing Trails, a marriage and family counseling service in Missoula. He is not listed as a plaintiff involved in the lawsuit.
The suit has an attached declaration written by Rodney X. Sturdivant, Ph.D., who's been an associate professor of statistics at Baylor University since July 2020.
He also co-signed the Great Barrington Declaration, which advocates for an alternative approach to the COVID-19 pandemic to minimize harm related to lockdowns by herd immunity and "focused protection" of the most at risk for the disease.
"The most compassionate approach that balances the risks and benefits of reaching herd immunity, is to allow those who are at minimal risk of death to live their lives normally to build up immunity to the virus through natural infection, while better protecting those who are at highest risk," wrote the authors of the Great Barrington Declaration.
The approach suggested by the declaration has been criticized by many public health groups, as well as Tedros Adhanom Ghebreyesus, the director-general of the WHO.
In a speech in October 2020, Ghebreyesus explained that herd immunity provides protection for a population if a threshold of vaccination is reached.
"In other words, herd immunity is achieved by protecting people from a virus, not by exposing them to it," Ghebreyesus said.
Trustees with Missoula County Public Schools ultimately voted in support of universal mask use while indoors for at least the first six weeks of school at a meeting earlier this month. Target Range also opted for universal mask use while indoors.
Hellgate Elementary initially planned on masks to be used voluntarily when class resumed this fall, but its board ultimately decided to require them at a special board meeting this month.