If you're asked to name a famous skateboarder or snowboarder, you might say Tony Hawk or Shaun White. If you were asked to name a famous female skateboarder or snowboarder, you might not be able to come up with a name at all.
That doesn't mean that there aren't female skaters or snowboarders. There are plenty, but as with many sports, and especially skateboarding and snowboarding, there's a significant gender gap.
Both sports are generally male-dominated, and in a world where women often already feel like they have to prove themselves as equals to men, the stakes are even higher at the parks and on the slopes.
However, an increasing number of girl gangs working to defeat the notion that skateboarding and snowboarding are men's sports are popping up around the country.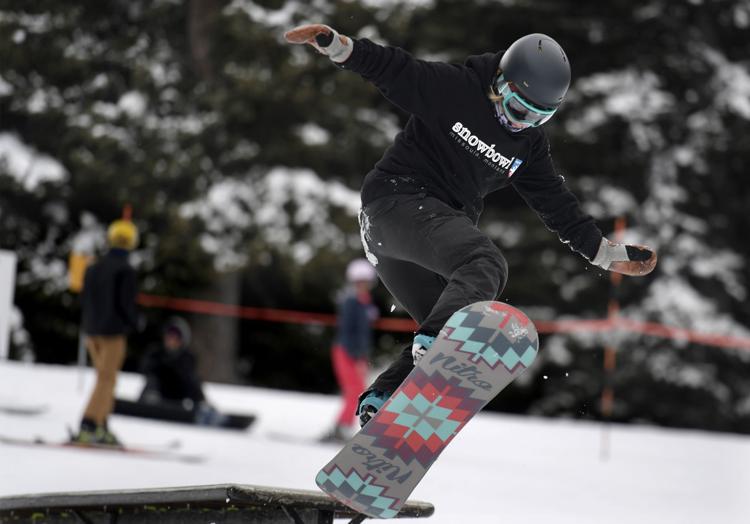 In Missoula, Girls on Shred is committed to growing the "small but mighty" community of female shredders by hosting women-only ski and snowboard clinics and events where girls can learn and improve their skills free of the pressures they may experience when surrounded by male counterparts.
"Sometimes when people go riding or go to the hill, it's like they have to prove something or have to be good to just be there," said Samantha Veysey Gibbons, a manager at Board of Missoula and the event coordinator for Girls on Shred.
"We try to make these events wash away that stress and intimidation so they can just feel free to make mistakes and look goofy and giggle and just improve at their own pace," Veysey Gibbons said.
Girls on Shred is a collaborative effort through Board of Missoula, a skate shop in the heart of downtown. The events and clinics throughout the year are free and open to women of all ages, regardless of their skill level.
Although Veysey Gibbons now heads the group, it was originally started by Danielle Barrow, who's married to Jake Barrow, the former owner of Board of Missoula.
The group has been around in various capacities for about 10 years. When Chris Bacon bought the shop in 2017, he asked Veysey Gibbons to take over.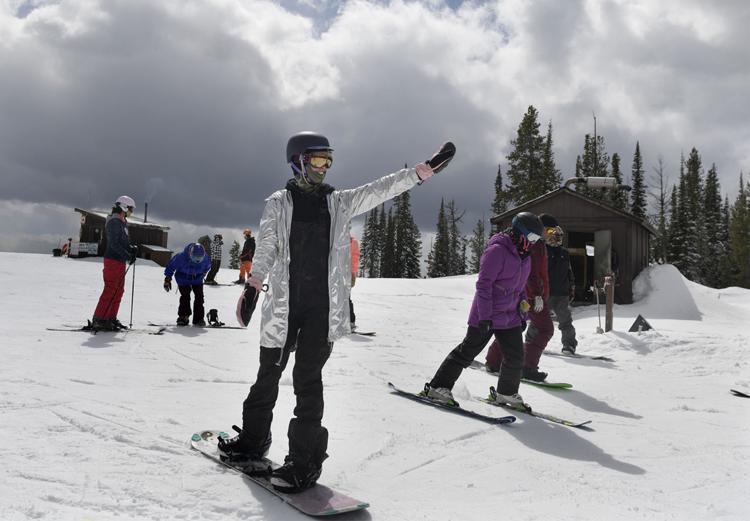 On Sunday, a group of about 10 girls cheered each other on as they went down boxes and pipes at Lost Trail.
"You've got it," Veysey Gibbons said as Bailey Menahan glided across the snow toward a box.
The clinics give participants a chance to slow down, concentrate and watch other girls' form without pressure to perform well or prove themselves.
"A lot of times, girls go with their boyfriends who are really good and fast, and just being around this kind of environment brings a lot of confidence to someone," said Erin Belmond, a Darby-based snowboarder.
The story of trying to learn to ride with a boyfriend who inevitably bails to ride with friends is common among the group. Nearly every girl shared some variation of the experience.
Veysey Gibbons is no exception. Wearing pink ski gloves, a silver metallic shell coat, camo pants and goggles with a gold chain dangling just below her chin, she explained the first time she tried snowboarding with her fifth-grade boyfriend.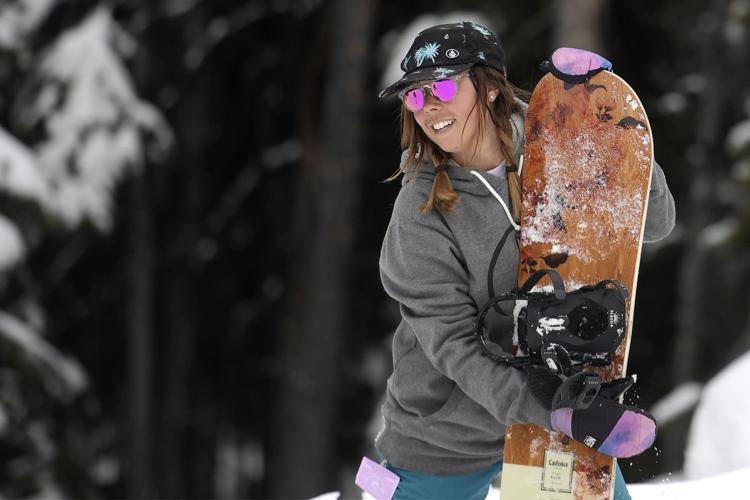 "I went with him to the mountain, I got all my rental gear and I made it like not even halfway down the bunny slope and he was like, 'Sorry, I don't want to wait for you anymore,'" Veysey Gibbons said.
"I ended up making it down. I did not do very well but I was just so determined to get good at it," she said.
Veysey Gibbons learned to snowboard throughout middle school in New Hampshire and went on to compete in high school. Then she came to Montana and found powder and wanted to share her knowledge with other girls.
You have free articles remaining.
Keep reading for FREE!
Enjoy more articles by signing up or logging in. No credit card required.
Now, she's branching out to reach other nearby communities near Missoula. About two years ago, the group started hosting monthly snowboard clinics at Lost Trail, which have recruited women from the Bitterroot and connected female riders throughout western Montana.
Belmond is one of several women in the group attending the monthly clinics at Lost Trail since the event became a regular occurrence at the park.
RJ Higgins, the marketing director at Lost Trail, said he was happy to host the events when Veysey Gibbons approached him about it. Higgins said the park provides discounted day passes to all female riders on Girls on Shred days, regardless of whether or not they're aware of the group when they approach the ticket window.
Although the group is mostly focused on intermediate snowboarders looking to build on their skills, Higgins said Lost Trail offers beginner lesson packages that help girls get to a point where they're ready to shred with the group.
As the weather warms up, Girls on Shred will start hosting more skating events, which usually happen at least once a month. They often occur at ramps in Missoula, although they also go to skate parks outside the state, traveling to Coeur d'Alene last year when a new park opened there.
Kim Petersen, a teacher at Sussex School and skateboarder who "rips" in her free time, runs the skate clinics for Girls on Shred.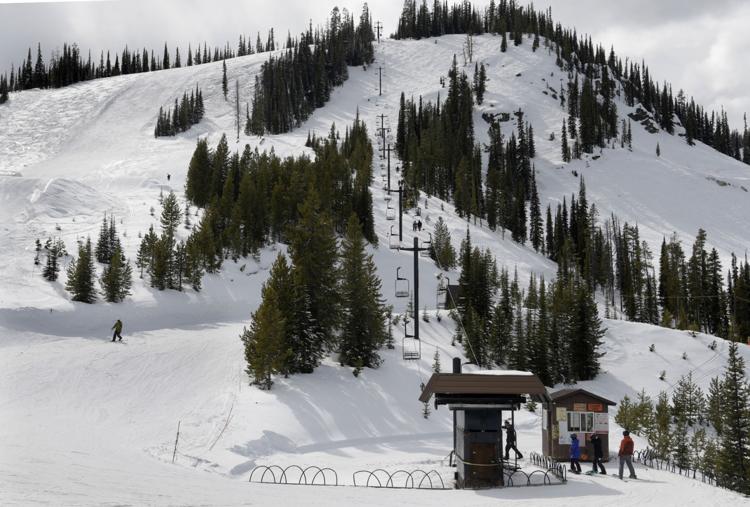 "I'll hold their hands all day long until they're not afraid without falling," Petersen said. "For some, it makes all the difference, having just that extra crutch, because it can be scary."
Petersen has been skating for more than 20 years and she's ready to see more women get involved.
She said the skating scene can be even more difficult for girls to break into than snowboarding but she hopes to see it grow with the Girls on Shred.
The group's first skate event of the season is on Thursday, April 18, when they'll shut down a Missoula ramp to guys (unless they're helping out).
Petersen and the other girls in the group agreed that there are a lot of guys in the community who have been really supportive of Girls on Shred. But at the end of the day, girls still need other girls to look up to.
Bailey Menahan is one of several girls who participates in the skate and snowboard events. Menahan agreed that the group is inclusive.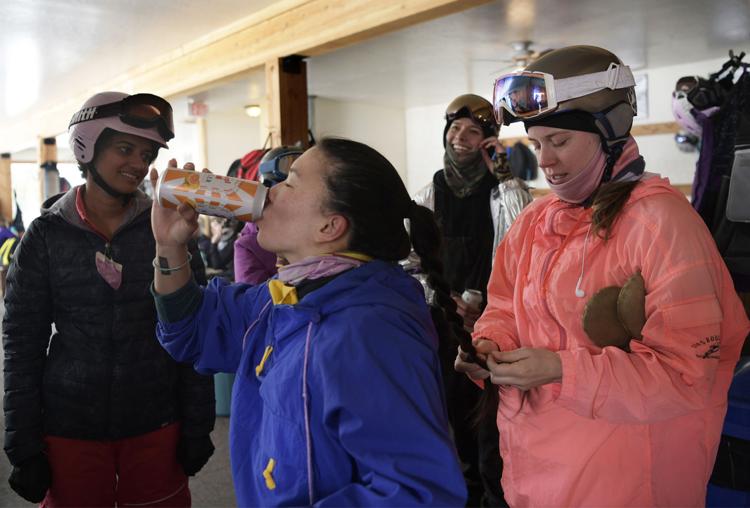 "Everyone's welcome to our events," she said. "But the boys definitely take a step back."
The events are also an opportunity for the girls to have fun and make new friends. At each event, Veysey Gibbons works with local business sponsors, as well as skate and snowboard sponsors to raffle off swag so that each girl can leave with something.
She said it's a fun way for girls to feel like they won something without having to compete with each other.
Shelby Gilfillan is another member of the group who skates and boards. She said that while she obviously enjoys riding, her favorite part is the camaraderie.
"I've met new friends through it and now we go on trips," she said. "There aren't very many female riders and it's hard to meet them but there's power in numbers."