Montana's capacity for radioactive oilfield waste could be expanded soon as regulators finalize rules for disposal.
State officials are reviewing the license application for the Yellowstone Disposal landfill. It's a project backed by a North Dakota-based company, which plans to build on 2,600 acres of land 4.5 miles southeast of Sidney.
Within that site would be a 55-acre special waste unit with a capacity of more than 5 million cubic yards. That area would be licensed to handle material with radioactivity levels up to 50 picocuries per gram, or pCi/g.
Most of the waste comes to Montana from North Dakota, where the state's health department created rules specific to this kind of waste after scores of illegal dumps were found around the Bakken region.
While North Dakota enacted those rules in 2016, no landfills have been licensed to operate under them.
Companies have looked across the border to Montana, which still has no universal set of rules for that type of waste. Officials have been working on a draft set and may have a final version by the fall.
Montana has licensed landfills on a case-by-case basis. If approved, the Yellowstone Disposal landfill would be the fourth facility licensed to handle that material.
"Until Montana develops standards and protections, we're going to continue to be North Dakota's dumping ground," said Seth Newton, a rancher near Glendive and member of Northern Plains Resource Council.
Just over the border
Newton's ranch sits near the Oaks Disposal Landfill, which has been the main destination for this type of waste in the Bakken region since 2013. It took in 253,000 tons of waste from 2013 to 2015.
Most of it comes in the form of filter socks, which most often arrive in truckloads from North Dakota.
Waste materials like filter socks are classified as technologically enhanced naturally occurring radioactive material, or TENORM. They collect concentrated amounts of natural radiation during the extraction process.
The Environmental Protection Agency deemed exposure to radioactivity from TENORM waste as low-risk for people who live and work nearby. For comparison to the 50 pCi/g limit set by states, a banana has a natural radioactivity of 3.5 pCi/g, according to the North Dakota Department of Health. Clay-based cat litter is rated at 15 pCi/g.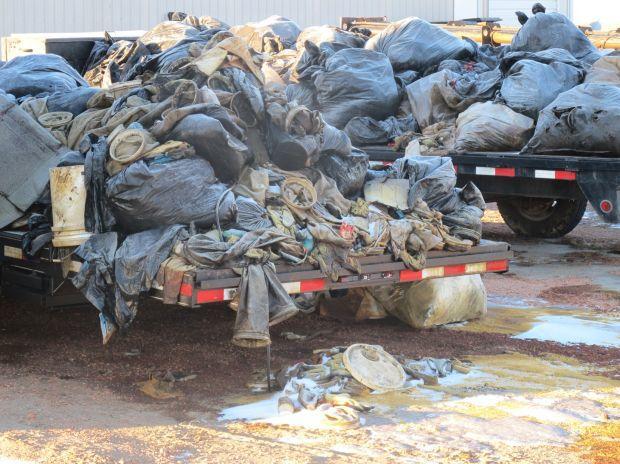 Still, TENORM waste materials like filter socks are discarded in tons. Northern Plains has been watching Montana's rulemaking process, and its members have expressed concerns over how that waste collection might affect natural resources, as well as how companies self-report waste data from the rural reaches of the state.
"Montana continues to indefinitely accept the risks that come with radioactive oilfield waste," Newton said in a statement released through Northern Plains. "My ranch would be seriously threatened if the creek near my place is impacted."
Around the Bakken patch, there have been more illegal TENORM dump sites than legal ones. North Dakota officials tallied 150 illegal dumps in 2014, which helped spur the state to enact new rules.
The proposed Yellowstone Disposal landfill is being proposed by IHD Environmental, a Williston-based company. IHD already runs a landfill in North Dakota, but that facility isn't licensed to handle TENORM up to 50 pCi/g.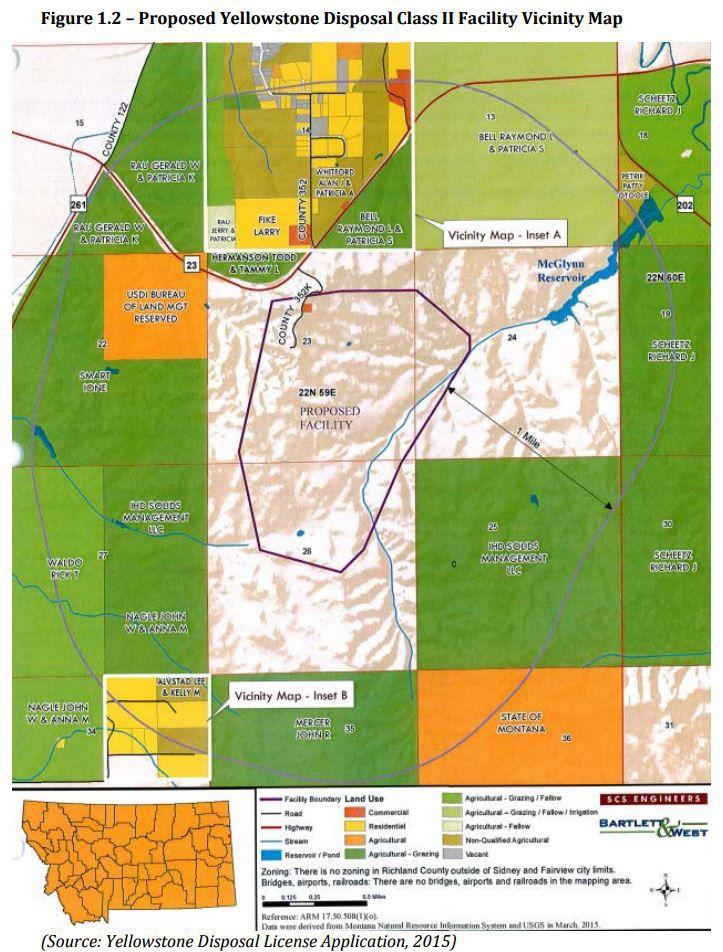 Its license application with Montana assumes a 50 pCi/g limit, which is in line with the state's draft administrative rules. That would make the Montana landfill a more attractive destination for TENORM oilfield waste.
Company spokesman Chris Kreger said they chose the site near Sidney for cost-efficiency.
"One of the largest competitive factors in waste disposal is transportation costs," he said. "So we achieve two things by having a facility there."
One of those advantages is that it's closer to clients, he said. The other is that it expands the company's geographic reach.
Kreger declined to say on the record why the company isn't pushing to augment its existing North Dakota license since the state expanded the available pCi/g capacity.
In 2016, IHD pulled that application with North Dakota after it was caught with about 950 tons of illegal TENORM waste, the Bismarck Tribune reported. IHD was ordered to remove it from the facility.
Without that applying for a license under North Dakota's new rules, the default radioactivity limit is 5 pCi/g. The North Dakota Department of Health said that 13 sites operate under that regulation.
IHD's application to build its landfill near Sidney is moving ahead, and the Montana Department of Environmental Quality is taking public comment on the proposal through Jan. 29.
Richland County Commissioner Shane Gorder said he was concerned that his county would be stuck handling another state's waste.
"I just don't see the need for that landfill in Richland County when there are other disposal sites within 60 miles," he said.
Licenses and lifespans
The Oaks Disposal Landfill near Glendive has been taking TENORM waste for five years under an operating agreement with state regulators. It's the only facility of its kind in Montana and North Dakota.
Two other facilities have been licensed by Montana since 2014 and 2015, but they were never built.
The Yellowstone Disposal site near Sidney would be the fourth TENORM licensee in Montana if it's approved. In addition to TENORM oilfield waste, IHD plans to build a separate, 75-acre section for more common municipal solid waste.
The company estimated taking in 90,000 tons of municipal waste annually from the Richland County area, or 300 tons per day. Part of the justification for the site was that all this additional waste would greatly reduce the lifespan of the existing county landfill.

Richland County Public Works Director Adam Smith said that the collection of 300 tons per day from that area is largely over-estimated.
"It ain't happening," he said. "On average, especially in the winter like this, if we get 15 to 20 tons, that's a pretty busy day for us."
The draft environmental assessment for the Yellowstone Disposal site didn't estimate how much TENORM oilfield waste it expected to take. It did estimate the lifespan of that section to be 30 years.
The Montana Department of Environmental Quality is simultaneously reviewing public comment for the Yellowstone Disposal landfill and comments about the administrative rules that would regulate it.
Ed Thamke, waste and underground tank management bureau chief at DEQ, said they plan to seek an extension in the administrative rule-making process to address public concerns raised during the comment periods.
Revisions to the draft rules would go through a vetting process, and they hope to have a set of final rules completed by the fall.
Thamke said the DEQ declined to halt licensing for TENORM waste sites while the state drew up its administrative rules because the department's operating agreements in place had no "fatal flaws." He said the department didn't have the ability to impose a moratorium, anyway.
The applications were already in.
"Quite frankly, we don't think it would be fair to the applicant," he said.