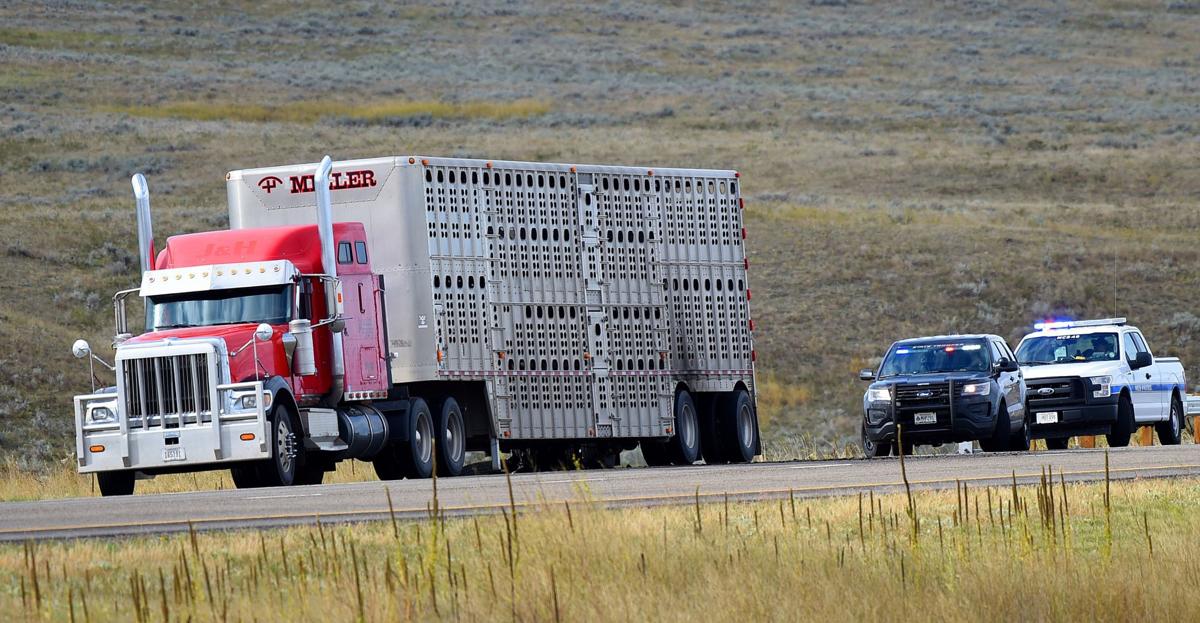 Nine miles east of Hysham, a semi hauling a trailer filled with roping steers caught fire Monday morning.
The fire began on an axle of the trailer and burned hot enough to melt part of the trailer. But, the driver was able to safely get all 103 head of cattle out, according to the Montana Highway Patrol.
With cattle loose on I-94, local ranchers and ranch hands quickly responded, some of them on horseback, along with the Treasure County Sheriff's Office and the Hysham Volunteer Fire Department.
Calling it a "great response from locals," MHP Trooper Richard Drake guessed there were between four and six people on horses along with several others who stopped to lend a hand in addition to responders on scene. 
The cattle were herded between the guardrail and a fence line before someone volunteered a corral pen up the road to hold the steers, Drake said, adding the Treasure County Sheriff's Office helped coordinate. A fence was cut and the cattle were moved into a nearby pasture.
Part of the group was initially held in a culvert near where the trailer stopped. Another group was trailed down the road by a state road worker and Treasure County Sheriff Wayne Robison. 
"We were just staying with them to keep them off the highway, we had them between our vehicles on the interstate and then the fence alongside the interstate," Robison said. 
The sheriff guessed about 15 minutes passed from the time the animals were unloaded from the truck and herded into pastures. 
"They were a little excitable, not too bad though," Robison said.
A couple of local residents, Aaron and Chad Fink, were on horseback rounding up the cattle once they'd been put into a pasture. The animals were then moved to a corral where they were reloaded into another truck, Robison said. 
The incident was reported to MHP shortly before 8 a.m. At about 8:47 a.m. the Montana Department of Transportation issued a road report warning drivers of the situation and advising them to slow down and be prepared to stop while going through the area. At about 10:38 a.m. a second MDT road report declared the scene cleared.
The cattle had been loaded in Billings and were about 85 miles from their starting point when the semi pulled over. A passerby who saw the fire was able to catch the attention of the semi driver and get them to stop. The passerby then brought out a fire extinguisher and started using it on the vehicle, Drake said.
The fire destroyed the axle on the trailer and melted part of the trailer above it, Drake said. "Due to the intense heat it melted about halfway up the side of the trailer."
The trooper credited the sheriff's office and "the good folks of Treasure County" for their help in the situation.