Pat Munday recalled an adult student who declared he hated ravens, considered them filthy birds and killed them at every opportunity.
Was it coincidence that this middle-aged man was likely one of Montana's least successful elk hunters?
Some hunters, Munday among them, recount experiences where a raven or ravens seem to lead them to live game, with the ravens likely anticipating sinking an ebony beak into a gut pile.
A study in Wyoming found that the sound of a gunshot during hunting season draws ravens hoping for a share of a fresh carcass.  
Wildlife biologist Crow White observed, "Hunters ring the dinner bell for ravens."
People tend to have strong feelings about ravens. Ravens have been seen as tricksters, as harbingers of death or other bad news. Yet the birds' obvious intelligence, resilience, resourcefulness and their alleged links to the spirit world, along with the beauty of their black plumage, also yield a dark mystique.
Munday, a professor of science and technology studies at Montana Technological University in Butte, drew a crowd of about 65 people to his recent "brown bag" ravens presentation at the Butte-Silver Bow Public Archives – effectively doubling a typical turnout.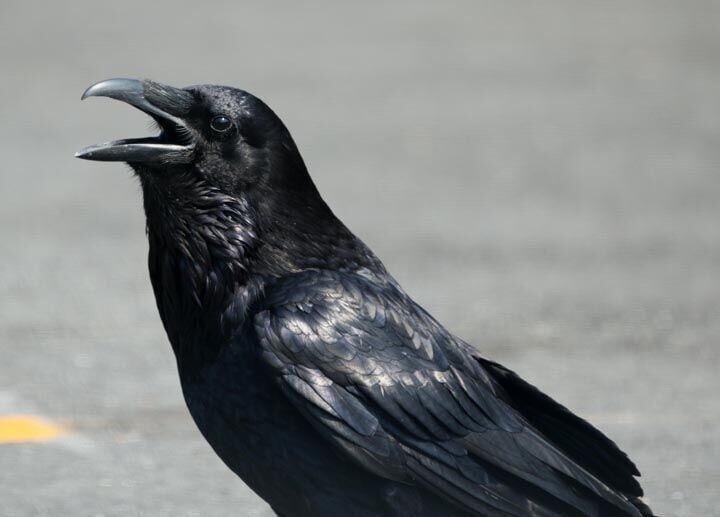 More than one person in the room proudly declared, "I love ravens."
Munday's affection and admiration for the birds rang as clearly as a raven's croak in still mountain air.
"I rarely climb a mountain peak without having a flock of ravens show up as I scramble along the ridge," he said. "They play on the thermals and sometimes pop up from the opposite side of the ridge, fly very close and seemingly take a perverse delight in surprising me."
Munday wrote, "Raven joy is as apparent as a playful dog's joy."
After the reintroduction of wolves to Yellowstone National Park in 1995, scientists observed that wolves and ravens had become close associates. Researcher Bernd Heinrich noted that ravens were found near wolf packs "up to 99.7 percent of the time in winter at Yellowstone National Park," as reported by the Cornell Lab of Ornithology.
Heinrich's research observed instances when "ravens located injured elk and called raucously, attracting the attention of a local wolf pack to an easy kill." Munday noted that ravens' beaks aren't strong or sharp enough to penetrate the hide of a large mammal and thus need wolves or similar predators to facilitate the feast.
People sometimes disdain birds that are carrion feeders – including magpies and  ravens – perhaps because of the not-fully-conscious recognition that someday their very own carcass might provide the buffet.
Ornithologists say that American crows caw and Common ravens croak. The birds are in the same family, but ravens are larger, about the size of a red-tailed hawk. Ravens often travel in pairs, whereas crows tend to gather in larger groups. In flight, a raven's tail appears wedge-shaped.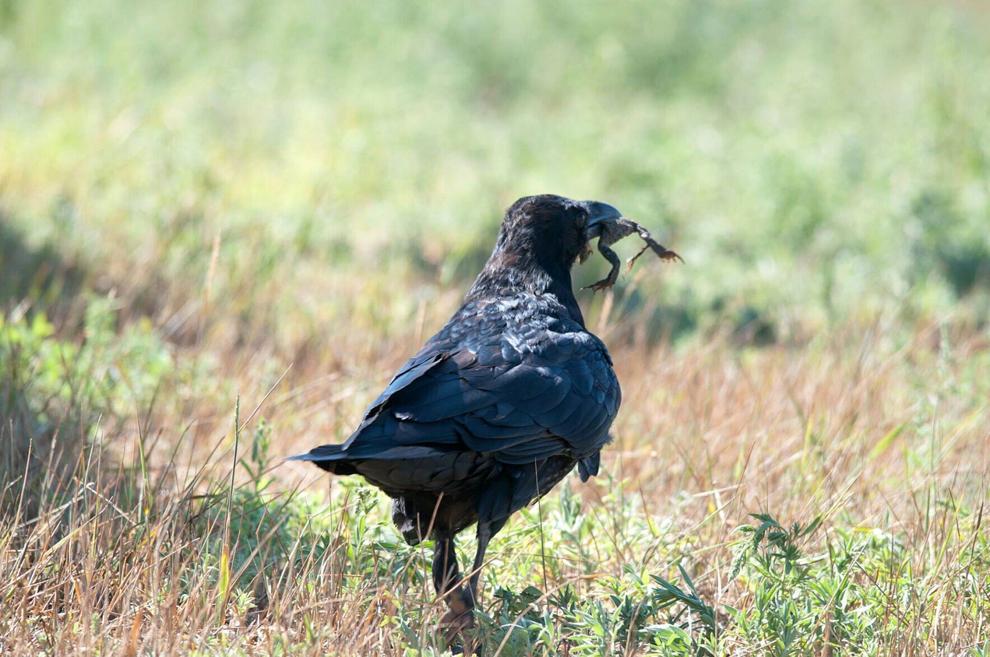 "Ravens ride the thermals and soar, whereas crows do more flapping," according to the National Audubon Society. "Ravens have bigger, curvier beaks relative to crows."
"Ravens are among the smartest of all birds, gaining a reputation for solving ever more complicated problems invented by even more creative scientists," reported the Cornell Lab of Ornithology.
"These big, sooty birds thrive among humans and in the back of beyond, stretching across the sky on easy, flowing wingbeats and filling the empty spaces with an echoing croak," the lab reported.
Munday demonstrated a convincing croak or two during his presentation. He said he often attempts to communicate with ravens when walking to work at Montana Tech from Walkerville. Large numbers of ravens roost overnight at the nearby Kelley Headframe and then wing out foraging come morning. Some pass above Munday.  
He said he uttered a "quork" on one occasion that seemed to offend the ravens.
"After my quork, that I intended as a greeting, they hollered loudly and circled above me and my dog and were soon joined by about a dozen others," Munday recalled. "Some sat in the trees, calling with long, drawn-out notes, and some continued the circling and swooping, as low as perhaps 20 or 30 feet above the ground."
Munday and his dog continued into open sagebrush and the ravens dispersed.
Ravens can be acrobatic fliers, often doing rolls and somersaults in the air. The Cornell Lab reported that one raven "was seen flying upside down for more than a half-mile."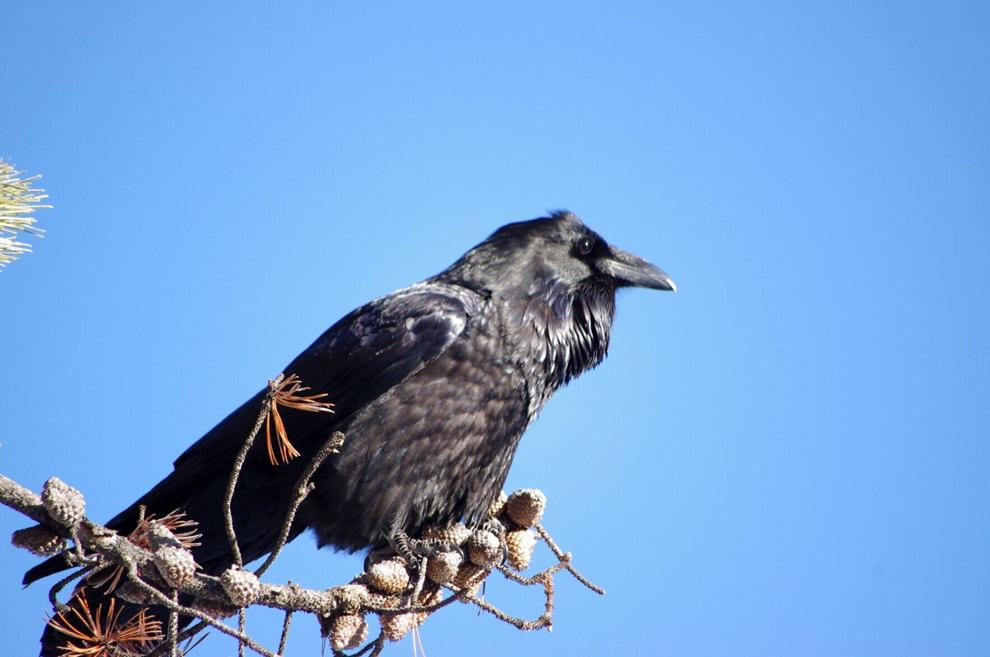 Ravens figure prominently in cultural mythologies. Their black plumage and diet of carrion often associate ravens with loss, death and ill omen. A Medieval poet referred to battlefields as "the ravens' feast."
Some have concluded that ravens are "psychopomps," supernatural creatures acting as mediators between the material world and the world of spirits.
Germans once viewed ravens as the embodiment of damned souls, whereas Swedish folklore considered the birds to be ghosts of murdered people.
Ravens figure prominently in mythologies of the Indigenous peoples of the Pacific Northwest coast. For some, the bird is the creator of the world but also a trickster god.
Regardless of the raven's various symbolic identities and roles, it seems clear that this remarkably smart bird communicates with other species.
"As humans migrated to North America over the past 20,000 years or so, they entered into an old association between ravens and wolves," Munday said.
He quoted from "Mind of the Raven" by Heinrich: "As far as Raven was concerned, Man, the new predator, was probably just a surrogate wolf who also usually hunted in packs."
"Ravens are not 'filthy, evil birds' and wolves are not 'gluttonous, evil animals,'" Munday observed. "Neither are they benevolent gods or morally superior anthropomorphized human animals.
"Thinking with, thinking through and living with ravens help us to grasp our dynamic and complex relationship with nonhuman animals."