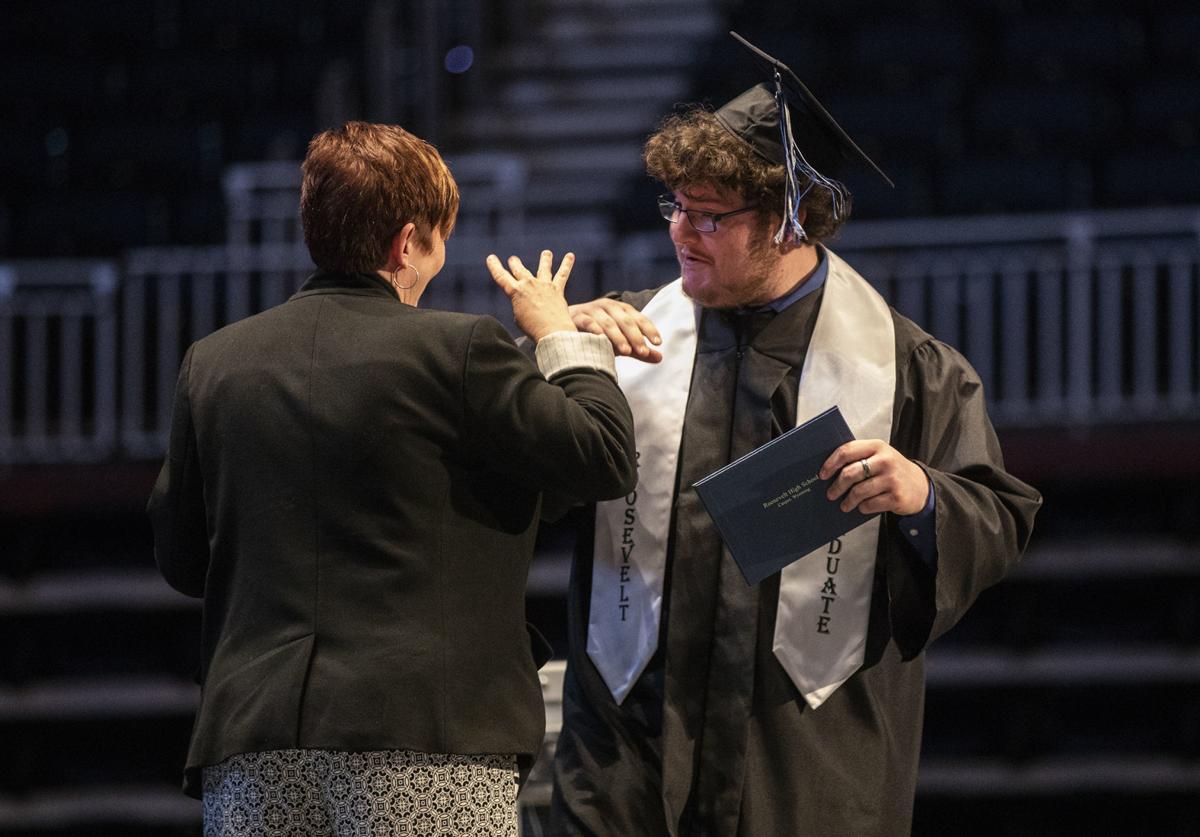 CASPER — Twenty-eight students who were picked up by Roosevelt High as part of the alternative school's new graduation model are still enrolled, and more than two-thirds of them are on track to earn diplomas by the end of January.
Those 28 students, of 30 at-risk kids taken from Natrona County and Kelly Walsh to start this year, likely would've dropped out were it not for Roosevelt, the school's principal, Shawna Trujillo, told the Natrona County school board last week. Many were close to graduating under Roosevelt's new graduation system, which requires 20 hours of credit, rather than the 26 mandated by the traditional schools.
That change was instituted this year, after Trujillo pitched the board and other administrators on eliminating six credit requirements, all for elective classes. The change also removes Roosevelt from the school-of-choice list in Natrona County; every other school here is open to any student, anywhere in the county. But prospective Roosevelt students must meet certain criteria indicating that they're unlikely to succeed at other schools.
The 20 students who will likely graduate by late next month are wrapping up core credits -- like English, math and science. Trujillo and others say many students drop out even if they've finished all of their core courses because their life circumstances make the extra elective credits seem silly.
In addition to completing 20 credits, Roosevelt students must also complete a graduation plan. That expansive portfolio includes a resume, a cover letter, a professional email and applications for college aid and scholarships. The goal is to graduate more students with a path forward, especially those students who otherwise wouldn't complete a diploma.
Last week, Trujillo indicated that the program was going well and that students were taking to the plan. She said the school is planning to take another group of at-risk students from NC and KW at the start of the second semester.
Board member Clark Jensen asked Trujillo why NC and KW couldn't institute their own 20-hour schedules, if it was working so well at Roosevelt that Roosevelt was full.
Mike Britt, the principal at KW, told Jensen that the goal is to have the most at-risk students attend Roosevelt so KW and NC staff will have more time to catch the other potential drop outs. Shannon Harris, the principal at NC, says she doesn't want her school to be an alternative school.
Trujillo wrapped up the response by telling Jensen that the goal is to have every student receive every opportunity to graduate from NC and KW before they come to Roosevelt, and that taking more at-risk students hopefully makes those opportunities more successful.