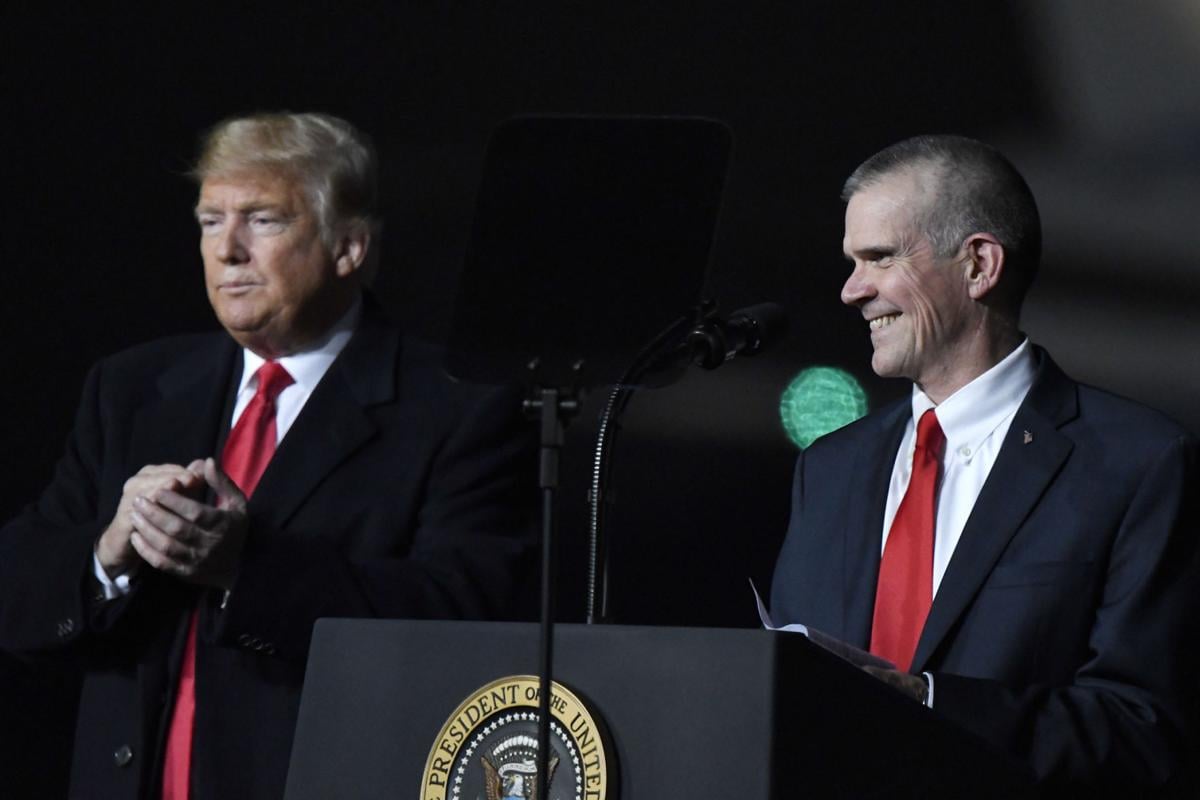 Montana's only U.S. representative, Matt Rosendale, told his Twitter followers Monday that House Democrats were raising false claims of a national crisis to call on President Donald Trump's Cabinet to remove him using the 25th Amendment.
Democrats introduced their resolution Monday morning asking Vice President Mike Pence to use the Constitution to replace Trump for being unfit for office. If the vice president and Cabinet don't act, House Democrats said they will move to impeach the president a second time.
Monday, the FBI warned of armed protests at all 50 state capitals from Jan. 16 and continuing through the inauguration of President-elect Joe Biden. The Associated Press broke the story about the national advisory, also reporting that on Dec. 29 the FBI had warned against potential attacks on state legislators. 
"Once again, the American public is confronted with Democrats' false claims of a national crisis that requires President Trump's immediate removal from office," Rosendale tweeted.
Rosendale continued, saying Democrats' arguments were the same as they were for Trump's 2019 impeachment for abuse of power and obstruction of congress, which is inaccurate. New articles of impeachment against Trump charge him with incitement of insurrection.
Monday's House proceedings were pro forma, with minimal participation from lawmakers. Democrats introduced House Resolution 21, calling on Pence to invoke the 25th Amendment to declare Trump incapable of executing the duties of the president, after which Pence would become president until Jan. 20. Rep. Alex Mooney, R-West Virginia, objected, after which the House adjourned.
Rosendale indicated he backed Mooney.
Before the riot, in a rally promoted by the president for weeks, Trump told the crowd of several thousand followers "We're going to have to fight much harder and Mike Pence is going to have to come through for us," a reference to Pence refusing to go along with the president's far-fetched plan to overturn the election. During the same event, Trump's personal lawyer, Rudy Giuliani, called for a "trial by combat."
Trump told the mob to march on Congress and cheer Republicans refusing to recognize the votes of several swing states that Trump lost. Congress had convened to certify the results of the Electoral College. The president was counting on those lawmakers and Pence to overturn the election and hand Trump a second term based on false allegations of election fraud. After people had died and the riot boiled over, Trump repeated his false claim the election was stolen from him and told the mob "Go home with love and in peace. Remember this day forever."
Several Republicans pledged to enable Trump by rejecting the election results of several states. Rosendale and U.S. Sen. Steve Daines were in the group vowing to reject the outcome. The lawmakers had sided with Trump in suggesting there was election fraud, but without ever offering a specific example. The Montana lawmakers still back fraud claims, despite election recounts in tightly contested races and dozens of failed lawsuits by Trump and his allies that failed to prove claims for fraud.
Daines reversed course on challenging state results after the riot, which stopped Congress from certifying the election by forcing lawmakers to flee for their lives. Rosendale and a majority of the House Republican caucus pressed on, forcing a vote to reject election outcomes in Arizona and Pennsylvania. The objections went nowhere because of lack of support in the Senate.
Rosendale has either not responded or declined multiple interview requests over the past week.
Republicans have been on their heels since the riot. The state's top Republicans had previously supported Trump's false claim that the election was stolen. In Montana, where Republicans won every 2020 statewide election on Trump's coattails, politicians condemned the violence of Jan. 6 as criminal, while trying not to acknowledge the rioters were Trump supporters.
Rosendale tweeted that he wouldn't be intimidated "by mob violence from the left or the right." Daines said he condemned violence of any kind, saying in an interview the rioters were criminals and not part of the Trump movement.
While Daines offered prayers to the family of Brian Sicknick, the Capitol Police officer killed by rioters, Rosendale hasn't acknowledged Sicknick's death. Three days after the officer's death, Trump ordered flags to be lowered. 
Closer to home, some Montana legislators who claimed election fraud before the riot are attempting to flip the script on who's to blame, claiming that rioters were actually members of Black Lives Matter and Antifa, disguised as Trump supporters.