A group of nearly 30 people gathered to greet an old friend they hadn't seen in about half a century as she arrived at Edwards Jet Center Friday.
"I'd rather see this Miss Montana than the other one," one of the men quipped. (No offense to Mo Shea of Helena, the current Miss Montana pageant titleholder.)
"I haven't seen her in quite awhile," Harry Klock of Harlowton said of the old plane. "But, she doesn't look a lot different."
The restored C-47 was part of a smokejumping fleet in her early days and was back in Billings as part of fundraising efforts for the Yellowstone County Museum. Edwards Jet Center and Diamond B Enterprises paid to have the historic aircraft fly from its home in Missoula to Billings.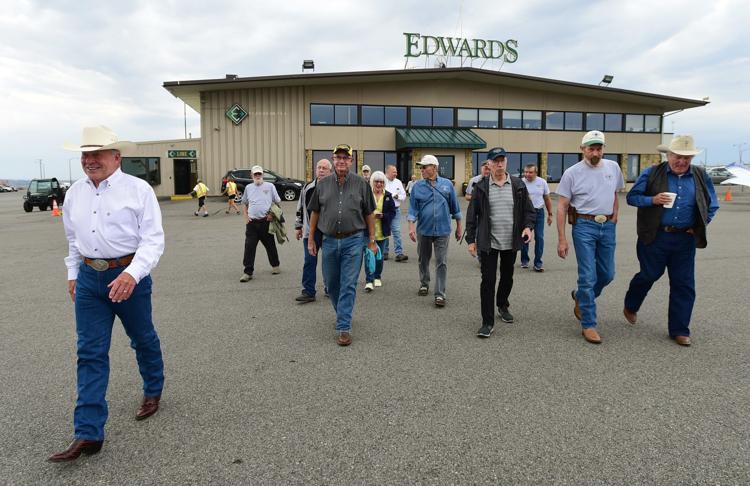 On Friday afternoon, nearly a dozen men, all former smokejumpers who live closer to Billings than Missoula, gathered to welcome back their old friend. Some of the smokejumpers hadn't jumped since the Eisenhower presidency.
"It looks familiar," Klock said. "I'm not used to it with a door on it."
Four of the men who are part of a regular group of smokejumpers who meet monthly at a Billings restaurant and also engage in community service said their first time in an airplane was their first jump. Smokejumpers had seven training flights before they jumped into a fire area.
"My first plane trip, I took off in a plane, but didn't land in one," said Ted Rieger, 88. 
For Keith Beartusk, his first seven plane rides were all smokejumping. He didn't finally land in an airplane until his eighth flight, when the wind was too severe to make the jump.
Rieger had an older brother who was a smokejumper, so neither he nor his family were worried about those first real jumps. 
His family had another reason not to worry.
"I was the last of 18 kids in my family. They weren't too worried by that time," he said.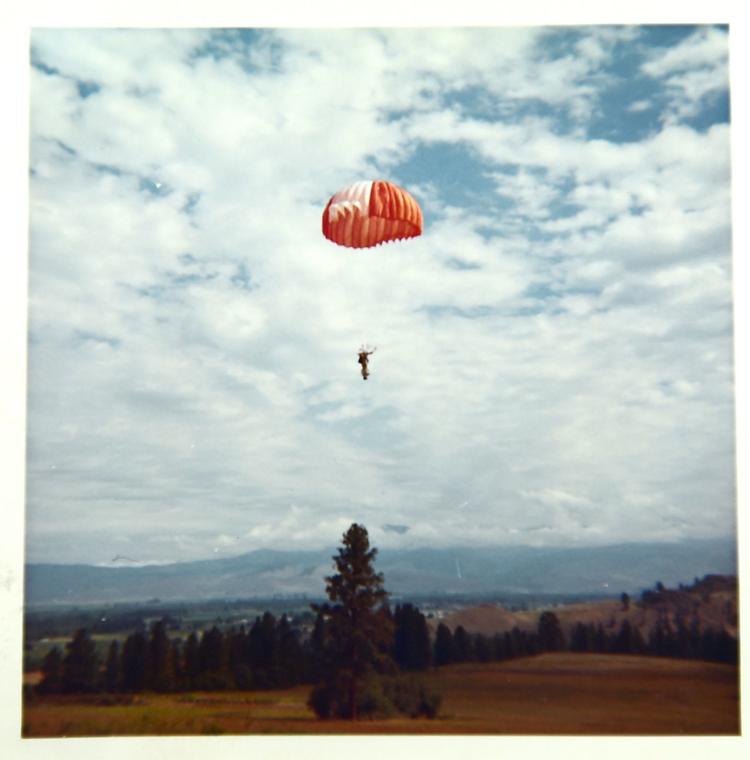 Smokejumpers were mostly part of two-men teams that jumped into remote wilderness areas to put out small fires that were inaccessible any other way. They would jump and then heavy packs, weighing sometimes more than 120 pounds, would parachute in behind them. The smokejumpers' descent was usually a minute or less, while getting out of the woods after extinguishing a fire meant hiking as many as 30 miles, and sometimes encountering bears.
But it wasn't fire or bears that proved to be the most fearful part.
"Getting treed," said Keith Beartusk.
When smokejumpers hopped from the plane, they had to avoid having their parachutes caught in a tree. If it did, it meant a series of ropes to get out. 
And, California was the worst. Some of the tall redwoods towered more than 250 feet into the air.
"When we were jumping in California, they were trying to give us 300-foot ropes to jump with," Klock recounted. "I refused. I said, 'If I'm 300 feet up there, you might as well shoot me, because I'm not coming down.' "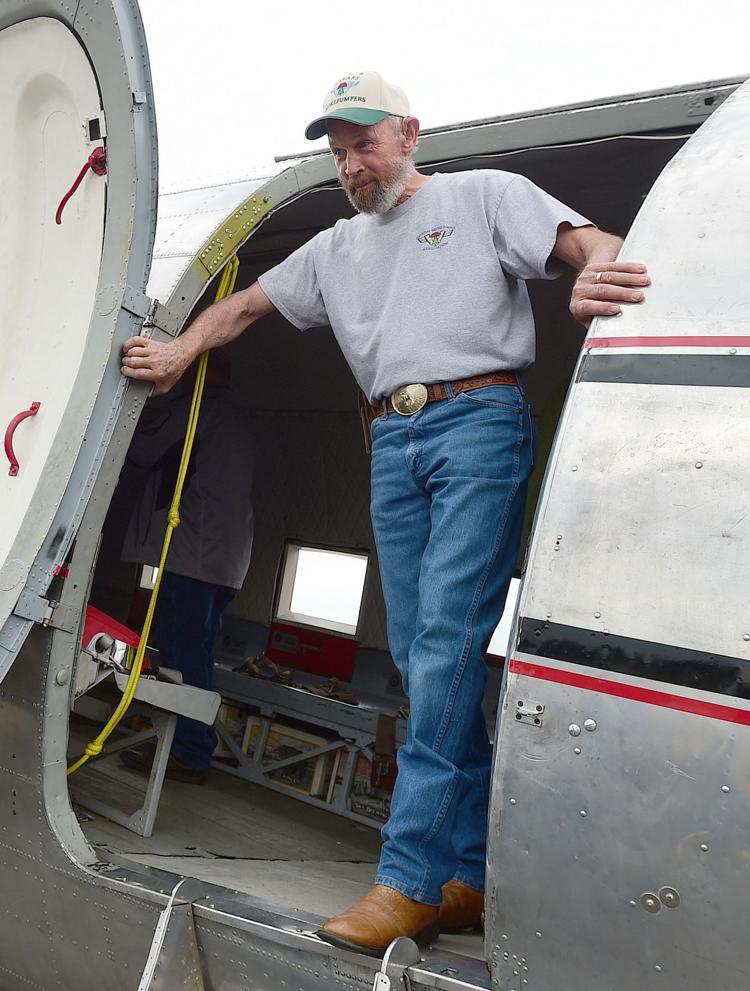 For many, seeing the "Miss Montana" plane with the familiar Johnson Flying Service logo, was nostalgic and inspiring.
"It's still the best job I ever had," Beartusk said. "The training, the adventure."
Tom Trusler of Ashland remembers working all summer, jumping in places like Alaska, and then coming home to order a Chevrolet Chevelle with an 8-track player, 4-speed transmission, a 454 cubic-inch engine, and writing a check for $6,600 to pay for the custom order at the dealership.
That was 1970, the first year the service paid time-and-a-half for overtime. Jon Seversen, of Billings, remembers working for $1.53 an hour in 1953.
"There were sometimes when we got lost. I remember this one time in Moose Creek, we were on the wrong ridge. I had a pack that must have weighed 100 pounds. I quit 50 times on that jump," Klock said. "My partner said, 'Yeah, but we still have to get all this crap down from the range,' and I said, 'Let the rangers do it. They'll never find it up here.' "
"We were in great shape then. And stupid," he said.
Alaska was an easier place to jump, because of the fires that would smolder on the tundra, only burning the top of the ground because of the permafrost beneath.
"And, in Alaska, you usually got picked up by helicopter," said Bob Ellis.
As the men toured the "Miss Montana," they went through the cabin. They remember most of the time there weren't any seats, they'd sit on the floor in a line and wait until they were slapped on the leg, the smokejumper signal to exit.
"It takes you back," Rieger said.
"When I got in the plane, actually inside, it was nostalgia and there was just the funny, familiar feeling," said Chuck Hull of Laurel.
Hull was married on a Friday, found an apartment for he and his wife during the weekend in Missoula, and that Monday went training in the woods for more than a week.
"That was my honeymoon," Hull said. "And we've been together 50 years."
And 50 years seemed to melt away on Friday as the smokejumpers got together to share stories. 
Smokejumper Steve Fenter remembers a nervous group of rookies sitting around in 1965. A veteran smokejumper passed by and asked when they were jumping. They said the next day. 
"He looked around and grinned and said it was the most fun you could have with your clothes on," Fenter said. "And you know what? He was right. Look around, if we had flight suits, we'd all do it again. We'd go right now in that plane."
About the "Miss Montana"
The C-47 aircraft, housed in the Museum of Mountain Flying in Missoula, was built as part of the United States war effort but was not flown during World War II because the war ended prior to the plane being completed. The plane was flown during the Mann Gulch Fire near Helena in 1949, where 12 smokejumpers and a smoke chaser perished in the fire.
Be the first to know
Get local news delivered to your inbox!