Plans to feed Montana oil wells more Wyoming greenhouse gasses are advancing.
Denbury Greencore Pipeline-Montana is pushing its carbon dioxide permitting process into North Dakota, this after securing Montana approval of its sage grouse management plan. The pipeline's target is the Cedar Creek Anticline, a long-established oil player along the Montana-North Dakota border. Most of the development is in Montana.
The project has already boosted oil production in another southeastern Montana development, the Bell Creek Enhanced Oil Recovery project south of Broadus.
"Down at Belle Creek, that field, they've got three of the phases completed. They went from 200 barrels a day to 5,000 barrels a day," said Alan Olson, director of the Montana Petroleum Association.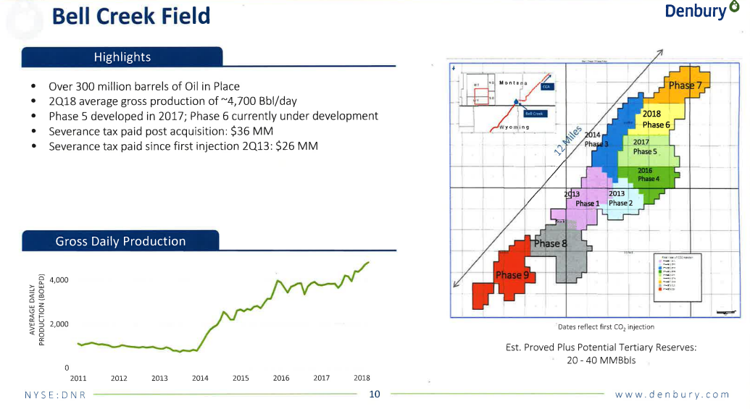 Early oil development in the area dates back to the 1950s, Olson said. With age, the wells have been less productive. Several different methods have been used, with varying success, to drive the oil to the surface, Olson said. Denbury has for years injected water into the limestone formation to free oil, but Carbon dioxide is considered most effective. Pumped under pressure into oil deposits, the gas mixes with the crude, thinning and expanding the oil, making it easier to draw to the surface.
Belle Creek had almost flat-lined by 2006, but carbon dioxide injections resurrected production starting in 2014, according to the data by the Montana Board of Oil, Gas and Conservation. The Denbury Greencore Pipeline-Montana project brings the same capability to Cedar Creek, but should also improve oil extraction along the Pipeline's route, which stretches from the Montana-Wyoming border to Glendive.
You have free articles remaining.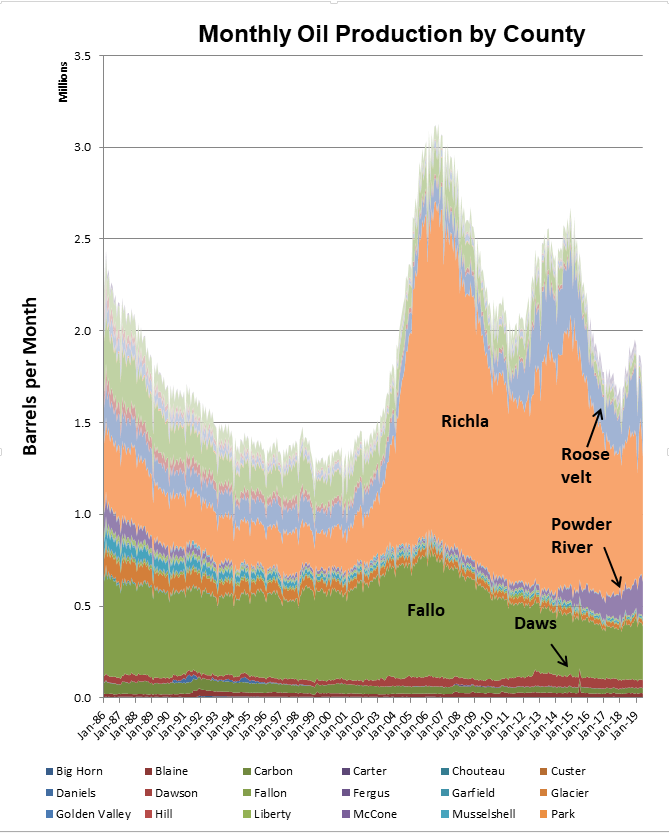 The development isn't the second coming of the Bakken oil boom, said Jim Halvorson, Montana Board of Oil, Gas and Conservation. The project has the potential to improve oil production for several years. Danbury projects that there are 300 million barrels of recoverable oil in Belle Creek. The Cedar Creek Anticline has an estimated 400 million barrels of recoverable oil.
"This is a many, many years project. That's what's exciting about it, because what they're doing will increase production for a long time," Halvorson said.
The Phillips 66 Lost Cabin Gas Plant and ExxonMobil's Shute Creek Gas Plant are providing the carbon dioxide, which must be separated from the natural gas to make it useful.
Construction on the Cedar Creek portion of the Green Pipeline is expected to start in 2020.
As Wyoming natural gas development expands, dealing with waste carbon dioxide is a challenge. Tuesday, ExxonMobil announced plans to expand its carbon capture plant in Wyoming. The Rocket Miner reports that ExxonMobil has applied for permits to build the Labarge Carbon Capture Project in Lincoln and Sweetwater counties. The project will cost $260 million, the Rocket-Miner reports.