Flooding across a wide area of central and Eastern Montana continued Tuesday, with conditions moderate in some areas east of Billings.
A weather system expected to arrive in the Beartooth and Absaroka mountains Tuesday night will move into the plains Wednesday. Forecasters say it should drop heavy snowfall on mountain communities, with lower elevations seeing lesser amounts from west to east.
Billings could get 4 to 6 inches of snow, with that amount dropping off east of Hardin to between 3 and 4 inches. Miles City could get up to 2 inches of snow, and Baker may see less than an inch. The snow could mix with wet rain at times. Precipitation is expected to take place Wednesday through Friday. 
Livingston, Big Timber and Columbus could get 6 to 8 inches of snow. Red Lodge may get up to a foot. Cooke City may see up to 18 inches of snow. 
A winter storm warning is in effect for the Beartooth and Absaroka mountains, along with the Crazy Mountains from Wednesday at 6 p.m. to Friday. A flood warning due to snow melt for central Park County is set to expire Wednesday at 9:15 p.m. A flood warning for central Big Horn County will expire at 6 p.m. Wednesday. Snow melt is expected to cause additional runoff. Snowfall later in the week "will aggravate already saturated ground," per the warning.
Flood warnings are also in place for areas covered by NWS Glasgow, including the Milk River at Saco, the Poplar River near Poplar and Beaver Creek near Hinsdale. NWS Glasgow also has ongoing flood warnings for the Milk River at Tampico, Glasgow and Nashua which is expected to pose a threat across the area until at least Friday.
A flood warning due to an ice jam on the Missouri River was also issued Tuesday for eastern Richland County. That warning will remain in effect until 10:45 a.m. Saturday. 
Flooding and evacuations have taken place from Road 131 to Road 129, including the Fort Gilbert area, according to the warning.
"Flooding due to ice jams on the Missouri River are backing water up into residences and ranches within the warning area," the warning says.
A flood warning means that flooding is either imminent or already occurring. 
"We're watching everything real close and trying to get as much information as we can from our DES (disaster and emergency services) people," said NWS Billings meteorologist Aaron Gilstad.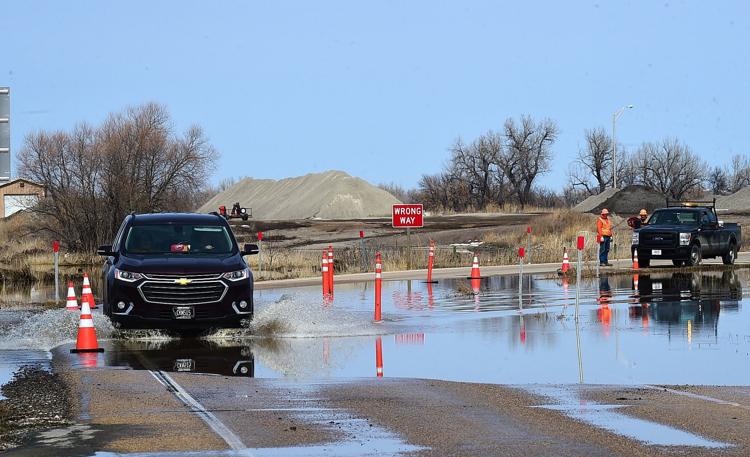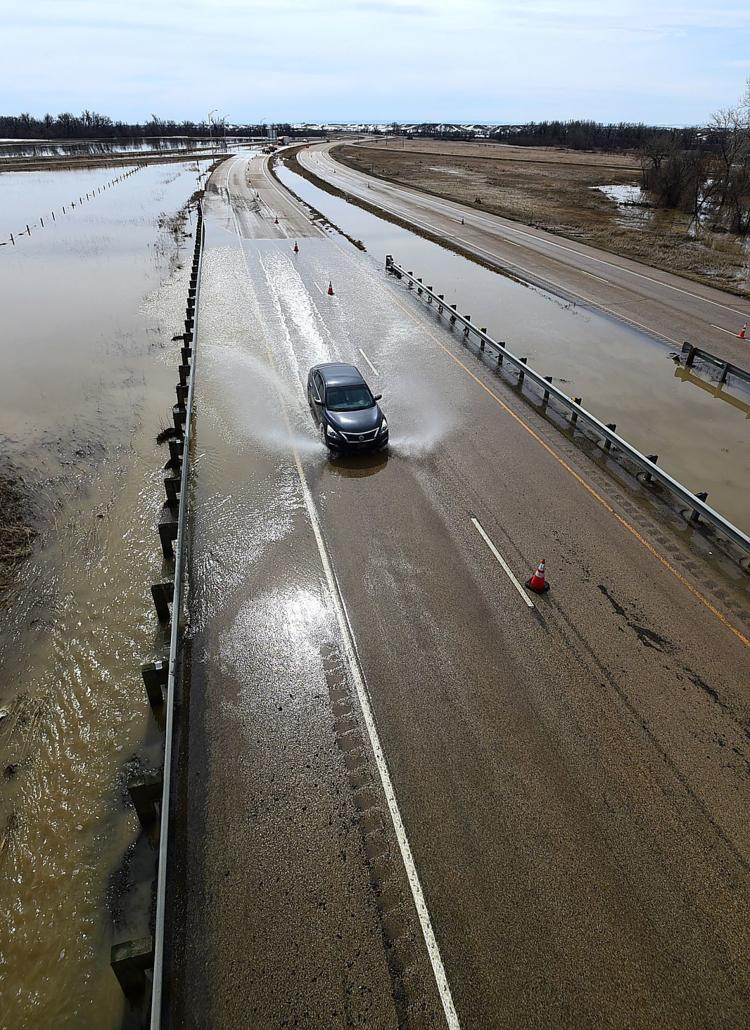 "Our biggest problem right now is the way the ground froze over the winter. We've got a fairly deep layer of ice into the ground, so that's not allowing the melt into the ground at this point, so that's part of the reason the waters are getting so high so quickly this year."
Most of the flooding going on in the NWS Billings coverage area is lowland and seemed to be at a minor flood stage level, Gilstad said, although he said some river gauges have shown fluctuations indicating stronger flooding.
Those short bursts of higher water depth could be caused by ice jams. Ice jams have had a role in the flooding, as has rapid snow melt caused by warm temperatures.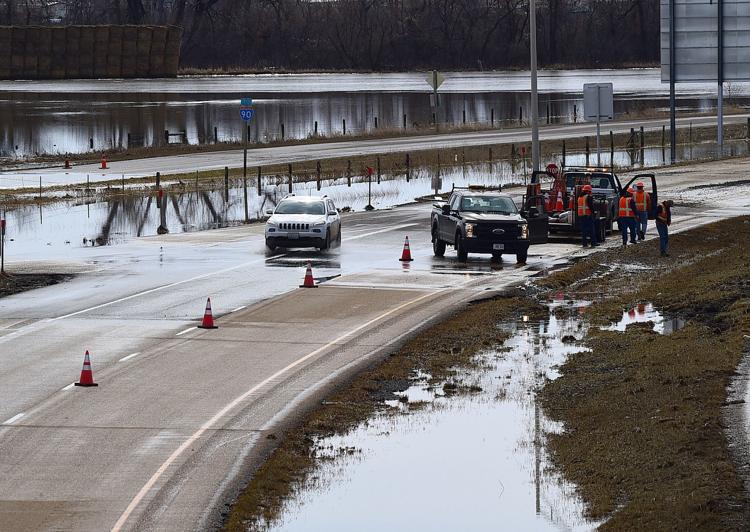 You have free articles remaining.
Keep reading for FREE!
Enjoy more articles by signing up or logging in. No credit card required.
Flooding in Big Horn County and on the Crow Reservation had subsided somewhat by Tuesday afternoon, leading to a reopening of I-90 from Hardin to Wyoming for the first time since it was closed Saturday. 
Sandbags were still available for pickup Tuesday afternoon outside the Lodge Grass post office, but flooding in town seemed mostly limited to the park across the street.
Tuesday in Crow Agency, Lonnie Manzanares arrived at his home with a hose and a pump, skirting the standing water in his front yard to reach his home by higher ground so that he could begin removing water from the crawl space beneath.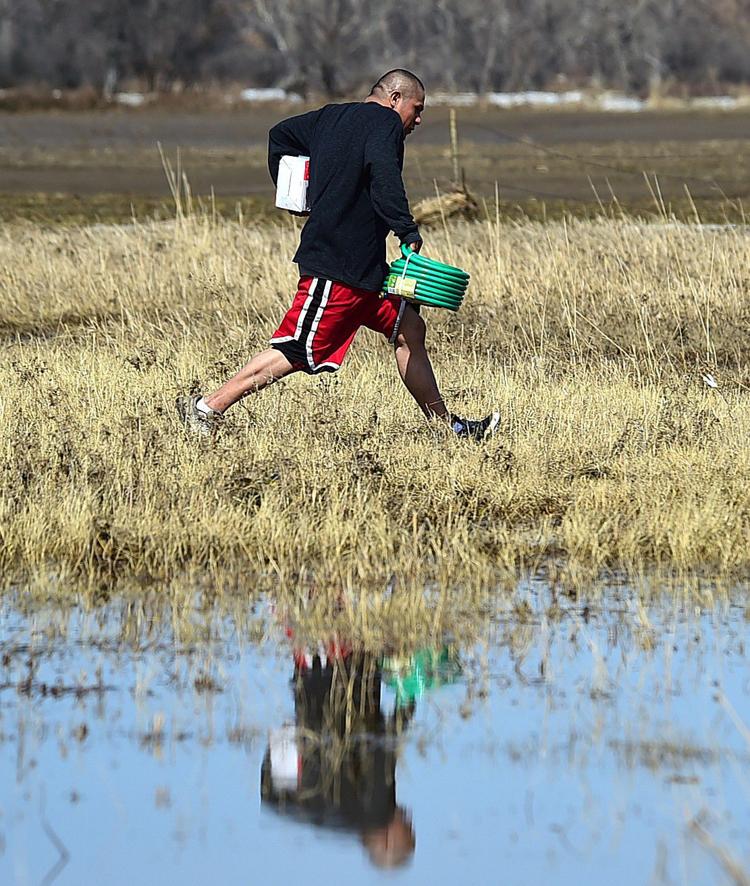 Manzanares said water had been around the roof about four years ago, and that this time around he'd only had water in the crawl space. 
Road crews drove through parts of Crow Agency assessing the damage. East of the railroad tracks on Second Bridge Road, about 200 feet of asphalt from the westbound lane had broken off from flood waters.
The chunks, some of them 7 feet long and 3 feet across, lay below the level of the road as water continued to gush out of a culvert, spilling over the edges of the ditch that runs under the road and out the other side.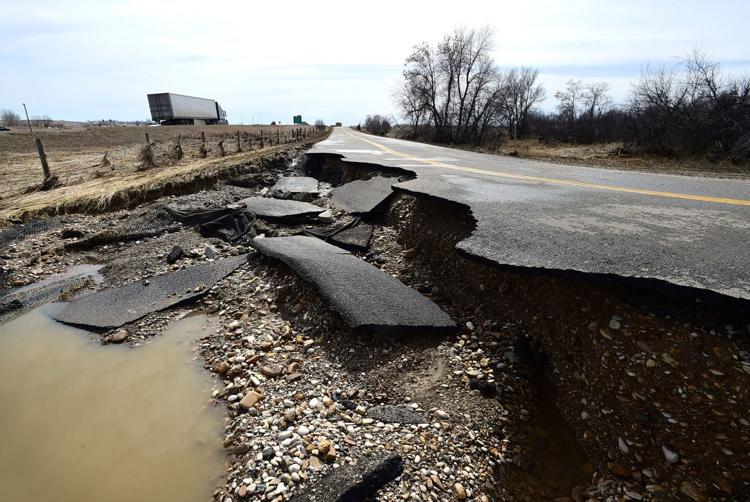 There were also reports of residential flooding in Park County, some of it involving basement flooding. The more significant effects were in rural Park County, said Greg Coleman, director of emergency management. Tuesday afternoon he said there were 14 different roadways in the county with flood damage that he was aware of. That had left some residences inaccessible by vehicle. 
Coleman urged people to be cautious and not attempt to drive over standing or flowing water, noting that in the case of standing water, deep ruts and damaged roads may lie beneath, quickly putting travelers in danger. 
"Even a couple inches of moving water is enough to carry away a moving vehicle," he said. 
Coleman said now would be a good time for people to prepare a 72-hour emergency kit if they had not already.
While the snowstorm could worsen flooding conditions to the east in Big Horn County, Coleman said the forecast for Park County seemed, at least for the time being, to be positive overall despite the snow.
"Right now the forecast is favorable, with moderate daytime temps and cool evenings," he said. "We're hopeful that even the increased snow we get will melt in a fairly controlled way, minimizing impact."