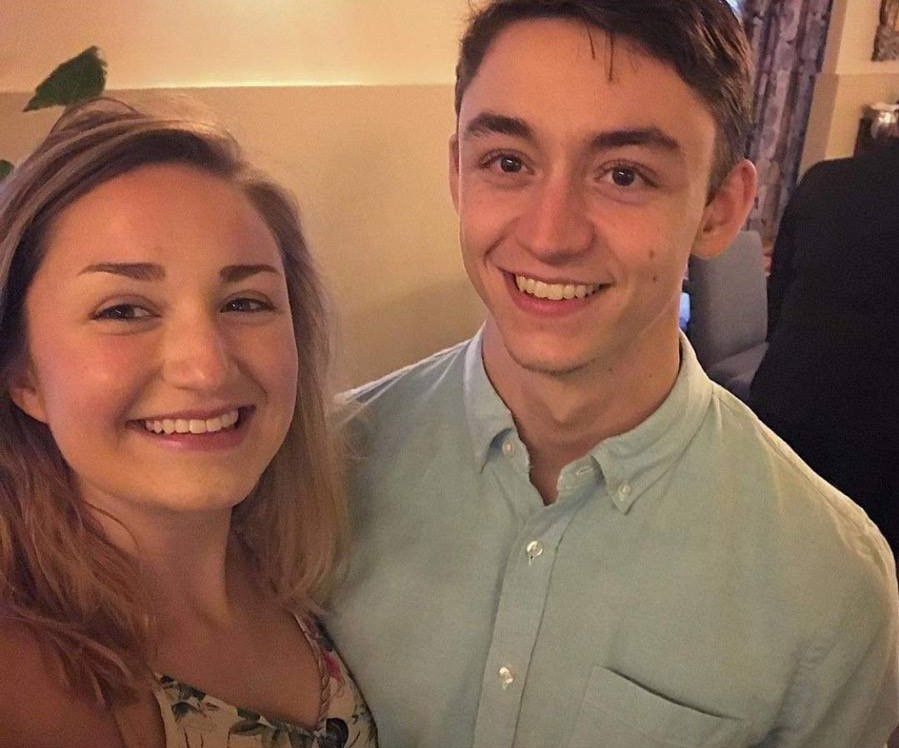 BISMARCK, N.D. — A Colorado couple returning home after visiting family in the Bismarck area over the holidays experienced "North Dakota Nice" firsthand while stranded in Bowman, where their car skidded off an icy roadway, sending it to the shop for minor repairs.
Logan Strandemo and Shelby Hungness — both 22-year-old personal trainers living in Fort Collins, Colorado — spent Christmas in Menoken, where Strandemo's parents, Curtis and Kris Strandemo, live.
Hungness was in the driver's seat when the couple began their journey home on Dec. 27. About three hours into the drive, the road became slick. Hungness stepped on the brake suddenly, causing the car to skid into the median near Bowman.
Both the driver and passenger were fine, but the car wasn't. A local auto repair shop later diagnosed the problem as misaligned wheels and a bent steering column, among other issues.
At his father's suggestion, Strandemo maneuvered the car to Bowman Sales & Service, where the couple was directed to Northwest Tire.
"There was only one mechanic — his name was Josh — in the place," said Strandemo, one of the first Bowman citizens the couple met on a first-name basis. "Even though he had six to eight vehicles coming in, he made it a point to check on our car first. It was nice of him to hook us up."
While they waited for their car to be diagnosed, the couple headed over to Has Beens, a local bar and grill, to grab a bite to eat.
Strandemo, who was born and raised in Chicago, said he and his girlfriend looked "out of place," prompting their waitress, Jamie, to ask what brought the couple to town.
"The waitress was really nice to us," he said. "I think she even gave us a free bowl of soup."
The out-of-towners' story caught the attention of Kurt, a gentleman sitting in the back of the bar. He proceeded to ask the couple if they needed financial assistance, which they politely declined.
"We kept telling him, 'No thanks. We'll be OK,'" said Strandemo, noting the man persisted and eventually handed them $100, which they put toward a one-night stay at a Bowman hotel.
The couple left Has Beens and returned to the repair shop, where they learned it would take some time to fix the car. That's when they decided to spend the night in the small southwest North Dakota town that was starting to feel like a second home.
You have free articles remaining.
Late in the afternoon, the pair happened upon Lasting Visions Flowers and Cappuccino Bar, which is owned by the town's mayor, Lyn James.
By that time, word was circulating around town. It didn't take the mayor long to figure out she was serving coffee to the stranded couple.
"We told her our story. She ended up feeling really bad for us," Strandemo said. "She paid for our coffee and bought dinner for us. That was really, really sweet of her. She didn't have to do that."
James, who has a daughter who frequently travels between North Dakota and Colorado, said she hopes someone would do the same for her child, should the need arise.
"When you are traveling and have problems, it's nice to have folks reach out and help you, especially when you're at such a young age," she said.
After dinner, the couple returned to Northwest Tire and were pleasantly surprised to find their car was fixed ahead of schedule and at a "big" discount.
Then they drove to the hotel, where they ran into Kurt, their old friend from the bar. The three visited and, before parting ways, exchanged phone numbers, with Kurt insisting the couple text him when they arrive safely home.
On their way out of town the next morning, the pair dropped by the coffee shop, where they hugged and thanked James and spoke highly of the good citizens of Bowman.
"Our community is very generous and very kind, and I think we showed that that day," James said.
The experience was "a good reminder that good people still exist," Strandemo said.
"Everyone treated us really well in Bowman, North Dakota. They were all super genuine and super nice … just good-hearted people," he said. "We are super thankful."
Kris Strandemo echoed her son's sentiments.
"Everybody was so helpful, so kind," she said. "As parents, it made us feel so good knowing they were being looked after down there. We're very grateful."
Be the first to know
Get local news delivered to your inbox!