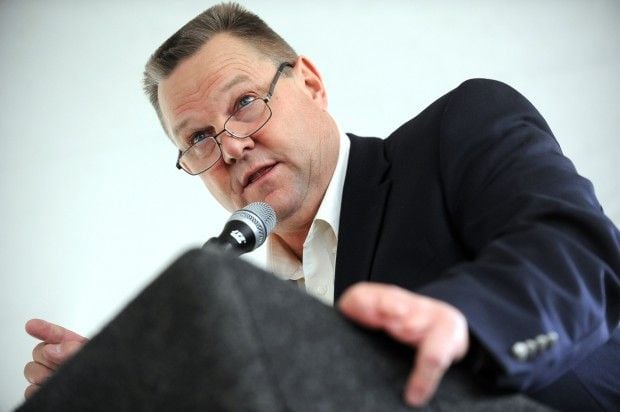 Veterans Affairs Secretary Robert McDonald will visit the Montana VA this spring, according to a statement released by Democratic Sen. Jon Tester on Tuesday.
Tester extended the invitation in response to the temporary closure of an eight-bed acute inpatient behavioral health unit at the Fort Harrison Medical Center due to staffing.
Tester outlined his concerns in a letter he hand-delivered to McDonald on Tuesday.
"Our veterans deserve better, let's put it that way," Tester said. "That's why I'm upset."
Sen. Steve Daines also sent a letter to McDonald on Tuesday expressing his concern on the shortage of trained staff. 
"This is an unacceptable mitigation," Daines' letter said. 
Currently there are two patients in the unit.
The patients will continue to receive care at the facility, but future patients will be diverted to partners in the community for treatment, said Randy Martin, public affairs officer for VA Montana. "We will ensure that they receive the care that is appropriate for their condition."
The patients in the acute inpatient unit suffer from psychosis outside the scope of the other two eight-bed mental health residential units at Fort Harrison.
Any major hospital in Montana is equipped to treat these cases, he said. Where they will be sent is case specific.
The facility will continue to operate its 16-bed residential rehabilitation treatment program for patients with post traumatic stress disorder and substance abuse.
McDonald will visit the state in the spring, the statement said. Trip specifics have not been worked out.
During the visit, Tester said, he will demand that the VA address chronic workforce shortages.
"We're going to be focused on retention and recruitment," Tester said. "If we're building facilities, we're going to get them staffed up."
Tester also expressed concerns to McDonald about the lack of a permanent VA secretary in Montana, slowing efforts to find good employees, he said.
"When you don't have leadership at the top, you don't have people who want to come," he said.
Daines also weighed in, asking for an expedited hiring process.
The prolonged delay in naming a permanent director — which now exceeds seven months — has weakened morale and impedes the ability of VA Montana to address the serious challenges confronting the agency," Daines' letter said.
McDonald assured Tester a permanent secretary will be hired soon.
The facility that houses the three units was built in 2012 and currently employs about two full-time psychiatrists, Martin said. The facility can employ six.
The PTSD and substance abuse programs require about one full-time psychiatrist, and the acute inpatient facility requires 24/7 psychiatric supervision or four full-timers.
The acute space was the obvious cut, because it is the least-used, Martin said. "Our current occupancy rate is 34 percent, meaning that 66 percent of the inpatient acute space is unused."
The temporary closure will not impact current staff, who will be diverted to other units, he said. "We will continue to recruit nationally as well as locally."
The Montana VA currently has no candidates being interviewed, but they hope the unit will be reopened, though there is no timetable, Martin said.
"It's completely dependent on our ability to provide safe care."