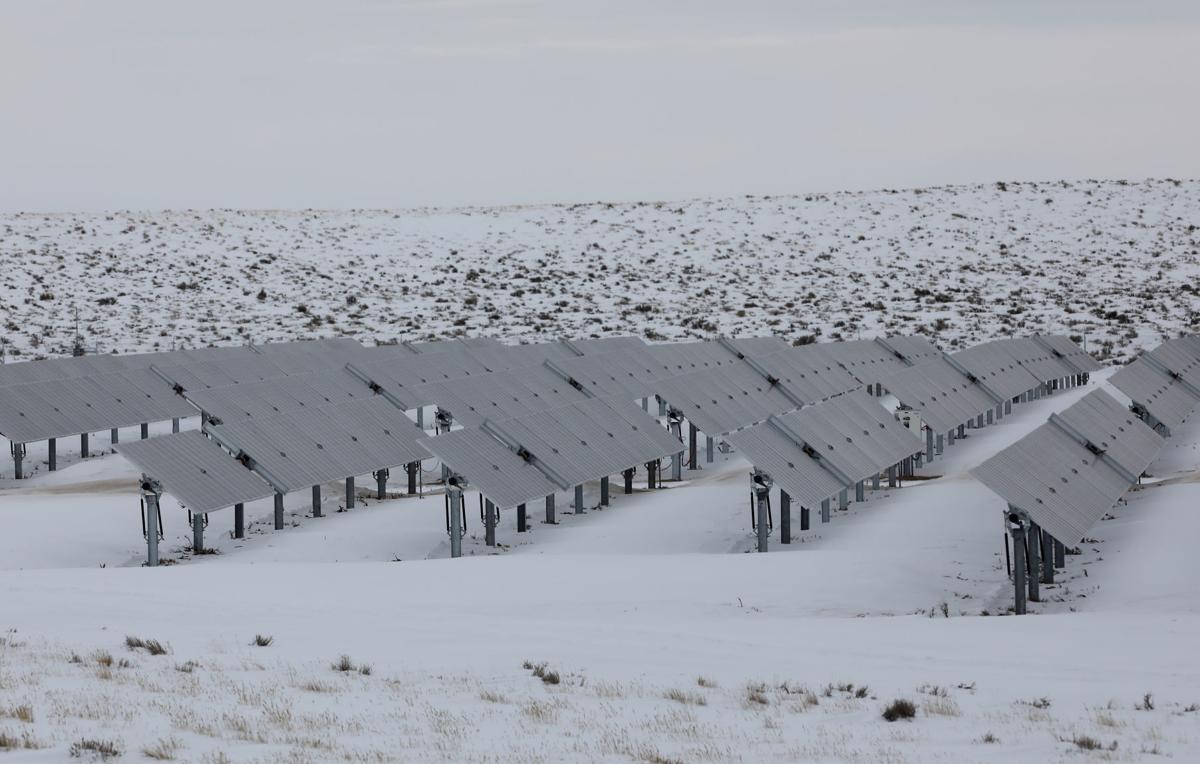 CASPER — Despite one of the best climates for solar power in the country, Wyoming's collection of rooftop solar panels remain few and far between. The state's fledgling residential solar industry is still budding, at best.
But a series of proposed amendments coming down the Legislature's pike this month could imperil the fragile sector even more, critics warn. The Legislature's Joint Corporations, Elections and Political Subdivisions Committee has been wrestling with the charged topic of net metering for months. Net metering customers — like residents with rooftop solar panels — receive credit for excess energy they contribute to the utility grid. But last month, lawmakers introduced multiple proposals to eliminate or amend the state's net metering statute that could hinder the cost savings for residential solar users.
Critics of the changes now fear the worst for solar.
"One of these proposals would likely kill Wyoming's growing solar industry, and it is growing," said Hesid Brandow, an organizer at the Powder River Basin Resource Council, a landowners group advocating for small-scale solar power. "It's not huge … but it is providing local jobs, and it's something outside of extractive resources."
Small businesses and homeowners hungry to install their own solar would likely face an uptick in pricing under the new proposals.
Nearly two decades ago, Wyoming introduced a net metering system to apply to small energy generators. But to lawmakers, the current system is stacked against the average utility consumer who simply wants to save money on electricity because of "cost shifting." Cost shifting occurs if one group of consumers, in this case small energy generators, shifts certain expenses onto another, utility ratepayers.
"It's a pretty regressive shifting of costs from those who can most afford it to those who can least afford it," Rep. Danny Eyre, R-Lyman, told the Casper Star-Tribune.
He introduced a memorandum on Sept. 16 in Jackson to revise the state's net metering program. In the weeks leading up to the next committee meeting, Eyre has continued to revise his ideas.
As a lawmaker with a background in the utility sector, Eyre said some degree of cost shifting is likely happening under the current system. By not paying the same amount of fixed fees as other ratepayers, independent solar generators fail to contribute their fair share of "operating, maintenance and capital costs" associated with utility infrastructure, he said.
That loss eventually shifts to utility ratepayers, or those that do not employ solar or other renewable energy sources, Eyre explained. The exact cost, though, is difficult to estimate.
"At some point the utility is going to have to revise their rates to recover the full cost of the maintenance, operation and capital costs of the system," Eyre said. "If the solar or the net metering customer is not paying their fair share, then someone else is going to have to pick that up; it's those that can least afford it."
Under Eyre's suggested amendments, net metering customers would pay a utility for any energy they consume at the retail rate. Retail rates can run approximately three times higher than the avoided cost rates. In turn, the utility would pay the customer the avoided cost rate for the total energy produced.
Eyre said he did not intend to "kill" the solar industry.
"I realize that the effect of my amendment would severely hinder the solar industry," he said.
The representative intends to consider a roll-out of the bill that would "temper" the inevitable effects it could have on residential solar. Ultimately, his proposed amendment is about correcting an imbalanced system, he said.
"I think there are some inherent issues in the current statute, and we're just trying to find a way to correct those without wrecking the system," he said. "I think we can get to a better place, but I also think it will take a while to get there."
John Cox, PacifiCorp's vice president of government affairs, testified before Wyoming lawmakers in support of changes to net metering. PacifiCorp plans to add 1,415 megawatts of utility-scale solar generation to Wyoming starting in 2024. That's in addition to adding 354 megawatts of battery storage and hundreds of miles in transmission line construction.
"We always want to protect all of our customers — those who have and those who don't have solar, so costs aren't shifted unfairly," said Spencer Hall, a spokesman for PacifiCorp.
Last year, Southwest Wyoming Regional Airport in Sweetwater County activated dozens of new solar panels to supply about half of a building's power. With the help of grants from the utility company Rocky Mountain Power, the airport has a payback period of about six years, according to Devon Brubaker, the airport's director. That payback period, or the time it takes to break even on the cost of solar installation, would increase to approximately 19.5 years under the Legislature's new proposals, according to Brubaker.
Regardless of how much cost shifting is occurring in Wyoming, Brubaker wants to hit the brakes and slow down on the proposals.
"I don't believe lawmakers have had ample time to really invest their time into the topic enough to be able to make the drastic changes that are being proposed," Brubaker said. "I'm a big advocate for slowing the process down at this point and making sure we get it right."
A comprehensive study is needed to capture the true extent of cost shifting too, said Brandow of the Powder River Basin Resource Council.
"I think there is validity to the argument of cost shifting," Brandow said. "But I'm just not buying right now that Wyoming's solar is harming anybody."
In the meantime, if the amendments do advance to session, Brandow predicts small-scale solar would likely become unaffordable. She estimated some of proposed changes to net metering could double or triple the "payback time" for residential solar generators.
"Energy choice is very Wyoming," Brandow said. "We're very much a 'do it yourself' state. For me, solar goes along with that spirit. Wyoming people are independent, they like to have options, they don't always like to do everything the same way as everyone else. Solar is just one more option, one more choice."