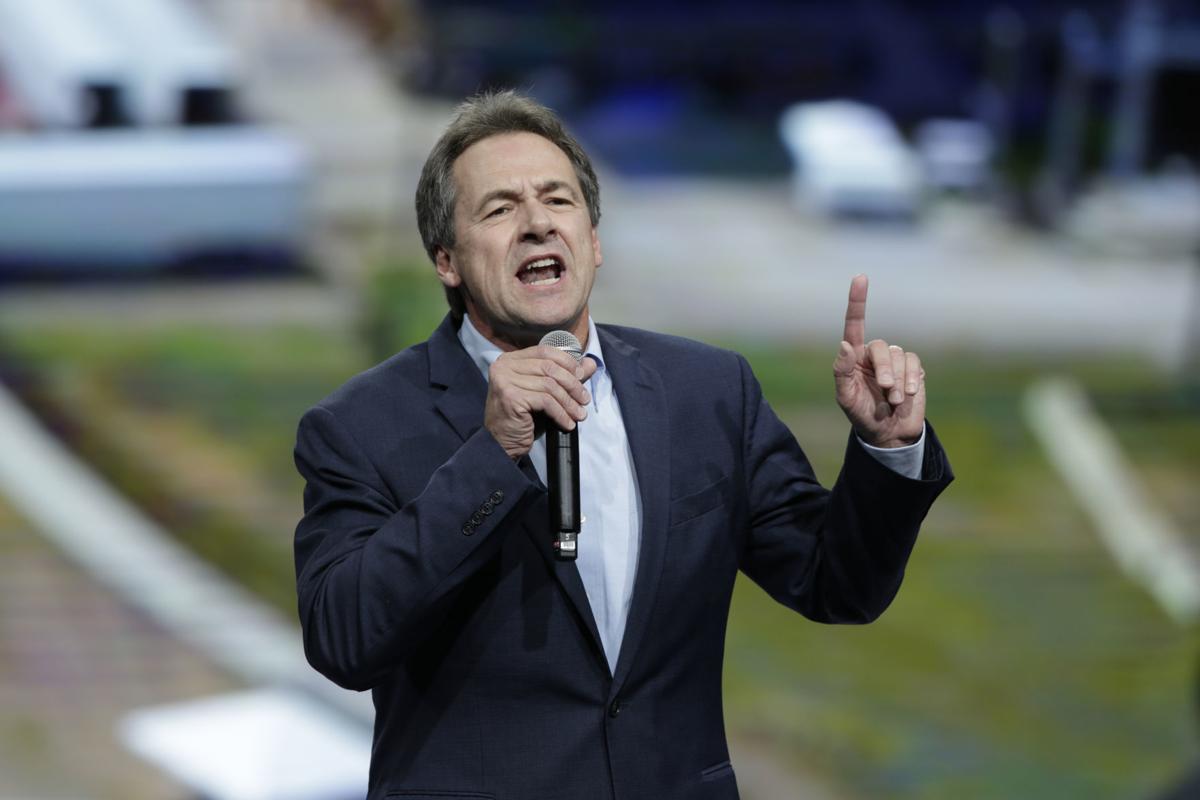 There's little polling to determine who Montanans might support for president, but campaign contributions suggest that home-state candidate Gov. Steve Bullock compares well to the national frontrunners.
Bullock, who has polled somewhere between 0% and 1% nationally, has received more money from Montanans than any other candidate has. Federal election data show Montana contributions to Bullock's campaign at roughly $439,150. In dollars raised, it's the kind of performance that would support Bullock's boast that he could be a red-state competitor for Trump.
But, measure the results by the number of times Montanans have given to a campaign, and Montana trends Trump. Montanans have donated to Trump at least 3,882 times, more often than all the Democratic candidates who qualified for nationally televised debates in October.
Bullock fades to third for the number of Montana donations with 1,155, give or take a few repetitions for still-raw data of the third quarter. Bernie Sanders was the leader in the number of Montana contributions among the Democratic candidates who poll well nationally. Montanans have contributed to Sanders 1,182 times.
Every Democratic candidate who qualified for October's televised debate received some money from Montanans.
Sanders and the president are masters of the small donation, said Jeremy Johnson, Carroll College political science professor. Small donors have been a mainstay for Sanders in two presidential campaign cycles. Trump is new to the small donor game, but doing it well.
"What this is primarily about is that both Sanders on the Democratic side and Trump on the Republican side engender a lot of passion from small donors. Sanders' message really resonates with a sliver of the Democratic electorate. Trump, he's flush with cash from small donors across the country," Johnson said. "And that's unusual for a Republican and something Trump didn't have last election."
Both Sanders and Trump actively campaigned in Montana in 2016 and have the contacts needed to raise money here, Johnson said. Sanders won the 2016 Montana Democratic primary election with 51.6% of the vote. Trump won Montana's Republican primary and the general election in 2016. The president's 56.2% of the Montana vote in 2016 was the third-best performance in the past 20 years. George W. Bush never carried Montana by less than 58.4%.
Bullock contributors are more than provincial patrons. Dan Vermillion, of Livingston, said he donated to Bullock because he believes a moderate candidate has the best chance of unseating Trump.
"I firmly believe that we need a moderate to run next year," said Vermillion, a former Democratic legislative candidate and party chairman for Park County. "My sense is at least in this part of the world a moderate Democrat is much more likely to succeed than someone who is significantly to the left."
Other moderate Democratic candidates aren't doing as well attracting Montana donations. Former Vice President Joe Biden has raised roughly $18,970 through 217 Montana donations. U.S. Sen. Amy Klobuchar has raised $9,113 from 146 Montana donations.
Sanders of Vermont and Elizabeth Warren of Massachusetts were the second- and third-best Democratic performers behind Bullock. Sanders had raised nearly $55,000 through small donations from Montanans; Warren had raised $31,518 through 551 donations.
Biden, Indiana Mayor Pete Buttigieg and U.S. Sen. Kamala Harris, of California, were all in the $17,000 to $19,000 range. Of the three, Harris lead in number of donations with 335. The next-best performance was entrepreneur Andrew Yang, with roughly $13,500 from 169 donations.
Sen. Cory Booker, D-N.J., who spoke at the Montana Democratic Party's Mansfield Metcalf celebration in 2017, was ranked ninth among Democrats for Montana donations and dollars. He had $7,610 from 171 donations.
Former Texas Rep. Beto O'Rourke and Rep. Tulsi Gabbard, D-Hawaii, and former housing secretary Julian Castro had fewer than 65 Montana donations each. O'Rourke dropped out of the Democratic presidential primary Friday.
Be the first to know
Get local news delivered to your inbox!