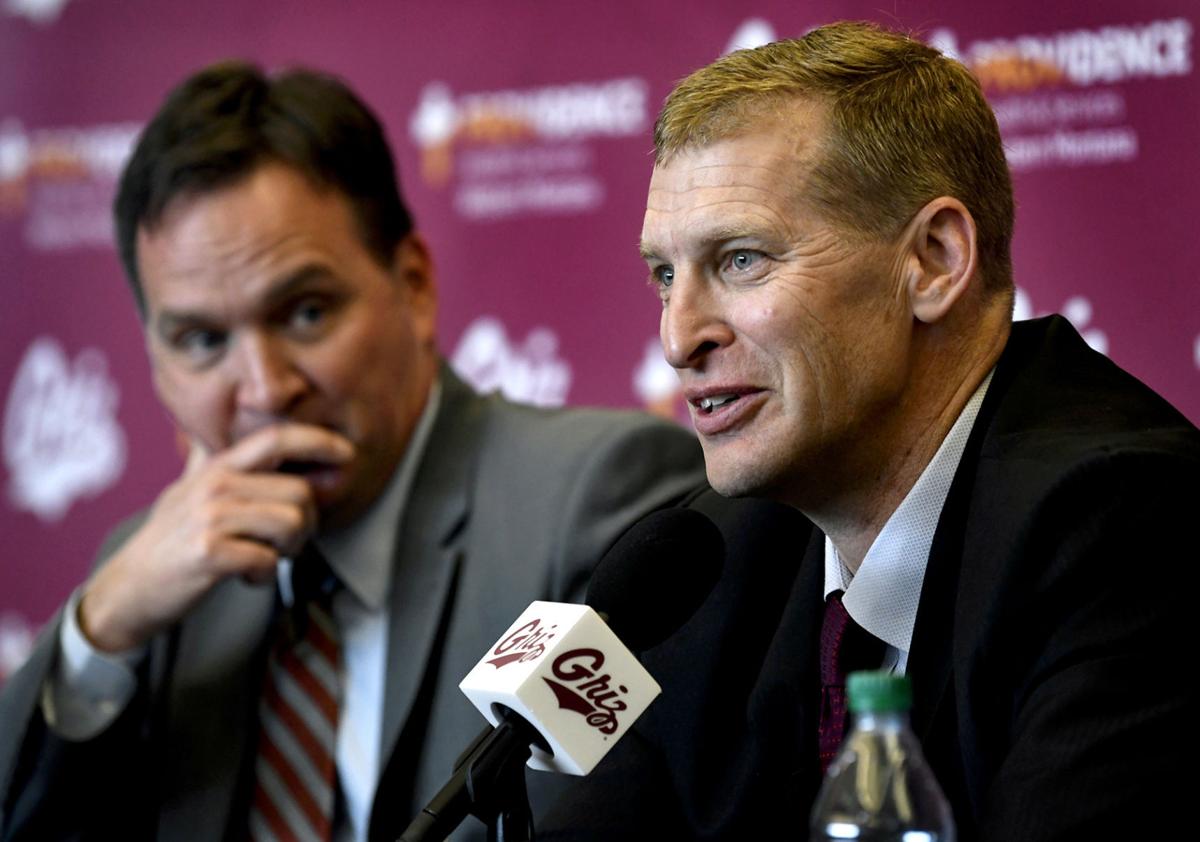 A group of faculty has asked the University of Montana to reconsider the decision to hire Bobby Hauck as head football coach, saying his earlier tenure contributed to a climate that led to federal investigations of the campus for mishandling sexual assault.
"Rehiring Hauck is a slap in the face to all the staff, faculty, and students (including student-athletes) who have worked tirelessly to improve UM's reputation and establish us as a leader in sexual assault prevention," said the letter from faculty.
In an email, UM spokeswoman Paula Short said the university will not reconsider the contract, but she noted President Sheila Stearns, incoming President Seth Bodnar, and athletic director Kent Haslam have made clear their expectations for student conduct to Hauck. Short shared Haslam's response to the letter.
"I am absolutely committed to operating an athletic department that is focused on success in the classroom, community and competition," Haslam wrote. "I know Coach Hauck joins me in that commitment."
Faculty member Elizabeth Hubble drafted the letter requesting UM reconsider the hire, and she shared the concerns of the signers Thursday at a Faculty Senate meeting. She said the number of signers continued to grow, and the individuals named in a Missoulian story posted online Thursday morning received a threatening email later from a staff member in the Athletics Department.
She said the email didn't make a physical threat, but "it reads pretty threatening."
She said the email told the signers they should be more focused on their jobs than on Hauck, especially given the tenuous status of lecturers at UM. Lecturers do not have tenure and the administration has planned to cut some lecturers to shore up its budget.
"I'm so insulted by that email, and it so profoundly misunderstands our relationship with our students and the work that we do outside of the classroom and inside of the classroom," said Hubble, a lecturer and program director at UM. 
She drafted the letter, and faculty member Anya Jabour edited it. At first, they circulated it only within the Women's, Gender and Sexuality Studies program, but soon, others offered input and wanted to sign it, Hubble said. She said she was still receiving requests from people wanting to put their names to it late Thursday afternoon.
"It quickly became apparent the anger went well beyond us," Hubble said.
The letter said Hauck's tenure from 2003 to 2009 helped bring about federal investigations and "horrible consequences ... in terms of enrollment and reputation." Faculty pointed in part to his recruitment of players "implicated and convicted of sexual assault" after his departure. 
UM announced Hauck's hire last Friday, and Haslam received the letter Monday after 5 p.m. — and after both Haslam and Hauck had signed the contract, Short said.
Thursday, the Faculty Senate did not take action on the letter, but Haslam addressed the group and apologized for the email faculty received. He said the NCAA recently mandated that student-athletes have sexual harassment training, and he was proud to report UM is ahead of the curve having been doing that training for five years.
"We are a significantly different department than we were eight years ago," Haslam said. "We have a student code of conduct that I would encourage all of you to read ... We are committed to making sure that we do the right thing."
Another citizen who earlier launched a petition against Hauck also received threats as a result, and at the meeting, assistant professor and letter signer Tammy Ravas spoke to express her support for Lisa Davey. Ravas said Davey is a student at UM, and she and others who express themselves should not be harassed.
"Nobody should be facing physical threats," Ravas said. "I am just very, very concerned that this institution is not doing enough to keep her safe or anybody else who disagrees with anything via a petition."
An online forum published vile comments about Davey and also included her home address. Ravas requested UM revoke season tickets of Mike Schlosser of Butte, owner of the Griz fan forum maroonblood.com. The Faculty Senate applauded her after she spoke.
Haslam said Schlosser does not speak for everyone, and he said the man does not hold season tickets or a tailgate permit: "I want to be absolutely 100 percent clear that I condemn the behavior of Mike Schlosser."
Legal counsel Lucy France said campus police were soon meeting with Davey and her partner, and officials were discussing whether there was a criminal component to the situation.
"First and foremost, how do we keep our community members safe?" France said. She said UM was constrained because Schlosser was not a member of the campus community, but she also said a person who is a threat to UM can be banned from the premises.
The 28 faculty who signed the letter include regents professor of history Jabour, head of African American Studies Tobin Miller Shearer, former Faculty Senate chair John DeBoer, and communications professor Betsy Bach, who just won a national award.
Faculty addressed the letter to incoming President Bodnar and Athletic Director Haslam. The faculty members asked UM to "ideally" reconsider the decision, but "beyond that," they suggest Hauck be required to schedule forums with faculty and students to address concerns.
Thursday, Faculty Senate Chair Mary-Ann Bowman said Haslam and Hauck both offered to come to a Faculty Senate meeting and speak with members. In an email, Short also said UM will hold conversations with the campus and the community about the concerns.
"Coach Hauck also looks forward to these important conversations. The timing will depend somewhat on both the presidential transition as well as Coach Hauck's transition to Missoula," Short said.
In January, interim President Stearns departs and Bodnar takes the helm. In a statement provided by Short, Bodnar thanked concerned faculty members for their letter and said he's a former student-athlete who understands the unique challenges they face in a formative time of their lives.
"When I arrive on campus next month, I look forward to meeting with these faculty members to discuss their concerns and ideas around this critically important issue," Bodnar said. "My commitment to the pursuit of excellence — with integrity and respect always — extends to athletics, but also to academics, student activities and every facet of this university."
In fact, UM's contract with Hauck addresses player conduct off the field. One section requires the coach, his assistant coaches, and football student athletes to "foster a culture of collaboration within the department, across campus, and within the community."
That includes training in bystander intervention, student athlete code of conduct, university discrimination, harassment, sexual misconduct, stalking and retaliation.
In an earlier statement, Bodnar discussed UM's expectations: "Coach Hauck and I have had lengthy discussions around player achievement, particularly off the field. We expect our athletes to embody the vision and values of the University of Montana and to conduct themselves accordingly.
"New language in the coaching contract places an emphasis on academic excellence (in) addition to the expectations for the football program. I know that Coach Hauck and I are aligned in these expectations."
In his letter to Hubble, Haslam also said UM has high expectations, and he said Hauck addressed earlier shortfalls at the press conference last week announcing his return. He also said UM is a different place than when Hauck was first hired 15 years ago.
"Sexual assault is an issue that is much larger than one coach or one subset of society or campus. We all want to work together to create a culture of respect, make our campus and community safe, and hold those accountable who bring harm to others," Haslam said.
Be the first to know
Get local news delivered to your inbox!