OLD FAITHFUL — Vice President Mike Pence recognized the $13 billion maintenance backlog in U.S. National Parks during a visit to Yellowstone on Thursday.
During a trip in which he donned gloves to haul lumber and nail decking, Pence emphasized the Trump administration's plan to pay for park repairs by committing half of all leasing royalties on federal land to the backlog. It was a plan laid out in more detail earlier in the day by Interior Secretary David Bernhardt.
"We do have a backlog in maintenance, hundreds of millions of dollars, but our administration has proposed a new fund that would capture 50% of all the revenues coming off of leases on public lands and investing those back into our national parks and our national treasures," Pence said. "We're getting broad bipartisan support for it and we're going to continue to carry that message back to D.C."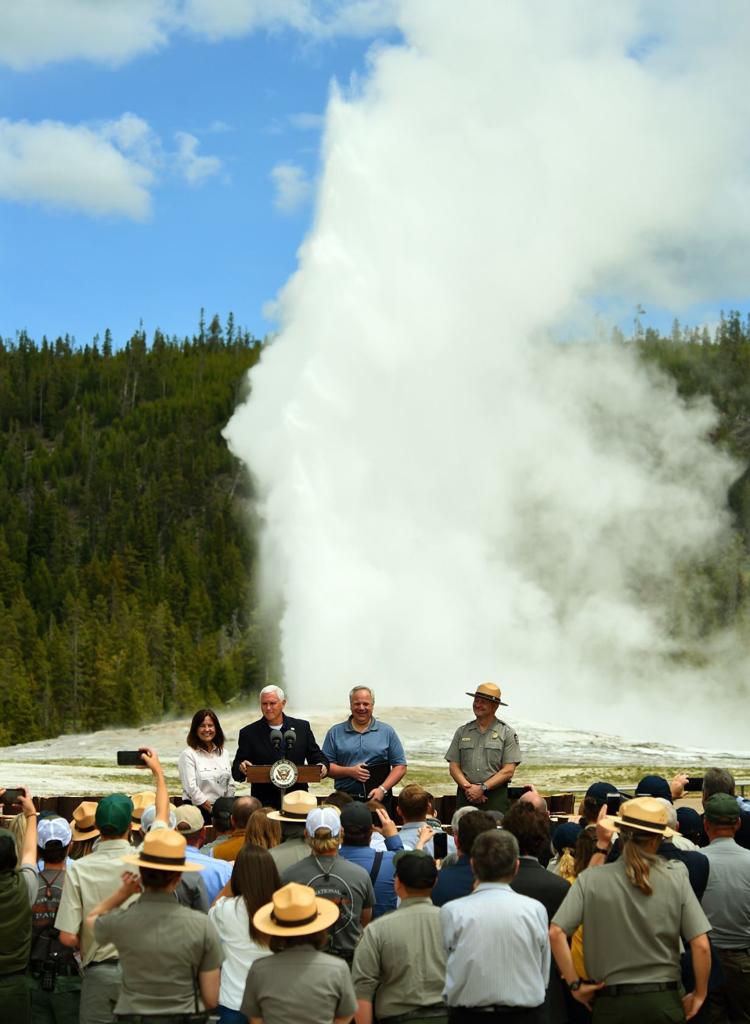 Yellowstone National Park's maintenance backlog exceeds $500 million, with 400 miles of roads needing repairs and bridges to replace, according to the Department of the Interior. The boardwalk repairs Pence worked on cost $250,000 and span two summers during which millions of people visit Old Faithful.
Tens of thousands of visitors walk the planks daily in the summer.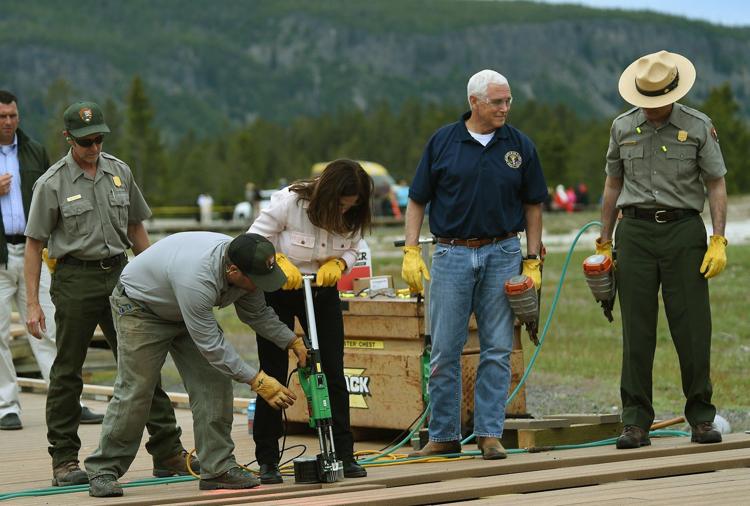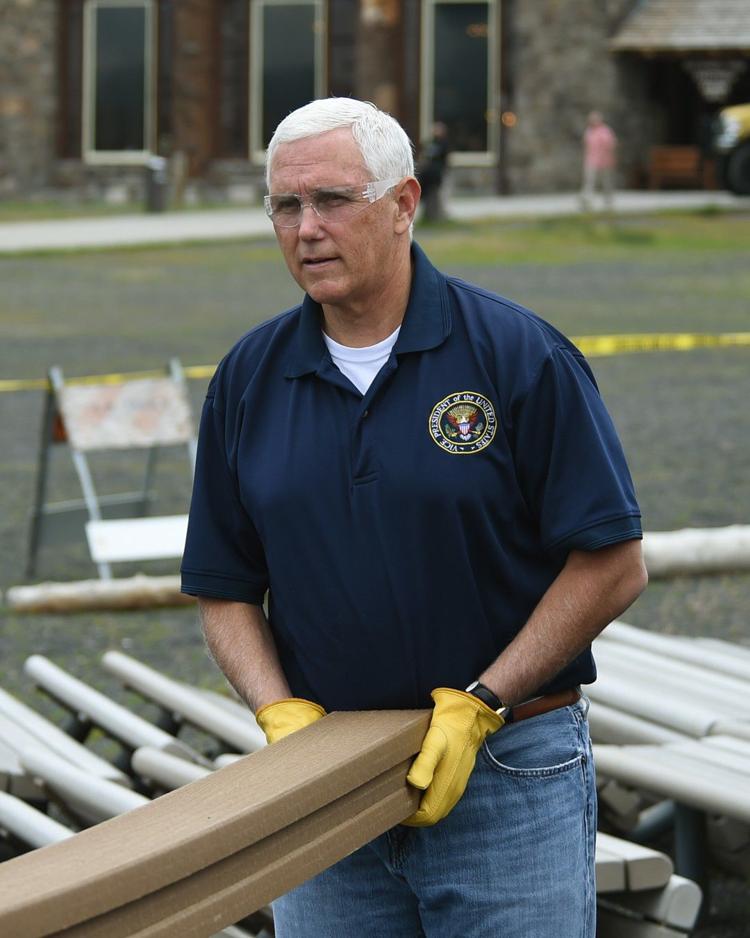 Last year, the Department of Interior endorsed the Public Lands Infrastructure Fund as a means of paying for national parks maintenance. The proposal passed out of committee in the House and Senate with few opponents, but didn't receive floor votes by year's end. The idea has been re-proposed this year in Interior's budget request. Bernhardt said the revenue would come from all federal energy leases, including, solar, wind, coal, oil and gas. The funding would support other public lands investments, as well.
"Our estimate right now is $12.6 billion, right? Half of that is roads and half is other things. And those other things can be significant. They can be water pipelines. They can be infrastructure for a campground. They can be the boardwalk of Old Faithful."
After taking off their work gloves, the vice president and his wife, Karen Pence, surprised tourists waiting for Old Faithful to erupt.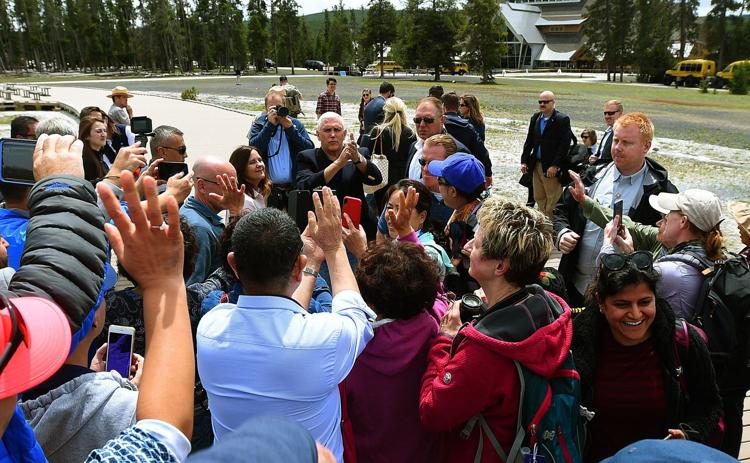 They walked into a crowd where they were encircled like the park's other megafauna by people snapping photos and taking video with phones.
Janet Mullins, of Starkville, Mississippi, said the unexpected surprise made her trip.
You have free articles remaining.
Keep reading for FREE!
Enjoy more articles by signing up or logging in. No credit card required.
"He said, 'Y'all meet my wife Karen?'" Mullins recalled, sitting on the ground eating a sandwich next to a beer cooler. "We said Mississippi is praying for him. He said, 'Thank you.'"
Mullins clarified the vice president said, "Have you all met Karen?" but that he meant y'all.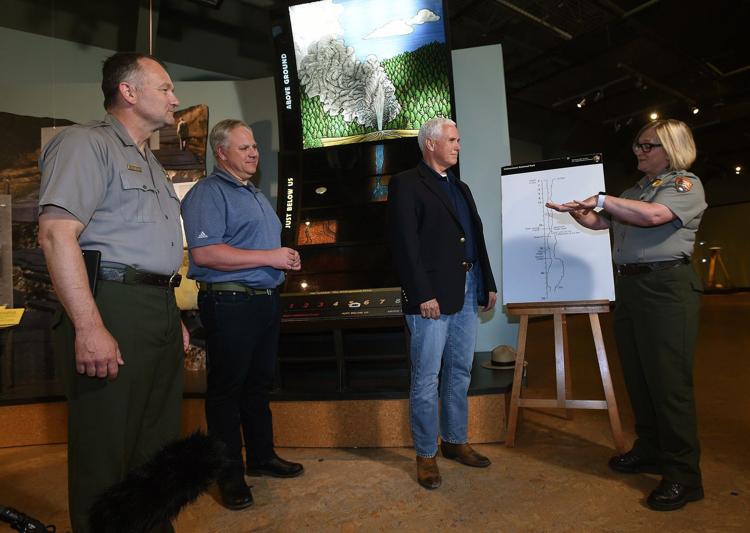 Nancy Erwin of Jackson, Wyoming, by way of Birmingham, Alabama, offered up a Milano cookie and a few words about her surprise visit with the Pences.
"I told him, we're praying for him and to stay strong," Erwin said. "He told me they feel it everyday and they appreciated it. Put in there that we pray for Trump, too."
Pence, a Republican from Indiana, put his appreciation of Yellowstone in spiritual context, as well.
Early in his visit, speaking to an audience of Yellowstone National Park employees, the vice president said the park was glorious and God-created.
"Also what comes with that is stewardship. And each one of you is in the stewardship business," Pence said. "I can't help but think about what the Good Book says about stewardship. It actually talks of the time, the very beginning, and I quote, when 'the Lord God took the man and put him in the garden.' Says he put him there to work it and take care of it. So, on behalf of the American people, on behalf of a grateful nation, let me say to all of you here at Yellowstone National Park and all of you at the National Park Service and Forest Service, thank you for answering that call. Be stewards of our natural blessings in our nation's parks."
The speech was made from a log stage with Old Faithful poised to erupt in the background.
There were reminders throughout the event that environmentalists question the Trump administration's stewardship. Western Values Project, a Whitefish-based group that dogged former Interior Secretary Ryan Zinke and now Secretary Bernhardt about federal land management and relationships with extractive industries, said the Trump administration's request to Congress for national park funding "blows."
The administration's $3 billion request is $500 million less than what Congress appropriated in its 2019 continuing resolution. It is Congress that decides what's spent.
Pence said he expects the requested dedication of leasing royalties to park maintenance to make up the difference.
U.S. Sen. Steve Daines, R-Mont., is chairman of the National Parks Subcommittee of the Energy and Natural Resources Committee. A bill he is co-sponsoring, the Restore Our Parks Act, will likely be the funding tool for national parks. 
"We believe that the combination of investments that we're making is exactly the right level," Pence said.