BISMARCK, N.D. — Two caskets with an urn between them lay before hundreds of emergency responders came to pay their respects to three souls who shared their line of duty.
Members of dozens of North Dakota ambulance services, police and fire departments slowly filed past the front of the memorial where rested the remains of pilot Todd Lasky, nurse Bonnie Cook and paramedic Chris Iverson. Memorialized in a joint service Monday, the three comprised the Bismarck Air Medical team that perished in a plane crash on Nov. 18 en route to Williston to transport a neonatal patient.
Bonny Senger wasn't looking for a relationship when she met Todd Lasky. 
A vast silence filled the solemn space of the Bismarck Event Center as the bagpipes fell — just the sounds of shuffling feet, an occasional muffled cough, a baby's squawk.
In a nearly two-hour service that offered remembrances and praised unity, those in attendance heard memories of loved ones and service to their community.
The Rev. Greg Carr, of Crisis Care Chaplaincy, remarked on the coming together he's seen in the wake of the tragedy, from hospitals to law enforcement, fire and rescue to emergency medical personnel.
"Every one of them, they watch out for one another because in the first response world, we set aside all political, religious, economical and social differences and we work together to get the jobs done that we need to get done," Carr said in his welcome.
"All throughout the past week, we have witnessed the truth of this."
The Rev. Bryan Hochhalter offered a eulogy for Iverson, a family man who loved his work in emergency medical services. Hochhalter said Iverson and those gathered Monday held a great deal in common.
"Men and women who serve as first responders prove themselves over and over to be people who excel in traits like empathy, initiative, courage, generosity, vigilance, selflessness, positivity, compassion," he said.
Kilee Harmon, development director for CHI St. Alexius Health Bismarck Foundation, spoke to Cook's memory — her 28 years in the CHI St. Alexius neonatal intensive care unit, her travels, her matriarchal role as the eldest of 15 siblings.
Three people died Sunday night when a Bismarck Air Medical plane crashed northwest of Mandan.
Cook's career was her "calling," Harmon said — in 1995, she joined the NICU transport team.
You have free articles remaining.
Keep reading for FREE!
Enjoy more articles by signing up or logging in. No credit card required.
"She loved being on the team. She would not hesitate to drop everything at a moment's notice," Harmon said. "This was her favorite thing to do."
Carr remarked on Lasky's closeness to his family, his traits as "a man's man" and a charismatic pilot who always put his crew and passengers first.
"There was nothing mediocre the way Todd did anything," Carr said.
Lt. Gov. Brent Sanford offered sympathies from state government and his observations of emergency responders while mayor of Watford City in western North Dakota.
"When we need them, they respond without hesitation. When we're in danger, they place our health and safety above their own," Sanford said. "When injury or illness befalls us, they treat us and transport us, whether in the light of day or the dark of night, regardless of Mother Nature's mood."
Monsignor James Shea followed with praise for emergency responders — "heroes of the impossible" — met with gentle applause.
"We know that we find in them women and men who know what it means to face an impossible task, who extend themselves in astonishing ways for our safety and security," Shea said.
Chelsey Kralicek, marketing specialist for CHI St. Alexius Health, said 1,400 to 1,500 people attended the memorial. As the service drew to a close, a last call sounded throughout the venue, calling for the lost air medical team three times before a final message.
"Godspeed to the crew of Bismarck Air Medical. End of watch, Nov. 18, 2018."
---
Photos: North Dakota crash victims memorialized
Air ambulance procession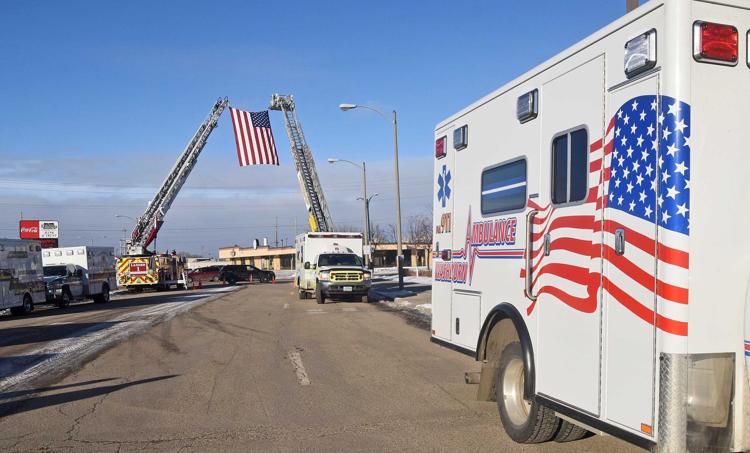 Air ambulance procession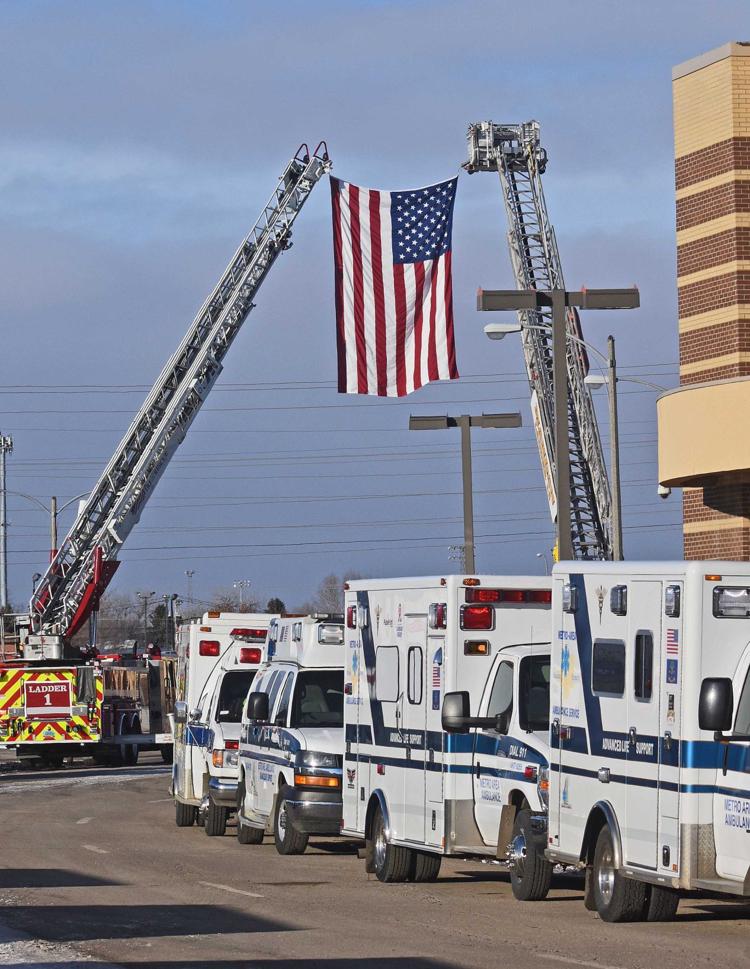 Ambulances and emergency vehicles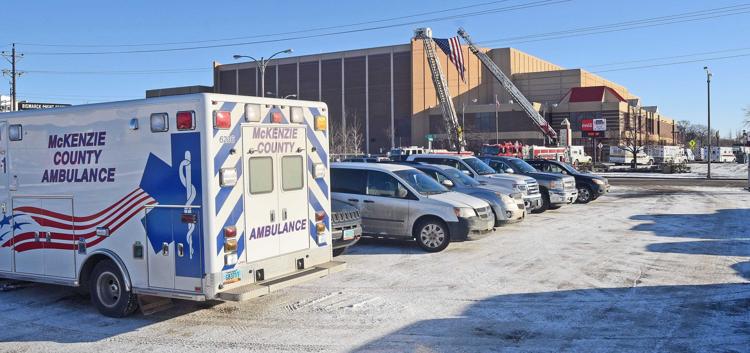 Shari Glasser held her son, Andrew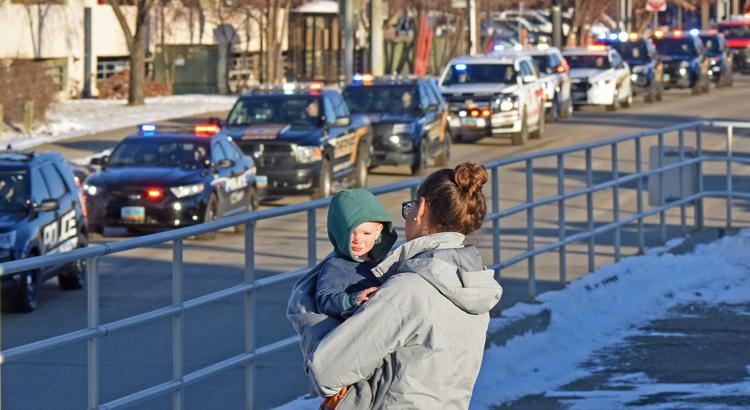 The funeral coaches in procession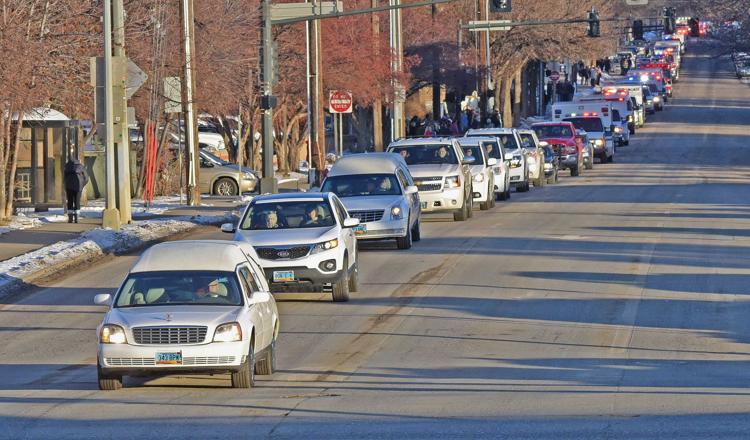 112718-nws-memorial-service-1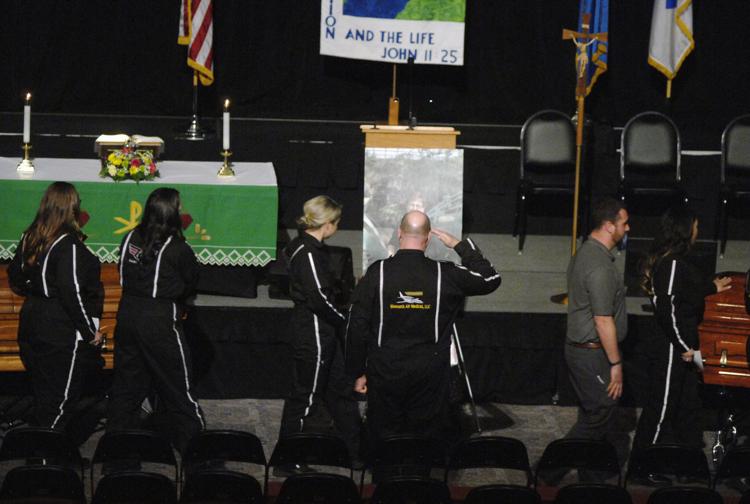 Employees and customers of First International Bank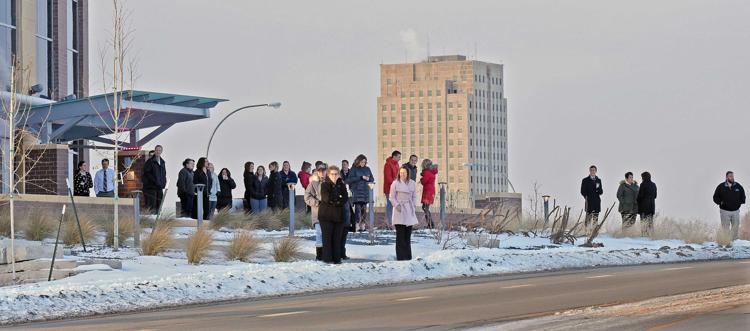 Ambulances from across North Dakota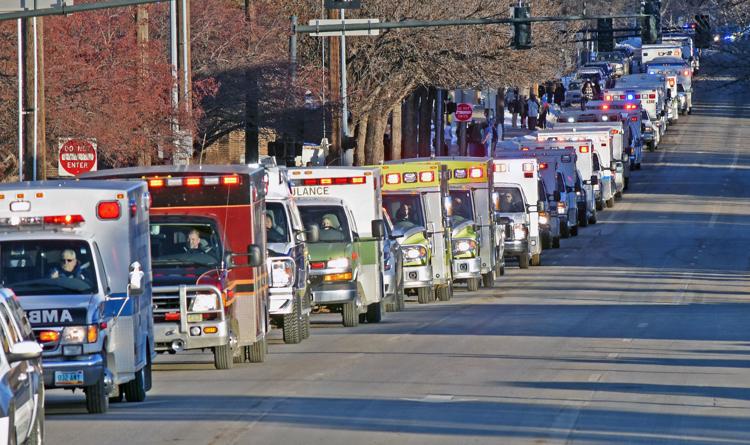 A pair of Bismarck Fire Department ladder trucks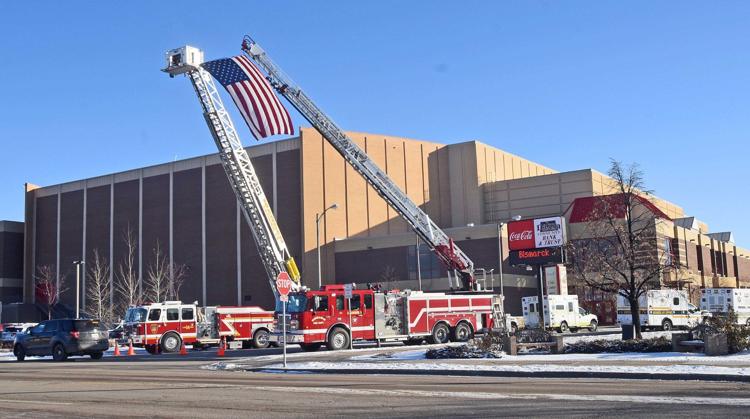 112718-nws-memorial-service-3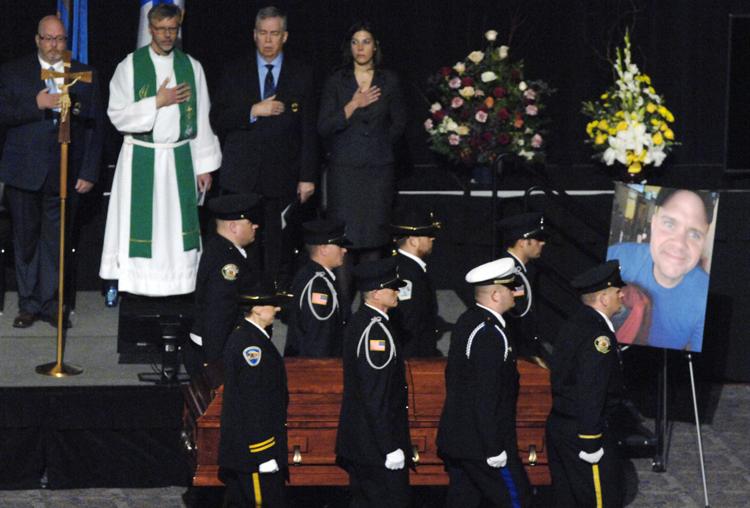 Dozens of ambulances