Two of Fort Peck Dam's spillway gates were opened 1.6 feet on Monday to begin evacuating water from a reservoir that has climbed to an elevation of 2,246.8 feet. The top of the gates are at an elevation of 2,250 feet.
"We're just into the flood pool," said Darin McMurry, Fort Peck operations project manager for the U.S. Army Corps of Engineers, which operates the facility.
About 3,000 cubic feet per second of water is roaring through the spillway gates. That's in addition to 12,000 cfs already being churned through the dam's turbines for a total release of 15,000 cfs. In comparison, peak releases in 2018 from Fort Peck Dam were 20,000 cfs.
Fort Peck has been holding back water on the upper Missouri River as flooding has been a problem in the downstream states of South Dakota, Nebraska, and Kansas. Likewise, Lake Sakakawea, just over the Montana border in North Dakota, has been steadily rising this spring. That lake captures water from Montana's Milk and Yellowstone rivers that enter the Missouri River below Fort Peck Dam.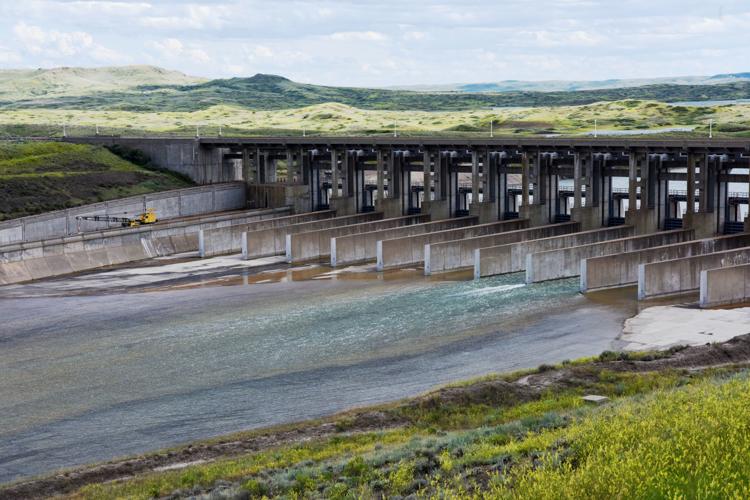 On Tuesday the Milk River at Nashua was flowing at 1,580 cfs, much higher than the average flow this time of year which is closer to 320 cfs. The Yellowstone River at Sidney was running at 32,600 cfs compared to an average of 20,300. That is down from last week, however, when the flow was closer to 40,000 cfs.
You have free articles remaining.
Keep reading for FREE!
Enjoy more articles by signing up or logging in. No credit card required.
With all of the water coming from Montana snow melt and rainstorms, Lake Sakakawea had risen to an elevation of 1,852.2 feet on Tuesday. The top of that lake's exclusive flood control pool is 1,854 feet. With an estimated 51,000 cfs flowing into the lake, the water level was still rising as the dam operators were releasing only 46,300 cfs of water.
Running into Fort Peck Reservoir, the Musselshell River at Mosby was flowing at 976 cfs compared to an average of about 105 cfs for this time of the year. The Missouri River at Landusky measured 12,600 cfs on Tuesday, up from an average flow of 8,510 this time of year. As long as those flows stay high, Fort Peck Reservoir won't be dropping very quickly.
"We're going to continue to try to evacuate water now," McMurry said. "We'll probably stay at 15,000 cfs through the end of August."
Rumors that the Fort Peck Dam's spillway gates were inoperable are not true, McMurry said. Recent safety inspections revealed no problems with any of the gates, he added.
"Our gates are normal. They are functioning fine."
Further upstream, some other Montana reservoirs are also holding back a lot of water. Canyon Ferry Reservoir was sitting at an elevation of 3,797.96 feet, just shy of full pool at 3,798 feet. Likewise, Bighorn Reservoir on the Montana-Wyoming border is full with water up to an elevation of 3,647.18 feet. Full pool there is 3,647.2. Tongue River Reservoir's elevation was 3,428.4 feet. The emergency spillway crest is 3,431.5.