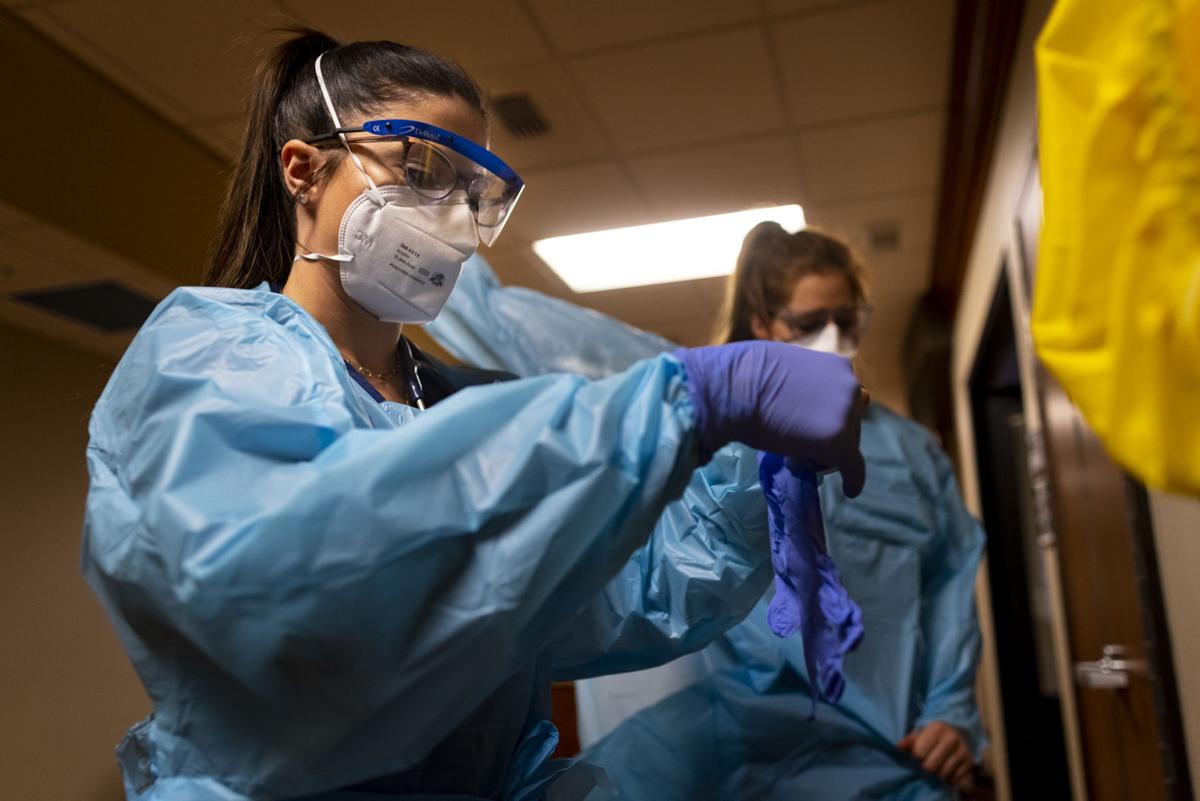 During the last week, at least 47 more Montanans died from COVID-19, bringing the total to 2,259 deaths since the start of the pandemic.
Since last Monday, 6,040 new cases were added to the state dashboard. Active cases decreased by 370, but it's too soon to tell if the state is seeing the decline in the most recent surge.
A longer period of decreased case numbers and hospitalization is needed before experts can safely call it the decline, said Billings Clinic infectious disease expert Dr. Neil Ku. 
Oct. 21 also brought the highest number of deaths in a single day since the start of the pandemic with 17 deaths recorded.
Hospitalizations remain high with 447 active hospitalizations in the state and 86% of ICU beds filled mostly with COVID patients.
The intensive care unit has seen higher patient volumes in the last week than in the past, said Ku. 
On Monday morning, St. Vincent Healthcare had 63 COVID positive inpatients and 15 COVID patients in the ICU where 14 are intubated. Billings Clinic cared for 76 COVID positive patients Monday, 32 ICU level COVID patients with 21 patients on ventilators.
In all, 107 were not vaccinated, according to RiverStone Health. 
Montana, with 79 COVID cases per 100,000 people, is now second in the country for most COVID cases per 100,000 people, according to the Mayo Clinic COVID-19 map. Wyoming and Idaho follow with 75 cases and 65 cases per 100,000 people, respectively.
Hotspots in Montana include Phillips, Daniels and Blaine counties with 159, 152 and 137 COVID cases per 100,000 people, respectively, according to Mayo Clinic.
On Monday, Yellowstone County led the state in active COVID cases with 2,092 followed by Missoula County with 1,774 active cases and Flathead County with 1,270 active cases.
"Yellowstone County saw a slight decrease in COVID cases last week for the second week in a row, but case count remains high," said RiverStone Health Vice President of Communications Barbara Schneeman.
Five more Yellowstone County residents died over the weekend, four of whom were unvaccinated.
Vaccination continues to creep upwards with 55% of Montanans fully vaccinated. "Fully vaccinated" refers to individuals who are two weeks past a second dose of the Moderna or Pfizer vaccine or two weeks past the single dose of the J&J vaccine, according to Schneeman.
Thousands of Montanans are now cleared for booster shots for each of the three COVID-19 vaccination options available in the United States.
Anyone 18 years-old and older who received the Johnson and Johnson vaccine are eligible for a booster within two months of receiving their initial dose.
Mix-and-match strategies were also approved by the Centers of Disease Control and Prevention (CDC) meaning those seeking a booster can opt for a dose of a different brand than the one they received initially.
Boosters are needed in populations where risk of transmission is high because the immune response triggered by vaccination isn't designed to last forever. To understand how vaccines work, it's helpful to understand the basics of how the body fights illness, according to the CDC.
When a virus invades the body, it attacks cells and then multiplies, which creates the infection. The body's defensive cells start the fight against the germs or bacteria and are made up of three different types of white blood cells.
Vaccines imitate an infection, rarely causing illness, but does cause the immune system to jump to attention.
A few days after the body encounters a virus or a vaccine, white blood cells swallow up the invaders, leaving behind parts of the germ called antigens.
Within weeks after vaccination, defensive cells produce antibodies that attack the antigens left behind.
After the infection, the immune system keeps memory cells that remember how to protect the body and can go into action quickly if the body is infected again.
As the infectious threat passes, the immune response diminishes as white blood cells are no longer needed in their ramped-up state. Antibody levels decrease before eventually leveling off.
Though antibodies decline, this doesn't mean it plummets to zero.
Limited data has been available on the duration of the immune response from COVID-19 vaccines until recently.
One study found that the body had a robust antibody response after the second dose of COVID-19 vaccine, but after 12 weeks and then six months post-vaccination, antibody levels declined. Six months after the second dose, antibody levels were similar to the levels in people vaccinated after their first dose.
Though more breakthrough cases have been recorded in Montana with 7,376 as of Oct. 5, 2021, hospitalization and death in unvaccinated individuals were four and five times higher, respectively, compared to vaccinated individuals, according to the state's most recent report.
The deterioration of vaccine response indicates the need for a booster.
Other than those eligible for boosters, the next population up for vaccinations are children age five to 11 years old.
Data on pediatric COVID-19 has lagged behind adults throughout the pandemic, but a recent study found that symptomatic and asymptomatic children can carry high viral loads of COVID-19. This suggests that children are reservoirs for transmission and are likely super spreaders of the virus.
The Food and Drug Administration has not yet approved vaccines for children five to 11 years old but approval is expected to come in November.
Of those 12 to 17 years old, only 41% of the state's population has received one dose of the COVID-19 vaccine.