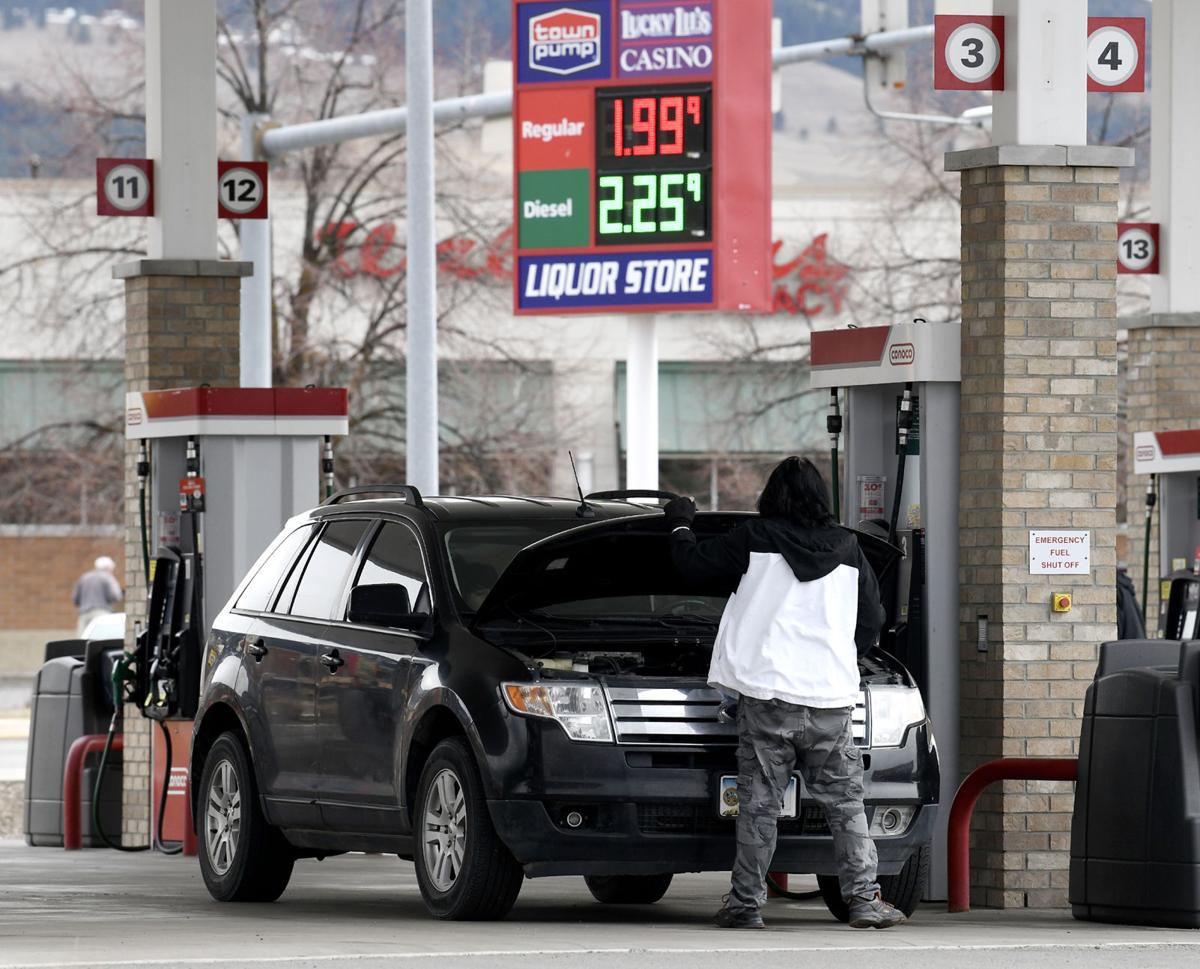 It's almost stunning to see those illuminated reader board numbers starting with "1" at gas pumps around western Montana.
"I look for a price drop of another 25 cents in the next two weeks as more states and cities in this country decide to have lockdowns and quarantines and businesses continue to close," Allison Mac, a petroleum analyst for Gas Buddy, said Monday.
A price of $1.99 was advertised at most stations around Missoula on Monday. Costco was at $1.95 at midday. Those were matched or bettered by pumps in the Flathead and Bitterroot valleys, as well as in Polson and Superior, according to Gasbuddy.com updates.
At Exxon and Smith's in Columbia Falls, prices had fallen below $1.90. The state's lowest price per gallon was $1.79 at Costco and Sam's Club in Billings.
Mac said the state average of $2.02 a gallon on Monday was 38 cents lower than it was two weeks ago. The nation's average fell 43 cents, to $2.01 a gallon, since the end of February. 
The plummet here and nationwide began in mid-February, before coronavirus (the word) was on the lips of every American. China, the world's second-largest consumer of oil and gas behind the United States, was in virtual lockdown.
Relations between Saudi Arabia and Russia, two of the three largest producers and former allies in the crude oil business, turned hostile in early March when the Saudis proposed production cuts to offset the collapse in demand. Russia refused to go along.
Mac said she and her colleagues at Gas Buddy woke up on the morning of March 9 and saw that the price of a barrel of oil had dropped to $33, a 25% collapse overnight. On Monday President Trump called Russia's price war with the Saudis "crazy." In a phone call he and Russian President Vladimir agreed to a meeting between energy officials of the two nations to find a solution. For now, supply is high and demand low.
"Gas is very different from toilet paper because people are actually using toilet paper, so it needs replenishing," Mac said. "People just aren't driving cars."
It's also far different from four years ago, she said, when a glut in crude oil supply was to blame for swooning gas prices. Prices in Missoula fell below $2 a gallon in the last few days of 2015 and stayed there until April 21, 2016, bottoming out at $1.70 on Feb. 22. That was the lowest since 2004, when gas prices climbed above $1.70 for the first time.
Meanwhile, as the airline industry continues to suffer from a paucity of passengers, so too does the rental car business.
Ethan Ranger, who co-owns Dollar Car Rentals in Missoula and Kalispell, called it "deader than a doornail."
"Nobody's flying and that's the main source of business for us," Ranger said Monday from his office in Kalispell, where in the last week he's sent out fewer than five cars.
"Ninety-eight percent of my inventory is sitting because there's just no business," he said. "We're having to change hours, lay off employees and try to get rid of cars.
"What I've seen is people are still optimistic about summer time. We haven't seen too many cancellations for the summer season, say after June 1, although I'm sure there've been some. Summer registrations are still increasing, but slowly as compared to how they should be.
"At this point," Ranger added, "I'd say customers for the most part are still sticking to their plans for the summer travel season, especially after they've been pent up all this time. But between now and then, things are pretty grim."